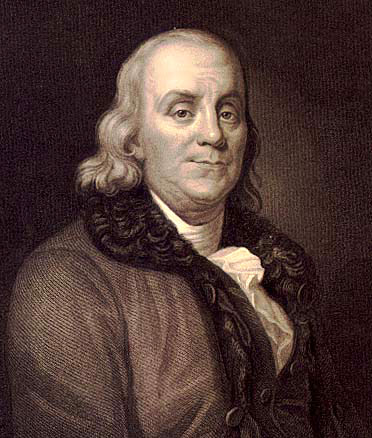 "A penny of abstinence-only-funding saved is a penny earned" -- Benjamin Franklin
Since the Fourth of July has just passed, we had to wonder what the signers of the Declaration of Independence would have said about abstinence-only sex education. We know, for example, that Ben Franklin and Thomas Jefferson had a bit of trouble limiting themselves to sex within their marriages -- the so-called "expected standard of sexual activity" of abstinence-only programs -- so perhaps these august figures would have seen the virtue of comprehensive sex ed. Of course, it's difficult enough keeping up with the ever-shifting positions of today's politicians on the issue.
Title V: Now You See It, Now You Don't, Now You See It...
Advertisement
$163 million in Title V funding, the second-largest stream of abstinence-only federal dollars, officially expired last Saturday, but Capitol Hill sources say that after returning from holiday recess House members will keep the funding alive through September 30, as the Senate did last week. However, that extension is expected to be temporary and the funding should in fact expire, as comprehensive sex-ed advocates have jubilantly anticipated. Allowing Title V to die would partially redeem Democrats for last month's abstinence-only funding fiasco when they agreed to
increase funding
for Community-Based Abstinence Education (CBAE) in exchange for getting other priorities passed.
Title V distributes funds based on a formula favoring states with more low-income children. To receive Title V funds, states must adhere to certain requirements, including barring teachers from discussing contraception and requiring them to say that sex within marriage is "the expected standard of sexual activity." President Bush had asked Congress to appropriate $191 million for the program for fiscal year 2008, an increase of $28 million from FY 2007 funding levels.
States such as California, Maine, New Jersey, Ohio, Pennsylvania and Wisconsin have rejected Title V funds, saying they place too many restrictions on curricula. But other states could be hit hard when the funding stream dries up. The Associated Press/Montgomery Advertiser reported that Alabama would lose $950,000 annually.
AIDS Alabama Director Kathie Hiers told the AP that abstinence-only curricula in her state provides inaccurate information and said, "I don't want any good programs to go belly-up, but I believe in abstinence-only education only when it is not misleading."
Way to Go Ohio
Last Saturday, Ohio's Democratic governor Ted Strickland vetoed a bill that would have made his state eligible for Title V funding. Moreover, Strickland stood up to Republican legislators and vetoed the restoration of $500,000 abstinence-only dollars in the state's budget. These vetoes should pave the way for comprehensive sex ed in Ohio.
Newly-elected Strickland declared his opposition to the abstinence-only- until-marriage approach in March. "Quite frankly, I don't believe abstinence-only education programs work in the long run," Strickland told the Dayton Daily News. "There is some evidence that they may delay the onset of sexual activity, but over the long term there are no data there that show they prevent, in a statistical sense, sexual activity outside of marriage."
Earl Pike, executive director of the AIDS Taskforce of Greater Cleveland, applauded his governor. "We have long argued that the 'until-marriage' requirement makes LGBT youth invisible, and dismisses their sexual health needs. The Governor's action helps ensure that sexuality education reaches all of Ohio's youth. He has our gratitude for taking a courageous stand supporting comprehensive, evidence-based prevention."