Table of Contents
Predicting Risk of Failure Among Those With Low-Level Viremia
Napravnik S, Edwards D, Stewart P, Stalzer B, Matteson E, Eron JJ Jr. HIV-1 drug resistance evolution among patients on potent combination antiretroviral therapy with detectable viremia. J Acquir Immune Defic Syndr. September 1, 2005;40(1):34-40.
A wonderful prerogative of being an HIV JournalView author is that I can choose to highlight papers published by colleagues. Although this smacks of preferential treatment, if not outright pandering, it is also true that the papers I've chosen reflect the work of researchers whose integrity and methods I am extremely familiar with. Further, it's not like I am Oprah and with my review can ensure these authors a career of success and fame.
Advertisement
So, it is with no shame that I report on a paper by Sonia Napravnik et al, almost all of whom work within 25 feet of my office at the University of North Carolina (UNC). Their paper attempts to add to our understanding of what to do with patients who maintain a detectable but persistently low level of HIV viremia despite potent HIV therapy.
The dilemma is whether to switch these patients' therapy -- despite often excellent immunologic response -- and risk introducing new toxicities, or to maintain their therapy, aware that this may put them at risk for new drug resistance mutations.
To assess approximately how much of a resistance risk there is when therapy is maintained in patients with low-level viremia, the authors took a look at the UNC clinical database (n = 1,605). They identified patients who had obtained two genotype test results at least 30 days apart (n = 242) and who had not changed their antiretroviral therapy within 30 days prior to the first genotype or between genotypes (n = 98).
Of the 98 patients, almost a third were women (29%), two thirds were African American (64%) and one quarter (26%) were men who have sex with men. This breakdown is quite representative of the on-treatment population at the UNC clinic.
The group was fairly antiretroviral experienced. They had a median of three prior regimens, which consisted of a median of six agents. Only 15% of the patients were taking their initial regimen, with more than half (55%) on their fourth regimen or greater. Almost all had received a nucleoside/nucleotide analog reverse transcriptase inhibitor (NRTI), 88% a protease inhibitor (PI) and 63% a non-nucleoside reverse transcriptase inhibitor (NNRTI).
At the time of the first genotype, the median time patients had been on their current therapy was nine months. Over half of the patients (55%) were on a PI-based therapy, 14% were on a NNRTI-based therapy, 14% were on both a PI and an NNRTI and 16% were on NRTIs alone.
The median time between patients' first and second genotype was 9.3 months. The changes in CD4+ cell count, HIV-RNA level and the proportion of patients who had existing and new resistance mutations during the time spanning the first and second genotype are found in Table 1.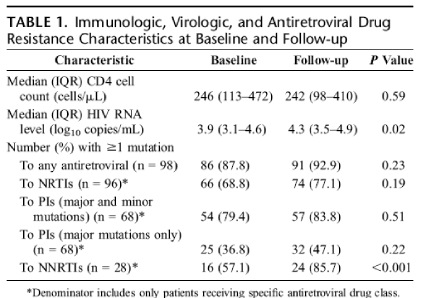 No change was seen in patients' median CD4+ cell count between their first and second genotype tests; however, viral load did increase significantly. At the time of the first genotype, 88% of the patients had at least one mutation recognized that reduced susceptibility to antiretrovirals (median number of mutations = 3). During the period of continued viremia, a significant change in the proportion of patients with one or more mutations was not seen. However, when viewed from the vantage point of patients' baseline antiretroviral regimen, a significant increase was seen in the proportion of patients who were receiving NNRTIs who then developed NNRTI mutations. In contrast, no increase in the cultivation of PI or NRTI mutations was seen among those who were taking either of these therapies.
Importantly, 60% of the patients acquired a new detectable resistance mutation. These were fairly predictable, however, being driven by the development of mutations to drugs that have a relatively low genetic barrier to resistance: for instance, M184V developed in patients who were receiving lamivudine (3TC, Epivir) and who did not have this mutation at baseline, while NNRTI mutations were acquired among patients who were on NNRTI therapy.
The overall incidence rate was 1.61 mutations per person-year at risk (95%, CI 1.36, 1.90). When minor PI mutations were excluded, the overall incidence rate dropped to 1.08 per person-year at risk (95%, CI 0.87, 1.32).
In a multivariable analysis, there were three predictors of new mutation acquisition: 1) the number of baseline mutations, 2) the mean HIV-RNA levels and 3) the slope of the change in HIV RNA during the intra-genotype period.
Patients who had little or no resistance mutations at baseline were found to be at greatest risk for developing new mutations. This makes sense for the simple reason that those with a greater number of mutations at baseline had fewer new potential mutations to acquire.
Patients with a decreasing or stable viral load had a lower risk of new mutations compared to those with increasing HIV-RNA levels. Interestingly, patients with a moderate viral load level (3-4 log10 copies/mL) were more likely to have new mutations detected than those who had a low (below 3 log10 copies/mL) or high (more than 4 log10 copies/mL) viral load.
How can we make sense of this? A moderate viral load represents a partial, though suboptimal, antiretroviral effect, whereas a low viral load signifies greater treatment efficacy and perhaps better adherence. A high viral load is evidence of nonadherence and minimal drug exposure and thus minimal selective pressure for resistance (i.e., no drug = no resistance).
Using genotypic rules-based drug susceptibility interpretation, there were no significant changes in the number of PIs and NRTIs predicted by the assay algorithms to retain activity from baseline to second genotype. Again, among the patients who were receiving NNRTIs, there were fewer agents predicted to be active in this class during the follow-up genotype.
The Bottom Line
This investigation provides an excellent assessment of the risks of continuing patients' antiretroviral therapy during low-level viremia. Many providers have zero tolerance for detectable viremia and hold that any persistently detectable viral load is cause for treatment change. For those of us who are not "trigger happy" when it comes to low levels of detectable HIV RNA in our patients, the results of this study are somewhat reassuring. They suggest that there is a relatively slow rate of resistance evolution in patients with low-level viremia who are maintained on HIV therapy. Even though 60% of the patients looked at in this study developed new mutations, the average number of such mutations was only one and drug susceptibility to NRTIs and PIs remained largely unchanged.
In addition, the study may overestimate resistance among the low-level viremic, since there are many patients with low-level viremia who have insufficient quantities of circulating virus for genotypic testing. These patients are not considered in such studies and may be at very low risk for acquisition of new resistance mutations given the results reported here.
However, the authors valuably identify patients for whom continuing therapy is clearly a bad idea. In clarifying the relative risks of virologic failure in this cohort, Napravnik et al allow us to make wiser choices regarding maintaining or switching therapy in such patients. They note that patients who have minimal baseline mutations and a viral load of more than 1,000 copies/mL were found to be at an increased risk for developing resistance during therapy continuation. Further, maintenance of therapy in the face of continued viremia among patients who are taking NNRTIs was disastrous and should be discouraged given the high rate of crippling resistance seen in these patients. Not all persistent low-level viremic patients face the same risk of virologic rebound with maintained therapy, and this study makes clear we can stratify risk based on certain identified factors.
Screening for HIV Dementia Made Simple
Sacktor NC, Wong M, Nakasujja N, et al. The international HIV dementia scale: a new rapid screening test for HIV dementia. AIDS. September 2, 2005;19(13):1367-1374.
HIV dementia is little talked about nowadays, yet it remains an ongoing issue for people living with HIV infection and AIDS. Data suggest that HIV dementia has not altogether vanished, even with the potent combination HIV therapies we have today. In one recent report, 10% to 15% of U.S. HIV-infected patients diagnosed with AIDS and being treated with antiretroviral therapy had evidence of dementia.1
If the prevalence of HIV-associated dementia seen in the United States is extrapolated to the millions of people living with AIDS worldwide, dementia due to HIV would be one of the most common causes of cognitive decline on the planet and the leading cause of cognitive decline in people under 40 years of age.
Yet, there are scant data regarding cognitive function among persons living with AIDS outside of the United States and Europe. An obstacle to the testing of neurocognitive abilities in such settings is the reliance on time-consuming assessments that may be influenced by language, education and culture.
Brief dementia screening instruments have been developed, such as the Mini Mental Status and the HIV Dementia Scale. However, the former is less sensitive for the detection of subcortical dementia, as seen in HIV disease, and the latter is cumbersome for non-neurologists to administer. Both assume some literacy on the part of the patient and are clearly Western (e.g., the Mini Mental Status test with its requirements that a patient complete a timed written alphabet, spell "world" backwards and write a sentence).
Recognizing the need for a sensitive instrument for dementia screening that could be used as readily in Kansas City, Missouri, as in Kinshasa, Congo, Ned Sacktor from John Hopkins University School of Medicine and colleagues developed a rapid evaluation that is designed to be free from Western cultural influence. To test the instrument, christened the International HIV Dementia Scale (IHDS), the authors administered the test to three groups.
The first group included 66 HIV-infected patients at Johns Hopkins Hospital in Baltimore, Maryland, who were enrolled in a longitudinal cohort of individuals at high risk for HIV dementia. All cohort participants had a CD4+ cell count of less than 200 cells/mm3 or a count less than 300 cells/mm3 and signs of cognitive dysfunction on standard comprehensive testing. The IHDS was administered, along with standard neurological, neuropsychological and functional assessments, at one visit. Based on the standard assessments, a Memorial Sloan Kettering (MSK) Dementia Score was also calculated.
In the second group, the IHDS, as well as the standard battery of assessments, was administered to 81 patients attending an infectious disease clinic in Kampala, Uganda. All tests were translated into Luganda, the language of Uganda.
In the third group, the IHDS and standardized tests were performed on 100 individuals who were documented to be HIV seronegative and recruited from a Kampala AIDS information center.
The IHDS (Figure 1) requires assessment of memory and motor and psychomotor functioning; takes two to three minutes to complete; and requires minimal training of the examiner. The only equipment required is a watch with a second hand.

Among the U.S. patients, 25 were found to have clinical dementia (mostly mild and moderate) according to the "gold standard" testing. An analysis to determine the maximal sensitivity and specificity of the IHDS indicated that an IHDS cutoff score of 10.0 would produce a sensitivity of 80% and a specificity of 57%.
Therefore, the test was reasonable as a screening test in this population, with few false negatives. However, a positive test (< 10.0) would require evaluation for other causes, since false-positive results were common.
Similar results were obtained from the HIV-infected Ugandan cohort (sensitivity = 80% and specificity = 55% using an IHDS cutoff of 10.0). In general, these patients had a poorer performance on the standard testing relative to HIV-uninfected Ugandan controls; 31% had evidence of dementia on standard testing.
The Bottom Line
The IHDS is a screening test that many health providers could easily learn to administer. It is fast and easy and worked well in patients with limited education or who were illiterate. The instrument performed well as a screening tool both in a Western and African setting, although it proved to be a somewhat blunt instrument -- less able to pick up mild dementia or indicate the severity of detected dysfunction. As a sensitive but not very specific test, false positives abound. Therefore, a positive score should prompt evaluation for causes of poor performance in addition to dementia (e.g., central nervous system infections and other concomitant illnesses).
Clearly, the IHDS should not replace standard testing where such assessments are available. But it may be a useful tool for clinicians who are working in locations, such as developing countries, prisons and underfunded HIV clinics, where sophisticated evaluations of cognitive function are not readily available.
Identification of HIV dementia is important for several reasons. First, some evidence suggest that aggressive antiretroviral therapy can help slow or even reverse the progression of cognitive decline. Second, proper support, such as at-home assistance and adherence monitoring, can be instituted. Lastly, for the patient and the patient's family, the diagnosis of HIV dementia can help explain changes in behavior and cognitive ability the patient may be experiencing. Further examination of the IHDS and whether it correlates with markers of disease progression and treatment response would be of great interest.
People Living (Large) With HIV/AIDS
Amorosa V, Synnestvedt M, Gross R, et al. A tale of 2 epidemics: the intersection between obesity and HIV infection in Philadelphia. J Acquir Immune Defic Syndr. August 15, 2005;39(5):557-561.
There was a time when the popular perception of those living with HIV was typified by the image of the emaciated, mottled young man, wasting away as his disease progressed. However, with the mid-1990s revolution in the treatment of HIV infection, so publicly evidenced in Magic Johnson, this perception was altered to the point where advertisements for antiretrovirals now typically portray people living with HIV looking well, if not well fed.
A report from the University of Pennsylvania cautions that, in fact, the major body shape issue confronting persons living with HIV infection is not wasting or even the focal fat changes associated with HIV therapy, but garden-variety obesity.
Over 20% of Americans are estimated to be obese [Body Mass Index (BMI) > 30 kg/m2] and about half are considered overweight (BMI > 25 kg/m2). Obesity is a feature of metabolic syndrome and as such is a predictor of cardiovascular disease (CVD) risk. Therefore, the issue of obesity is germane to the increasing concern regarding heightened risk of CVD among those receiving HIV therapy. To ascertain the prevalence of obesity and being overweight among HIV-infected clinic patients, the authors reviewed the records of 1,689 patients participating in a clinical database study in Philadelphia, Pennsylvania.
Most of the patients (78%) were men, 60% were African American, 18% were injection drug users and all but 9% were antiretroviral experienced. Of the men, 55% were African American, as were 78% of the women. A CD4+ cell count less than 200 cells/mm3 was recorded in 22% and almost half had a viral load below 400 copies/mL. The mean BMI among men was 24.9 kg/m2; for women, it was 27.5 kg/m2. The prevalence of obesity and being overweight by subgroup is detailed in the table below.
| | | |
| --- | --- | --- |
| | Obesity | Overweight |
| Men | 10.7% | ~31% |
| Women | 28.3% | ~31% |
| African-American Men | 13.4% | 29.7% |
| African-American Women | 30% | 31.4% |
| Non-African-American Men | 7.5% | 33.9% |
| Non-African-American Women | 22.5% | 25% |

In a multivariable analysis of the data from men, independent risk factors for obesity or being overweight included a CD4+ cell count of 200 cells/mm3 or greater and no cigarette smoking. For women, being African American and having a CD4+ cell count of 200 cells/mm3 or greater was associated with obesity and being overweight. HIV therapy in general or the use of PI-based therapy was not associated with being overweight or obese.
The authors compared their data on obesity and being overweight with prevalence data collected on residents of the city of Philadelphia. African-American men and women with HIV infection had lower rates of being overweight and obesity than the general city population, as did non-African-American men. For non-African-American women there was no difference in prevalence.
The Bottom Line
Obesity was common in this cohort. Being a woman, being African American and having a CD4+ cell count above 200 cells/mm3 were all associated with being overweight or obese. While wasting is a cause of significant concern among patients and clinicians, it was detected in few (9%) of the cohort participants compared to obesity (14%) and being overweight (31%). While this cohort was urban, it is probably fairly representative of the HIV epidemic nationwide, particularly in the southern United States, where most Americans with HIV infection reside.
At one time a cause of celebration and an indication of a return to health, obesity is associated with significant co-morbidities in HIV-infected patients. Ironic as it may sound for those of us who are more accustomed to prescribing appetite stimulants rather than diets, addressing obesity is likely to become an increasingly common part of the management of HIV infection, and dovetails with the counseling we provide regarding dyslipidemia. Weight reduction for obese HIV-infected patients should be recommended by the HIV clinician, along with sensible guidelines that include a decrease in caloric intake, particularly intake of saturated fat, simple sugars and alcohol. Fad diets and rapid weight-reduction plans should be avoided, as they have not been demonstrated to lead to lasting weight loss and may reduce lean body mass as well as fat.
Antiretroviral Therapy and Insulin Resistance: It May Not Be What You Expect
Brown TT, Li X, Cole SR, et al. Cumulative exposure to nucleoside analogue reverse transcriptase inhibitors is associated with insulin resistance markers in the Multicenter AIDS Cohort Study. AIDS. September 2, 2005;19(13):1375-1383.
The artist formerly known as Puff Daddy (and P. Diddy, and Puffy Combs, and ...) once advised that, "It's all about the Benjamins" (i.e., it's all about money). When it comes to metabolic complications of HIV therapy, it seems to be all about the nucleosides. Complication after complication originally pinned on the PIs, we are learning, are actually associated with the beleaguered NRTIs. Lipoatrophy? Nukes. Dyslipidemia? Well, some PIs, but also some nukes. Insulin resistance? According to Brown and colleagues, nukes.
Using data from the Multicenter AIDS Cohort Study (MACS) -- a long-term study of men who have sex with men, some of whom are HIV infected -- the investigators examined the role of HIV therapy in the development of insulin resistance and hyperinsulinemia (an insulin level above 15 µU/mL) among cohort participants. Over 5,600 men were enrolled in MACS; of these, 1,288 participants who were not on diabetes medications or glucocorticoids had one study visit between 1999 and 2003 during which fasting blood levels of glucose and insulin were collected. Five hundred thirty-three of these men were HIV infected. Comparison of the HIV-infected and uninfected men revealed that those with HIV infection had lower BMI, higher fasting glucose, higher insulin levels and greater insulin resistance at this initial study visit. Among the HIV-infected men, 36% had an insulin level above 15 µU/mL, versus 22% in the HIV-uninfected group (P<.001).
Looking at antiretroviral therapy, the investigators categorized HIV therapy in the following ways: 1) none, 2) monotherapy, 3) combination therapy, 4) highly active antiretroviral therapy (HAART) with a PI and 5) HAART without a PI. Each of these subgroups had significantly higher odds of insulin resistance compared to the HIV-uninfected men.
Additional factors found in a multivariable analysis to be associated with insulin resistance included higher age, higher BMI and lower nadir CD4+ cell count. Interestingly, having a family history of diabetes was not associated with insulin resistance or hyperinsulinemia. However, patients on diabetes medications at baseline were excluded, which potentially biased this analysis. Non-Caucasian race was associated with elevated insulin levels, but not calculated insulin resistance. Hepatitis C virus infection was not associated with either insulin resistance or hyperinsulinemia.
Cumulative exposures to drugs in each antiretroviral class were examined to see if there was a relationship to insulin resistance and hyperinsulinemia. Looking at class first, only NRTI exposure was found to be significantly and independently associated with insulin resistance. Of the individual agents being taken by participants, only stavudine (d4T, Zerit) and lamivudine were associated with insulin resistance and high insulin levels. Although indinavir (IDV, Crixivan) was associated with elevated insulin levels, it was not associated with insulin resistance.
The Bottom Line
The partial redemption of the PI class as a cause of metabolic complications has been slow but steady. While PIs are clearly associated with dyslipidemia and probably fat accumulation, evidence has accumulated exonerating the class for other complications for which they were originally blamed. This study finds that in men, cumulative exposure to the NRTIs stavudine and lamivudine increased the odds of insulin resistance and hyperinsulinemia, while PI treatment did not. Indinavir, alone of the PIs received, was associated with increased odds of hyperinsulinemia but not frank insulin resistance. No link to insulin abnormalities was detected in either zidovudine (AZT, Retrovir) or didanosine (ddI, Videx).
Another noteworthy finding was that HIV-infected men who were not taking antiretroviral therapy had significantly higher odds of insulin resistance than HIV-uninfected men. This may be due to prior therapy with HIV medications among these positive participants (which is unlikely, as these men had no HIV therapy for six months prior to first study evaluation) or an effect of HIV itself.
The role of insulin resistance and hyperinsulinemia in the development of diabetes mellitus in the setting of HIV is not completely understood. However, the association between insulin abnormalities and diabetes in HIV-uninfected patients suggests that these abnormalities could increase the risk of glucose intolerance and perhaps CVD. The increasing use of stavudine and lamivudine in developing nations may, unfortunately, provide us with the data required to make such associations in HIV-infected patients as well.
Valproic Acid, Anyone?
Lehrman G, Hogue IB, Palmer S, et al. Depletion of latent HIV-1 infection in vivo: a proof-of-concept study. Lancet. August 13-19, 2005;366(9485):549-555.
Granted, you probably heard it here last, but hopefully you can use a hype-free review of this actually important report about valproic acid from Ginger Lehrman and colleagues.
Lehrman's novel study was inspired by two observations. First, HIV eradication has been stymied by the persistence of latent replication-competent virus residing in resting CD4+ cells. Current HIV therapies cannot eliminate virus in these cells. As such, they serve as a pool from which the virus can continue to emerge and infect other target cells. Attempts to "activate" resting CD4+ cells, in combination with intensive antiretroviral therapy, has not led to eradication. In fact, this practice may overwhelm HAART and permit HIV to spread to uninfected cells.
Second, there are proteins that regulate the expression of HIV in latently infected resting CD4+ cells. Histone deacetylase 1 (HDAC1), for example, represses HIV gene expression and production of virion. Blocking this factor, the authors hypothesize, could lead to an outgrowth of HIV from resting cells without the downsides of activation -- e.g., upregulation of cell surface markers and the cell-to-cell spread of HIV. It turns out that valproic acid, which is a commonly used anticonvulsant, inhibits HDAC1.
To test whether valproic acid can reduce the pool of latently infected cells, four patients who were receiving HAART and had plasma HIV-RNA levels less than 50 copies/mL for at least two years were enrolled and underwent leucopheresis to harvest infected resting CD4+ cells. They then had their HAART intensified with enfuvirtide (T-20, Fuzeon) for four to six weeks, after which 500-750 mg valproic acid was administered twice a day for three months. Leucopheresis was repeated after 16-18 weeks.
During the administration of valproic acid and enfuvirtide, patients' CD4+ cell counts remained stable. Plasma HIV-RNA PCR was undetectable throughout the study for all patients, with the exception of one time point mid-study in a single patient. In that single patient, the viral load increased to 75 copies/mL during an upper respiratory illness and subsequently returned to below 50 copies/mL. A super-sensitive assay to detect a single copy of HIV RNA per mL of plasma was also employed; in three of the four patients, single-digit virus levels were detected. The levels of virus using this assay did not change during the study.
Looking at the resting HIV-infected CD4+ cell population, the investigators found that the frequency of infection of these cells was stable on HAART alone. Following administration of valproic acid and enfuvirtide, three of the four participants experienced a decline of 68% to 84% in their latently infected CD4+ cell pool. The other patient experienced a 29% reduction in infected resting cells, which is within the range observed with HAART alone.
The Bottom Line
This study was performed as a "proof-of-concept" investigation. If the results were negative, it would suggest that the strategy of targeting HDAC1 was unlikely to be a productive approach to eradicating HIV from resting cells; instead of publication in Lancet, the article would likely have been published in the "Journal of Unpublishable Findings." That the study observed declines in the resting cell pool is encouraging, as it supports further study of this agent and other agents that can act in a similar manner.
The authors may have invited public attention (and its handmaiden, criticism) with the last line of their abstract: "This finding, though not definitive, suggests that new approaches will allow the cure of HIV in the future." Critics seizing on the non-definitive nature of the study point out correctly that this is just the first step in what will be a long process and that any talk of a cure is wildly premature. Many also suggest that the independent role of valproic acid, separate from enfuvirtide, remains unclear. Yet, this study also did what it set out to do: test a hypothesis in preparation for future studies. As such, it is valuable and may spark a race to eliminate latently infected CD4+ cells and convince others that HIV eradication is the prize to eye.
Meanwhile, there is no reason at all for patients to start taking valproic acid in the hopes of eliminating their latently infected CD4+ cells. The results here are extremely preliminary and were observed in a small group of patients, one of whom did not experience a meaningful drop in measured latently infected cells.
References
Sacktor N. The epidemiology of human immunodeficiency virus-associated neurological disease in the era of highly active antiretroviral therapy. J Neurovirol. December 2002;8 (Suppl 2):115-121.