Table of Contents
Tenofovir + Emtricitabine + Efavirenz vs. Zidovudine/Lamivudine + Efavirenz
A review of:
Tenofovir DF, emtricitabine, and efavirenz vs. zidovudine, lamivudine, and efavirenz for HIV. Joel E. Gallant, Edwin DeJesus, José R. Arribas, Anton L. Pozniak, Brian Gazzard, Rafael E. Campo, Biao Lu, Damian McColl, Steven Chuck, Jeffrey Enejosa, John J. Toole, Andrew K. Cheng, for the Study 934 Group. The New England Journal of Medicine. January 19, 2006;354(3):251-260.
The rise of tenofovir (TDF, Viread) for first-line therapy -- and the simultaneous downfall of stavudine (d4T, Zerit) -- was sealed by the results of one study: Gilead 903. Admittedly, by the time the study results were published in the Journal of the American Medical Association in 2004,1 stavudine had already fallen far from grace; it had been implicated in an increasing number of complications, including neuropathy, pancreatitis, lactic acidosis, fat wasting and elevated lipids. Gilead 903, however, was the nail in stavudine's casket: It demonstrated once and for all stavudine's limitations, while at the same time it presented a convenient and potent alternative: tenofovir. As market share for stavudine plunged, sales of tenofovir rose.
Advertisement
For those of you who need a refresher, Gilead 903 was launched in 2001 and compared tenofovir, the first nucleo
tide
reverse transcriptase inhibitor (NtRTI), to stavudine, which at the time was a popular first-line antiretroviral. The results are well-known to anyone who has been within 10 feet of a Gilead sales representative. When combined with
lamivudine
(3TC, Epivir) and
efavirenz
(EFV, Sustiva, Stocrin), both stavudine and tenofovir were similarly effective at reducing HIV viremia. However, more patients who had been treated with stavudine experienced toxicities.
STUDY SNAPSHOT
Design:
Open-label, randomized controlled trial of TDF + FTC + EFV vs. AZT/3TC + EFV.
Population:
517 HIV-infected, antiretroviral-naive patients.
Main Results:
Using a composite outcome analysis (TLOVR), responses to TDF + FTC + EFV were greater than those seen with AZT/3TC + EFV. A greater proportion of patients assigned to AZT/3TC + EFV had treatment-limiting toxicities, especially anemia.
Significance:
Important comparison of two first-line NRTI combinations that demonstrates the advantage of TDF + FTC + EFV.
Some critics, however, wondered aloud whether Gilead 903 was akin to shooting fish in a barrel. Although the dark side of stavudine may not have been well-appreciated when the trial was designed, the toxicity of the drug made it an easy target. Would the results have been different were tenofovir being compared to that other first-line nucleoside, the "Energizer Bunny" of antiretrovirals, zidovudine (AZT, Retrovir)? Another study, Gilead 934 was crafted to answer that very question.
Gilead 934 was an open-label, randomized trial of 517 treatment-naive individuals assigned to either tenofovir 300 mg + emtricitabine (FTC, Emtriva) 200 mg + efavirenz 600 mg, all once a day, or fixed-dose zidovudine/lamivudine (AZT/3TC, Combivir) 300 mg/150 mg twice a day + efavirenz 600 mg once daily.
The primary endpoint of the study was suppression of HIV viremia below 400 copies/mL at week 48 using the time to loss of virologic response (TLOVR) algorithm recommended by the U.S. Food and Drug Administration (FDA).2 This definition requires two consecutive values to determine response. Patients who die, are lost to follow-up, have missing data, terminate study participation early or introduce new treatment due to toxicity/intolerance (or any other reason, except when such changes only involve alterations in background therapy that are permitted by the study protocol) are considered as treatment failures.
The study was designed to examine whether tenofovir + emtricitabine was "not inferior" to the zidovudine/lamivudine in achieving the primary endpoint. For those who are interested, there is an excellent series of articles regarding the non-inferiority trial design that was recently published and that helps explain why not inferior does not necessarily mean superior or equivalent.3-5
At baseline, the participants were mostly male (~85%), and almost a quarter were African American. The median CD4+ cell count was 233 cells/µL in the tenofovir + emtricitabine-based arm and 241 cells/µL in the zidovudine/lamivudine-based arm. In both groups, median entry viral load was 5.0 log10 copies/mL. Among the 258 participants assigned to the tenofovir + emtricitabine-based regimen and the 259 randomized to the zidovudine/lamivudine-based arm, 11 patients in each arm were found to have resistance to efavirenz at baseline and were excluded from the main analyses.
In an analysis using the TLOVR definition, 84% of those receiving tenofovir + emtricitabine and 73% of those assigned zidovudine/lamivudine achieved the primary endpoint ([95% CI of difference between arms: 4%, 19%] P = .002), demonstrating that tenofovir + emtricitabine was not inferior to zidovudine/lamivudine. When the proportion in each study arm with a viral load less than 50 copies/mL at week 48 were compared using a TLOVR-based analysis, it was found that 80% of the participants receiving tenofovir + emtricitabine achieved this level of viral suppression versus 70% of the participants receiving zidovudine/lamivudine ([95% CI of difference between arms: 2%, 17%] P = .02), again indicating the non-inferiority of tenofovir + emtricitabine.
As the TLOVR analysis includes a composite of outcomes, it is useful to also examine the virologic response of each group isolated from adverse effects and other events that qualify as failure using this definition. Of the 244 patients who were assigned to tenofovir + emtricitabine, 38 had no response and four experienced virologic failure compared to 66 patients with no response and nine with virologic failure among the 243 zidovudine/lamivudine-assigned patients. There were similar proportions in the study arms with sundry causes of non-virologic treatment failure (e.g., death, pregnancy, loss to follow-up, non-adherence, withdrawal of consent, etc.), except when it came to adverse events.
There were more patients with toxicities leading to treatment discontinuation in the zidovudine/lamivudine-based arm than the tenofovir + emtricitabine arm (22 patients versus nine patients, P = .02). Of the 22 patients who stopped zidovudine/lamivudine due to toxicity, 14 had anemia (no patients on tenofovir + emtricitabine discontinued due to anemia). The researchers point out that use of erythropoietin (Epogen, Procrit) and red cell transfusion were common among these 14 patients, who had a mean CD4+ cell count of 95 cells/µL. In contrast, tenofovir + emtricitabine was well tolerated and most of the toxicity-related treatment discontinuation in this arm was secondary to reactions to the efavirenz. Seven patients in the tenofovir + emtricitabine arm and four in the zidovudine/lamivudine-based arm were diagnosed with hyperpigmentation.
The rise in CD4+ cell counts following treatment initiation were observed to be significantly greater among those randomized to tenofovir + emtricitabine (190 cells/µL versus 158 cells/µL, P = .002). Genotypic data were available for 35 patients (12 in the tenofovir + emtricitabine arm and 23 in the zidovudine/lamivudine-based arm). The dread K65R cross NRTI resistance mutation, previously associated with tenofovir, was not seen at all. Almost all the mutations seen were M184V with or without mutations associated with efavirenz.
There were small, but statistically significant, differences in the change in lipids between the study treatments, with less of an increase in total and low-density lipoprotein cholesterol seen in the patients assigned to tenofovir + emtricitabine; however, patients assigned to the zidovudine/lamivudine had significantly higher high-density lipoprotein cholesterol increases. Among a subgroup for which dual energy x-ray absorptiometry (DEXA) scanning was performed at week 48, less limb fat was present in the patients in the zidovudine/lamivudine arm than in the patients in the tenofovir + emtricitabine arm. Data on the change from baseline in limb fat are not available.
The Bottom Line
Head-to-head trials of competing regimens are of tremendous benefit to clinicians and, not infrequently, yield surprises. Gilead 934 provides important data for patients and their providers. Foremost, rigorous studies of patients -- not too unlike those seen in clinics across the United States -- demonstrate that the overwhelming majority of patients can achieve and maintain full virologic suppression using currently available regimens. Integrase inhibitors, CCR5 antagonists and other antiretrovirals in the development pipeline have their work cut out for them if they are to topple the simple and potent regimens now used to manage HIV infection in treatment-naive patients.
Certainly, the better response rates seen with tenofovir + emtricitabine in Gilead 934 are of great importance and provide justification for the widespread adoption of this convenient combination, which is now available in a fixed-dose formulation known as Truvada. However, from a pure virologic standpoint, it is difficult to say that tenofovir + emtricitabine was better than zidovudine/lamivudine when combined with efavirenz. But, when combined with other outcomes that lead to treatment discontinuation or modification, these data clearly demonstrate an overall advantage of tenofovir + emtricitabine compared to zidovudine/lamivudine, largely due to the relatively poorer tolerability of the latter.
These results, coupled with the popularity of once-daily regimens -- not to mention the soon-to-be approved single pill containing tenofovir + emtricitabine + efavirenz -- position this dual NRTI combination above the pack. The fixed-dose formulation of abacavir/lamivudine (ABC/3TC, Epzicom) is an alternative, but there are few data to compel most clinicians to favor abacavir/lamivudine over tenofovir/emtricitabine. A head-to-head trial comparing abacavir/lamivudine to tenofovir/emtricitabine, when combined with a protease inhibitor (PI)-based or non-nucleoside reverse transcriptase inhibitor (NNRTI)-based anchor, is being conducted by the AIDS Clinical Trials Group and, who knows, just might provide some surprises.
Adherence, Viral Fitness and NNRTI and PI Resistance
A review of:
Adherence-resistance relationships for protease and non-nucleoside reverse transcriptase inhibitors explained by virological fitness. David R. Bangsberg, Edward P. Acosta, Reena Gupta, David Guzman, Elise D. Riley, P. Richard Harrigan, Neil Parkin, Steven G. Deeks. AIDS. January 9, 2006;20(2):223-231.
Through their pioneering work on antiretroviral adherence, David Bangsberg and colleagues at the University of California-San Francisco have expanded our understanding of the relationship between adherence and viral resistance. Their studies of marginally housed HIV-infected individuals in San Francisco move us beyond a simplistic concept of drug resistance in which adherence is inversely proportional to the risk of resistance, to a more complex relationship wherein lower levels of adherence can produce less risk of resistance due to reduced selective pressure favoring the emergence of resistance mutations.6,7
STUDY SNAPSHOT
Design:
Post-hoc analysis to compare relationship between resistance and adherence with PI- and NNRTI-based therapy.
Population:
110 HIV-infected patients receiving PI- or NNRTI-based therapy.
Main Results:
At low levels of adherence, NNRTI resistance was more common than PI resistance. With increasing adherence, NNRTI resistance decreased and PI resistance increased. NNRTI-resistant virus was found to be more fit than wild-type at all estimated levels of drug concentration.
Significance:
NNRTIs led to a greater proportion of patients with viral suppression compared to single PI, but in contrast to PIs, was very vulnerable to resistance at low levels of adherence.
In their initial work on unboosted PIs, Bangsberg et al found that patients taking these medications who had detectable viremia were
more
likely to have drug resistance with increasing levels of adherence. At first this seems paradoxical. However, when considered carefully, it starts to make sense: If HIV is able to replicate in the presence of a drug, then high levels of adherence mean that
more
of that drug will be present -- and thus will be likely to select for mutant virus. By contrast, lower levels of adherence would allow for a greater amount of competition from wild-type virus. In other words: no drug, no resistance.
In a subsequent investigation of the dynamics of NNRTI resistance, a similar relationship between adherence and resistance was discovered, but the study also revealed that NNRTI-resistant mutant virus is cultivated at lower levels of adherence compared to the PI drug levels associated with the greatest risk of PI resistance. Again, this makes sense. PIs require the accumulation of multiple mutations before reduced susceptibility becomes manifest, while for NNRTIs a single mutation distant from the active site of the reverse transcriptase leads to high-level resistance. Furthermore, the presence of multiple PI mutations has been demonstrated to reduce viral fitness in vitro, while NNRTI mutations typically have little effect on the ability of HIV to replicate.
To define the biological mechanisms that may account for the differences in the relationships between adherence and PIs and NNRTIs, Bangsberg and colleagues analyzed the viral fitness of drug-susceptible and drug-resistant virus obtained from 110 individuals who were on a stable PI- or NNRTI-based regimen for at least nine months. They assessed this group with unannounced pill counts every three to six weeks and had blood collected and stored on a monthly basis.
Of the 110 individuals, 74 had a plasma HIV RNA PCR level greater than 50 copies/mL, and genotypic resistance testing was possible for 72 of the participants. Half of the group received a PI and the other half an NNRTI. The PI- and NNRTI-receiving patients were not statistically dissimilar in demographic characteristics, baseline CD4+ cell count, or prevalence of resistance (41% in the NNRTI group, 30% in the PI group). During the three months prior to resistance testing, higher levels of adherence were associated with better virologic suppression in both NNRTI- and PI-treated patients. Half of those on an NNRTI had a viral load less than 50 copies/mL compared to 22% of the PI-receiving participants. Among patients with detectable virus, 36% of the PI-treated patients and 74% of the NNRTI-treated individuals had evidence of resistance.
Of the NNRTI-treated patients, 69% had resistance detected with the lowest quartile of adherence (less than 48% adherence) compared to 13% of those with 95% to 100% adherence. For PIs, resistance was less common at the lowest quartile of adherence (23%).
In a multivariable model of predictors of drug resistance, for NNRTIs, each 10% increase in adherence was associated with a 25% decrease in the odds of drug resistance being detected. In contrast, for PIs, each 10% increase in adherence was associated with a 41% increased risk of resistance. (See figure below: a = NNRTI, b = PI.)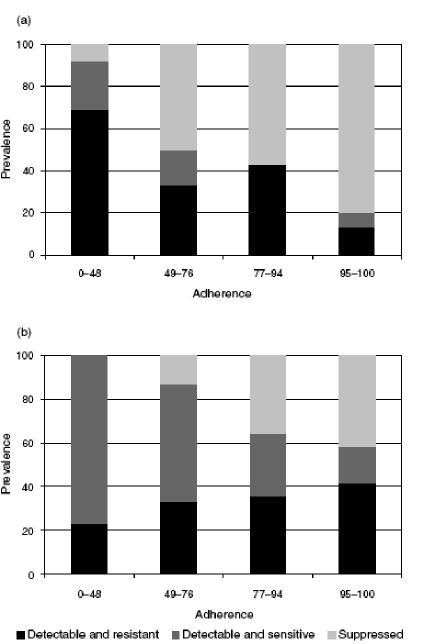 A subset of patients from each group had the replication capacity of their virus assessed and the fitness of their virus plotted against an estimate of drug concentration derived from the adherence data. This analysis found that NNRTI-resistant virus was more fit than NNRTI-susceptible virus at the full range of estimated drug concentrations. In contrast, PI-resistant virus was less fit than susceptible virus at specific drug concentrations.
The Bottom Line
There are a couple of major take-home points from this investigation. First, in this cohort, NNRTI resistance was more commonly detected at lower levels of adherence than at higher levels of adherence. For PIs, exactly the opposite was observed. So, at lower levels of adherence, NNRTI resistance was more likely than PI resistance, which was associated with increasing exposure to drug. Second, NNRTI-resistant virus was found to be more fit than wild-type virus, even at low levels of NNRTI drug concentration. This interesting finding suggests that even extremely low levels of adherence to an NNRTI can yield resistant virus and that this virus may be able to outgrow the wild-type virus. This is in stark contrast to the relationship between adherence and unboosted PIs, in which higher drug levels are needed to produce resistant virus that could out-replicate wild-type virus in the face of continued drug exposure.
These results should not be interpreted to mean that NNRTIs are inferior to PIs. NNRTIs have long half lives and therefore, drug levels remain relatively high for a prolonged period following dosing. For unboosted PIs, it is the opposite. Therefore, in patients with moderate to high levels of adherence, NNRTI resistance was less common than PI resistance in this study and virologic suppression more likely with the NNRTI. Boosting with ritonavir (RTV, Norvir) increases the half live of PIs and reduces the exposure to lower levels of drug associated with resistance. For this reason, boosted PIs should yield less resistance even with moderate adherence.
This study provides important insights into the differences between PIs and NNRTIs and helps explain clinical observations regarding the relationship between adherence and resistance. Although NNRTIs in this study worked better than single PI therapy, they remained risky at low levels of adherence.
Clinical Course Following Initiation of HIV Therapy: A Comparison of Developed and Developing Nations
A review of:
Mortality of HIV-1-infected patients in the first year of antiretroviral therapy: comparison between low-income and high-income countries. The Antiretroviral Therapy in Lower Income Countries (ART-LINC) Collaboration and ART Cohort Collaboration (ART-CC) groups. The Lancet. March 11, 2006;367(9513):817-824.
Approximately one million people with HIV in the developing nations of the world are now receiving antiretroviral therapy. Various initiatives -- including the World Health Organization's "3 by 5" program; the President Bush's Emergency Plan for AIDS Relief; the Global Fund to Fight AIDS, Tuberculosis and Malaria; and many smaller programs run by various private aid groups -- are working to expand access to the millions of others in need of such treatment. The effectiveness of HIV treatment in developing nations is not well-described and is difficult to assess given differences in medical infrastructure, per capita income, available therapies, political support for HIV treatment, stigma and other factors that could influence antiretroviral success in each country.
An ambitious effort to evaluate the clinical outcomes following the initiation of HIV therapy in developing nations and compare these to outcomes observed in Europe and North America was undertaken by an international collaborative group of investigators. In this analysis, HIV treatment programs providing antiretrovirals in low-income countries (ART-LINC) were identified via literature searches and expert recommendation and then surveyed regarding available site services and patient population. In addition, data on the outcome of treatment-naive patients aged 16 years or older with a known date of starting combination HIV therapy and a baseline CD4+ cell count were collected and compared with similar data from the ART Cohort Collaborative (ART-CC), a collaboration of 12 cohort studies conducted in Europe (nine sites) and North America (three sites).
STUDY SNAPSHOT
Design:
Database analysis to compare HIV treatment outcomes between patients in high-income and low-income countries.
Population:
4,810 treatment-naive individuals in low-income nations and 22,217 similar patients in Europe and N. America starting HAART.
Main Results:
Patients in low-income settings had higher rates of mortality, especially soon after starting HAART. Low baseline CD4 and advanced clinical HIV disease were associated with mortality while access to free treatment was protective.
Significance:
HAART is effective in low-income countries, although earlier initiation of therapy and treatment of opportunistic infections as well as provision of free HAART will likely reduce excess mortality observed in these settings.
A total of 23 treatment programs in low-income countries were identified. Of these programs, 18 sites from Africa, Asia and South America contributed data. Only six sites were government-run, with the remainder operated by non-governmental organizations. CD4+ cell testing was available at each site and viral load testing was available in 10 sites. Importantly, 12 clinics provided HIV therapy at no cost to patients, while the rest charged patients for treatment. Over 6,400 treatment-naive patients with a known date of highly active antiretroviral therapy (HAART) initiation were included in the ART-LINC database; 4,810 (74%) also had a baseline CD4+ cell count determination and these were included in the analyses.
The ART-CC database contains information on 22,217 patients who met the study inclusion criteria.
In contrasting patients from low- and high-income countries, those in low-income nations were more likely to be women (51% versus 25%). The median age was identical in the two databases at 36 years. Not surprisingly, given the differences in threshold for initiating HIV therapy in low- and high-income countries, patients in the developing countries started HIV therapy at a lower CD4+ cell count (median 108 versus 234) and at a more advanced clinical stage of HIV disease than those either in Europe or North America. NNRTIs were preferred in low-income nations, accounting for 70% of the initial regimens prescribed, compared to high-income nations where only 23% of treatment-naive patients received NNRTIs and 62% were treated with PI-based regimens.
In a look at the differences between the two databases with regard to clinical outcomes, CD4+ cell counts -- available in 57% of the ART-LINC patients and 88% of those from ART-CC -- increased similarly over six months by about 100 cells/µL. In low-income countries, however, CD4+ cell count determinations were more likely to be obtained by those with higher baseline CD4+ cell levels who attended free clinics. Similarly, the proportion of patients who had a viral load below 500 copies/mL was almost identical (76% and 77%) between the databases, but, again, there was a bias regarding which patients from low-income countries accessed viral load testing -- the bias favored those who were clinically healthier at baseline and were seen at free clinics. Sicker patients and those at paying clinics were less likely to have had CD4+ cell count and viral load measured.
One year after treatment initiation, the mortality rate was 6.4% among patients in low-income countries who attended clinics with active follow-up procedures for trying to locate patients who did not return to the clinic and 2.3% for patients treated in clinics in low-income countries with more passive follow-up. In contrast, in ART-CC, the mortality rate at a year subsequent to treatment initiation was 1.8%. Overall, there were 124 deaths during 2,236 person-years of follow-up in the low-income settings compared to only 414 deaths during 20,532 person-years of follow-up in the high-income settings. The greatest difference in mortality was observed during the first month after starting therapy (hazard ratio = 4.3), but dropped considerably over time (hazard ratio months 7-12 = 1.5). Unfortunately, the causes of mortality were not reported. Predictors of mortality in both databases included a low baseline CD4+ cell count, older age and advanced HIV disease. In a multivariable analysis, free access to treatment was significantly associated with lower mortality.
The Bottom Line
This unique investigation demonstrates that combination HIV therapy can be effective in resource-poor settings -- as has been suggested by data from individual clinics and countries.8 In fact, CD4+ cell count and viral load responses were not that dissimilar among patients with available laboratory data. However, there were important differences between the rich and the poor. Those in the low-income countries suffered higher rates of mortality soon after starting HAART. This finding may be partially explained by the relatively more advanced clinical stage of HIV disease among those in poorer countries compared to patients in high-income nations commencing therapy. Additionally, co-morbid conditions, such as tuberculosis and other systemic infections, might have led to the deaths of patients for whom HAART was too little, too late. And, immune reconstitution syndrome may have led to catastrophic inflammatory responses. Yet, the authors point out that even with these adverse outcomes, mortality among those in low-income countries was lower than that reported from untreated cohorts in similar settings.
A striking finding was the association between having to pay for medications and mortality. Access to free treatment was associated with survival -- a finding consistent with the results of a previous meta-analysis linking free care with viral suppression in resource-poor regions.9
These data suggest that in resource-poor settings enhanced screening for HIV infection to permit initiation of HIV therapy earlier in the course of the disease, more aggressive treatment of opportunistic conditions and the provision of HIV care at no cost to the patient can each extend the life-saving benefits of HAART and reduce the glaring and shameful disparities in treatment responses between the industrialized and developing regions of the world.
Disappointing Results With Once-Daily Enfuvirtide
A review of:
Pharmacokinetics, pharmacodynamics and safety of once-daily versus twice-daily dosing with enfuvirtide in HIV-infected subjects. Melanie Thompson, Edwin DeJesus, Gary Richmond, David Wheeler, John Flaherty, Peter Piliero, Andrea True, Yu-Yuan Chiu, Ying Zhang, Emily McFalls, G. Diego Miralles, Indravadan H. Patel. AIDS. February 14, 2006;20(3):397-404.
Enfuvirtide (T-20, Fuzeon), which has become a staple of antiretroviral deep salvage regimens, is becoming increasingly useful now that there are other potent agents active against resistant strains of HIV. Studies of tipranavir (TPV, Aptivus) and TMC114 (darunavir) in heavily treatment-experienced patients demonstrate heightened response rates when these drugs are coadministered with enfuvirtide -- particularly among patients who are naive to enfuvirtide.10-12
STUDY SNAPSHOT
Design:
Crossover study of 180 mg SQ T-20 once a day versus 90 mg SQ BID.
Population:
37 HIV-infected patients with NRTI, NNRTI and PI experience and a viral load >5,000 copies/mL.
Main Results:
AUC was similar between two schedules of administration; however, Ctrough was below acceptable levels.
Significance:
Once-daily T-20 produced trough levels lower than those achieved with BID dosing and below the level considered adequate to reliably induce viral suppression.
To increase the convenience of this fusion inhibitor, Melanie Thompson, from the AIDS Research Consortium of Atlanta, et al examined whether enfuvirtide can be administered once daily rather than the standard twice-a-day dosing. Thirty-seven HIV-infected patients with NRTI, NNRTI and PI experience and a viral load more than 5,000 copies/mL were randomized to inject two 90-mg doses of enfuvirtide at once or separate the dosing on a twice-daily schedule. After seven days, patients crossed over and injected the drug on the alternative schedule. All patients optimized their regimens at day one.
From a pharmacokinetic perspective, the two dosing schedules were bioequivalent in terms of area under the curve (AUC). The Cmax was understandably higher with the once-a-day administration, but the Ctrough was 57% lower compared to that achieved with twice-daily dosing. Thirteen of the 33 patients with complete data had a Ctrough level during once-daily dosing that was below the level considered acceptable. There were no significant differences in adverse events between the two dosing regimens.
The Bottom Line
It was worth a try, but once-daily administration of enfuvirtide did not seem to produce sustained levels that were considered fully adequate to suppress viremia. Data from the T-20 vs. Optimized Regimen Only (TORO) studies of enfuvirtide suggest that there is a relationship between Ctrough and antiretroviral effect,13 so lower trough levels are to be taken seriously. Linear regression analysis of this small study suggested that viral decay was associated with Ctrough and that there was at least a trend toward deeper viral load reductions with twice-daily compared to once-daily administration of enfuvirtide. Further study of once-daily enfuvirtide may be planned as a lower Ctrough may be tolerable in patients with less resistance and, therefore, the possibility of using more active drugs to accompany enfuvirtide. Meanwhile, enfuvirtide must still be dosed twice daily.
Enfuvirtide: Once-Daily Dosing Not Possible, but What About Needleless Dosing?
A review of:
Enfuvirtide plasma levels and injection site reactions using a needle-free gas-powered injection system (Biojector). Marianne Harris, Ruth Joy, Gerene Larsen, Monica Valyi, Ekaterina Walker, Lloyd W. Frick, Robin M. Palmatier, Stephen A. Wring, Julio S.G. Montaner. AIDS. March 21, 2006;20(5):719-723.
Most everyone currently prescribing or injecting enfuvirtide is aware of the existence of a possible alternative to using a standard injection needle for administering enfuvirtide: The Biojector B2000 is a needleless device that uses compressed gas to force a stream of medication through the skin where it is dispersed into the subcutaneous tissue. The needle-free system addresses the fears of the needle-phobic and, anecdotally, is said to be less painful than standard needles. In addition, the ability of the Biojector to disperse the drug within the subcutaneous tissue may reduce the severity or occurrence of injection site reactions (ISRs).
To assess the performance of the Biojector for enfuvirtide administration, Marianne Harris and colleagues enrolled 32 HIV-infected patients who were either experienced with injecting enfuvirtide (n=27) or naive to the fusion inhibitor (n=5). Patients who were not previously taking enfuvirtide, injected the drug using standard needles for a week and then switched to the Biojector device. Ease of use, pharmacokinetics and ISRs were assessed.
STUDY SNAPSHOT
Design:
Single-arm prospective study of Biojector device for administration of T-20.
Population:
32 HIV-infected patients receiving or starting T-20.
Main Results:
Over 37% of patients discontinued T-20, mostly due to site reactions. T-20 was more easily administered and with less injection site reactions when the Biojector was used.
Significance:
The Biojector device is easier to use than needles and produces less severe site reactions compared to needles.
Twelve (37.5%) of the patients ceased using the Biojector device during study follow-up, the duration of which the authors fail to clearly indicate. Two of these patients were lost to follow-up and of the remaining 10, the reasons for discontinuation included the development of ISRs or other site reactions (n=6) and stoppage of all antiretrovirals (n=4). Of the six patients who had site reactions, four had had similar reactions previously with needles. Of the remaining two patients: one experienced local bruising at the site of administration, and the other experienced numbness of the thigh after administration near the inguinal area (not a recommended site).
One of the most hoped for benefits of the Biojector is reduced ISRs. Unfortunately, the authors do not provide much detail regarding the occurrence of ISRs during this study. ISR scores were significantly better with the Biojector device compared to the needles, but the number of events or patients experiencing ISRs were not reported.
Only half of the patients found the Biojector easier to use than needles, although overall there was a statistically significant difference in ease of use favoring the Biojector device. Pharmacokinetic evaluations demonstrated no significant difference between the two administration methods.
The Bottom Line
Use of the Biojector to administer enfuvirtide might be easier than the use of needles and might lead to less severe ISRs. However, the substantial proportion of patients who discontinued the use of the Biojector suggests that the device does not eliminate the limitations of injecting enfuvirtide. ISRs continued to occur and one patient developed numbness of the leg following injection in the anterior thigh near the inguinal region. In a letter to the editor that appeared in the same issue of the journal AIDS as this study, this particular case and that of two others who experienced limb numbness after using the Biojector are detailed. In all three cases, the injection was given close to a joint at sites that had not been recommended by the manufacturer and produced an immediate electric shock or painful sensation followed by months of numbness that eventually resolved. The recommended sites for the Biojector and needles are: lateral and posterior upper arm; lateral and anterior thigh; upper back; and abdomen.
There remain a few issues with the Biojector device besides adverse effects. For one thing, the cost of the Biojector and its supplies (estimated at approximately $1,700 for the first year and $700 each subsequent year) is also currently problematic. It's unclear whether patients, the makers of enfuvirtide, private insurance, ADAP or Medicaid will pay for it. Access to the device will also be an issue. Although this device is not yet available for enfuvirtide patients outside of clinical trials, if it eventually is approved for use by the FDA, patients will have to be trained by providers who have been specially trained in the use of the Biojector device. Even with all these issues, for some patients who dislike or cannot tolerate needles and who have the means, the Biojector may help make enfuvirtide more tolerable.
References