Table of Contents
What Is the Best Predictor of Drug Failure?
Harrigan PR, Hogg RS, Dong WWY, et al. Predictors of HIV drug-resistance mutations in a large antiretroviral-naive cohort initiating triple antiretroviral therapy. J Infect Dis. February 1, 2005;191(3):339-347.
Advertisement
Virologic failure is more common than one might think, even among patients who are receiving their first antiretroviral regimen. Among clinics that have recorded and published their treatment experiences, somewhere in the neighborhood of 30%-50% of their patients have experienced a rebound in plasma
viral load
within 2 years after initiating therapy.
1,2
Why does virologic failure happen? Certainly, a correct and direct response is that these patients have developed drug resistance. However, this answer only moves us one step back to, "Why does drug resistance develop?" Poor adherence, pre-existing drug resistance, inter- and intra-patient pharmacokinetics of HIV therapies, are major reasons often cited to explain HIV therapy failure. However, in the setting of initial treatment there are relatively few data to firmly support any of these putative factors.
To address these questions in the context of treatment-naive patients on their first-ever antiretroviral regimen, Harrigan and colleagues in Vancouver mined the research advantages of working within the semi-socialized Canadian medical system. In British Columbia, all patients receive their antiretroviral therapy through a centralized treatment program; using data from this system, the authors had access to information on all patients in the province starting HIV therapy as well as the results of their viral load testing and their medication refill intervals. Further, blood specimens from patients were available for random antiretroviral plasma concentrations.
From 1996-1999, 1,191 patients initiated antiretroviral therapy in the province. At the time of antiretroviral therapy initiation, patients' median CD4+ cell count and plasma HIV-RNA level were 280 cells/µL and 120,000 copies/mL, respectively. Almost three fourths of the patients initiated a regimen containing a protease inhibitor (PI). The remainder started with a non-nucleoside reverse transcriptase inhibitor (NNRTI)-based combination.
Genotypic resistance testing was performed on all patient samples with a viral load equal to or greater than 1,000 copies/mL during the first 30 months after therapy began. Only 360 (32%) of the patients maintained a viral load of less than 1,000 copies/mL during the study period. This low rate of success alone is worth noting -- although it should be recognized that during 1996-1999, when this study was conducted, antiretroviral regimens were generally much more unwieldy and inconvenient than they are presently.
Of the rest of the patients, 494 (41%) had a plasma HIV RNA equal to or greater than 1,000 copies/mL with no resistance detected, and 298 (25%) had viremia above this level with genotypic drug resistance mutations detected. Lamivudine (3TC, Epivir) resistance was most commonly observed (n = 204; 68.5%), followed by NNRTI resistance (n = 120; 40.3%), other nucleoside/nucleotide reverse transcriptase inhibitor (NRTI) resistance (n = 98; 32.9%) and PI (n = 68; 22.8%) resistance. Among subjects who developed at least 1 drug-resistance mutation, the median time to resistance was 8.2 months.
In multivariate analyses, baseline viral load (hazard ratio [HR], 1.59; P<.001), baseline CD4+ cell count (HR, 1.08; P = .013) and history of injection drug use (HR, 1.33; P = .023) were significant predictors of detection of drug-resistance mutations. In addition, prescription-refill percentage (percent of the time that antiretroviral therapy was taken, based on prescription refill dates) and drug concentration also predicted resistance.
Here is where things get interesting. Compared to patients who had the lowest refill percentage of 0%-20%, the group with the highest risk of drug resistance consisted of patients who had an 80%-90% refill percentage (HR, 4.15; P<.001). Therefore, it was those with relatively high -- but less than perfect refill records -- who were at risk of resistance -- an unsurprising finding for anyone who has ever seen David Bangsberg's curves plotting adherence and drug resistance.3
But, as we all know, picking up a prescription does not adherence make. So, the authors focused on the 671 (56%) patients who had a 95% or more refill percentage during their first year on antiretroviral therapy. Of this group, drug-concentration data was available for 496 of the patients. Of these, those at highest risk of developing any drug-resistance mutations (HR, 4.57; P<.001) were individuals who had 2 abnormally low drug concentrations. This is compared to subjects who had a 0%-20% prescription-refill percentage and thus are expected to have little to no resistance, since clearly their drug exposure had been minimal.
In contrast, patients who had 2 drug concentrations above Ctrough - 1 standard deviation (SD) were at as low a risk as patients with a 0%-20% prescription-refill percentage. The risk for individuals with 1 of 2 drug concentrations above Ctrough - 1 SD fell between these extremes. Of note, only 30% of the entire cohort had both a 95% or more refill percentage and consistently appropriate plasma concentrations.
The Bottom Line
As has been demonstrated before, adherence is the key to virologic suppression of HIV viremia. However, this study also demonstrates, in a real world cohort, that the greatest risk of drug resistance is among those taking enough of their antiretroviral therapy to apply selective pressure to their virus to mutate. These data indicate that the relationship between adherence and the risk of drug resistance, rather than being bell shaped, is actually shaped like the back of a mouse, with the peak of the resistance risk found at adherence levels well above 50%. Indeed, if for some reason you wanted to create drug resistance, success is probable if you take 80%-90% of your antiretroviral therapy.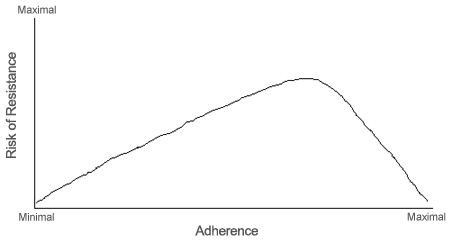 This is sobering news to those of us who often find ourselves counseling patients on antiretroviral adherence. Improved adherence is not always a good thing and adherence interventions have to recognize the "danger zone" patients may enter when they move from an adherence level that applies little pressure on their virus to mutate, to a level where such pressure is maximal.
Novel techniques for monitoring adherence, such as the prescription refill method these Canadian investigators have described, are one way to assess adherence, although admittedly this is much more challenging in places like the United States where there is no central source of HIV therapies. But the real issue is related to antiretroviral therapy. The writing is on the wall -- for patients to be able to be successful at long-term adherence to antiretroviral therapy, these regimens need to be less of a drag to take.
To Control HIV, Test Everyone
Sanders GD, Bayoumi AM, Sundaram V, et al. Cost-effectiveness of screening for HIV in the era of highly active antiretroviral therapy. N Engl J Med. February 10, 2005;352(6):570-585.
Paltiel AD, Weinstein MC, Kimmel AD, et al. Expanded screening for HIV in the United States -- An analysis of cost-effectiveness. N Engl J Med. February 10, 2005;352(6):586-595.
Two reports suggest that widespread testing of the U.S. population to identify the approximately 280,000 people living with HIV in the United States who are unaware that they are infected can be justified on the grounds of individual and public health.
There are multiple benefits for expanding HIV screening beyond the so called high-risk groups. Screening can lead to diagnosing individuals prior to their developing advanced disease. This would prevent opportunistic infections and immunosuppression-related difficulties when they begin HIV therapy. Further, according to the Centers for Disease Control and Prevention, up to 20,000 people who were newly diagnosed with HIV in the United States, had no expectation of testing positive.4 The diagnosis and counseling of these individuals in particular could reduce transmission of the virus and save lives.
The studies employ disparate models to simulate the effect of HIV testing of populations with varying risk of HIV prevalence. Both demonstrate with remarkable consistency the clear cost effectiveness of HIV screening among groups with HIV prevalence rates of at least 1%. Under such conditions, the cost of one time screening for HIV would cost $38,000 - $42,000 per quality adjusted life year saved. It is generally considered that care which costs less than $50,000 per quality adjusted life year saved is cost-effective. However, when applied to the general population (HIV prevalence 0.1%) the costs exceed $113,000 per quality adjusted life year saved. But that figure is reduced by more than 50% when factoring in the public health benefits of massive screening, and, specifically, an estimated 20% reduction in HIV transmission.
Despite the persuasive arguments for voluntary general population HIV screening, there exist risks. As outlined in an accompanying editorial5 by Samuel Bozzette, M.D., of the RAND Corporation, there are real financial and potential social costs of large scale HIV testing that must also be considered. The expense of establishing, staffing and maintaining testing centers, as well as the diversion of healthcare staff from other responsibilities will not be small. In addition, the stigma that continues to be attached to HIV infection may lead those who fear HIV screening to avoid seeking health care altogether. Further, maintaining patient privacy may be difficult when screening is not conducted in traditional healthcare settings.
The Bottom Line
Broadly encouraging HIV testing makes sense given our failure to curb the rate of newly diagnosed HIV infection, the dangers of the growing transmission of drug-resistant HIV and the epidemic's targeting of the most vulnerable individuals. Such testing should be voluntary and conducted conscientiously. Testing should be performed at healthcare centers and should begin with higher prevalence populations and then expand to populations that are at lower risk. High quality counseling of people who test HIV positive is essential. But counseling should also focus on those who test negative but engage in behaviors that place them at on-going risk of HIV infection. Systems to detect acute HIV infection during screening, as is being done in North Carolina's Screening and Tracing Active Transmission (STAT) program, should also be implemented. Policies for maintaining privacy must be devised and made public to those being asked to screen.
These reports supply important data that support a long overdue approach whose time has come.
Don't Combine Fosamprenavir and Lopinavir/Ritonavir
Kashuba ADM, Tierney C, Downey GF, et al. Combining fosamprenavir with lopinavir/ritonavir substantially reduces amprenavir and lopinavir exposure: ACTG protocol A5143 results. AIDS. January 28, 2005;19(2):145-152.
While evidenced-based medicine is to be considered the ideal method with which to tend to people in need of medical aid, there are numerous situations in the management of HIV infection where evidence is sparse, the mutations multiple and the CD4+ cell counts plunging. That is when clinicians need to get creative. Such creativity can lead to some funky regimens, some of which work well (PI boosting with low-dose ritonavir [RTV, Norvir]) and some less so (didanosine [ddI, Videx] + hydroxyurea [Hydrea], stavudine [d4T, Zerit] + ddI, tenofovir [TDF, Viread] + ddI + an NNRTI).
Many clinicians have used 2 PIs along with low-dose ritonavir in an attempt to achieve high plasma levels of the PIs in treatment-experienced patients. One such combination is fosamprenavir (FPV, 908, Lexiva, Telzir) + lopinavir/ritonavir (LPV/r, Kaletra); however, there are few data regarding the use of these PIs together. Data from studies of amprenavir (APV, Agenerase) and lopinavir (LPV) suggest that there may be important interactions between these agents.
An opportunity to study the combination of these PIs came with the Adult AIDS Clinical Trials Group (ACTG) Study A5143, a randomized comparison of lopinavir/ritonavir or fosamprenavir + ritonavir versus lopinavir/ritonavir + fosamprenavir, each combined with tenofovir and 1 or 2 NRTIs. The study enrolled subjects with prior antiretroviral experience and virologic failure on their current regimen. Given the paucity of data regarding interactions between fosamprenavir and lopinavir/ritonavir, a pharmacokinetics substudy was added that enrolled the first 8 subjects randomized to each study arm.
Lopinavir/ritonavir was administered orally at the approved dose of 400/100 mg twice daily. Fosamprenavir was administered orally at the approved dose of 700 mg twice daily together with 100 mg of ritonavir. Tenofovir was administered orally at the dose of 300 mg once daily. One or 2 other NRTI drugs were chosen prior to randomization by each study participant in conjunction with his or her primary care provider and the site investigator. Participants were instructed to take lopinavir, ritonavir and tenofovir with food.
Blood samples for evaluation of steady-state concentrations of amprenavir, lopinavir and ritonavir were obtained during the week 2 study visit (14-28 days after starting study treatment) following an observed, simultaneous administration of the first morning doses of the PI, tenofovir and the NRTI(s). The time and date of the previous 4 doses of the PI were obtained and recorded. Plasma samples were obtained before dose and at 1, 2, 4, 6, 8, 10 and 12 hours after administration. Lunch was permitted after the 4-hour sample.
The graphs below tell the whole story. There was a bi-directional interaction in which fosamprenavir levels were reduced substantially when combined with lopinavir/ritonavir and lopinavir levels were reduced in the presence of fosamprenavir. This finding led to the shutting down of the parent study.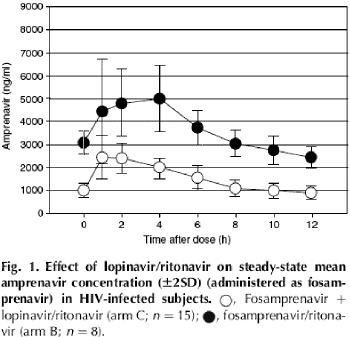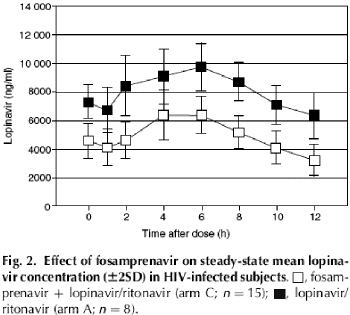 The mechanism underlying this profound interaction remains unclear and, currently, there is no recommended (or even best guess) dose adjustment to compensate for the interaction.
The Bottom Line
Amprenavir or fosamprenavir co-administration with lopinavir/ritonavir should be avoided. These data provide a note of caution to the more inventive among us, as the interplay between some of our antiretrovirals can be tricky and surprising. Certainly, circumstances often drive us to devise creative approaches to HIV therapy, but we must do so while acknowledging to our patients and ourselves that there may be unanticipated risks involved.
Rash, NNRTIs and the 2NN Study
Ananworanich J, Moor Z, Siangphoe U, et al. Incidence and risk factors for rash in Thai patients randomized to regimens with nevirapine, efavirenz or both drugs. AIDS. January 28, 2005;19(2):185-192.
The 2NN Study was a pivotal trial that compared the dueling NNRTIs nevirapine (NVP, Viramune) and efavirenz (EFV, Sustiva, Stocrin) against one another in treatment-naive patients also starting stavudine + lamivudine.
There were 4 study arms:
nevirapine 200 mg twice a day,
nevirapine 400 mg once a day,
efavirenz 600 mg once a day, and
the combination of both nevirapine (400 mg once a day) + efavirenz (800 mg once a day).
The main study results have been published6 and have demonstrated similar efficacy for nevirapine and efavirenz; however, there were higher rates of hepatic toxicity in the once-daily nevirapine arm and high rates of intolerance when the NNRTIs were combined.
To examine the incidence and predictors of rash among 2NN participants, investigators in Thailand evaluated 202 Thai participants who were enrolled in this study. Of the 202 patients, the number of patients in each of the 4 arms were:
69 in the efavirenz 600-mg once-daily arm,
44 in the nevirapine 200-mg twice-daily arm,
47 in the nevirapine 400-mg once-daily arm, and
42 in the nevirapine + efavirenz arm.
During the trial, 95 (47%) patients developed a rash, and for 69 (34%) of them, the rash was considered to be NNRTI related. Rash was more commonly diagnosed in the dual-NNRTI arm, followed by the nevirapine once-a-day arm. The nevirapine twice-daily arm and the efavirenz arm had the lowest incidence of rash.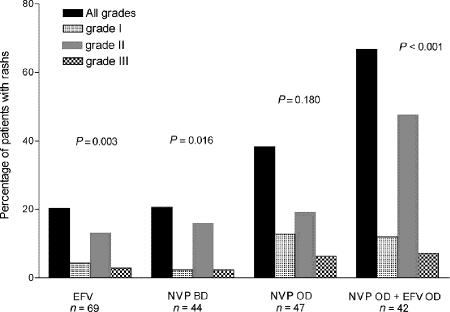 In a multivariate analysis, the Thai patients who had been treated with nevirapine once daily and nevirapine + efavirenz were at more risk for rash. A rise in CD4+ cell count (>53 cells), a rise in an ALT (>34 U/l) and an HIV-RNA drop of less than 2 log at week 4 were also risk factors. A higher risk of rash was observed in patients with a higher body mass index and in women with a CD4+ cell count greater than or equal to 250 x 106 cells/L. (The finding of increased toxicity from nevirapine among those with a higher CD4+ cell count and preserved immune function has been described previously and is now detailed in the nevirapine package insert.) Six of the 202 patients experienced serious adverse effects (hospitalization and/or death). Four were women and 5 were receiving nevirapine (3 of them on once-a-day nevirapine). One subject with congenital heart disease died during hospitalization for rash and hepatotoxicity, which was related to nevirapine.
The investigators also describe the experience of the handful of patients who, despite their rash, either continued their NNRTI or switched to efavirenz, the alternative NNRTI. By and large the switch from nevirapine to efavirenz was successful without return of the rash. However, in a small number of individuals changing from efavirenz to nevirapine, recurrence of rash was common.
The Bottom Line
Once-daily nevirapine is not an unpopular dosing frequency for this NNRTI. However, these data suggest that in this population of Thai patients, rash was more common among those who were receiving the drug once a day. In the aggregate, the 2NN Study results found no difference in serious grade rash across study arms. The reason for the much higher incidence of rash seen in this subgroup of patients, as compared to the overall 2NN cohort, is unclear. Lower body weight, ethnic factors or better immune function among these patients and the larger cohort are potential explanations. These data are important. They reinforce concerns that already exist regarding once-daily nevirapine. Further, the results are noteworthy in light of the increasing accessibility of nevirapine in Asia. Monitoring of NNRTI tolerability in this region is critical.
Also, a Review Worth Reviewing: Metabolic Complications of HIV and HIV Therapies
Grinspoon S, Carr A. Cardiovascular risk and body-fat abnormalities in HIV-infected adults. N Engl J Med. January 6, 2005;352(1):48-62.
Two of the foremost clinical experts of the metabolic complications of HIV therapy have teamed-up to produce this informative review of cardiovascular and body shape abnormalities accompanying antiretroviral therapy. Covering the epidemiology, pathogenesis and treatment of these disorders, the article is extremely useful to the HIV treating clinician. A table of potential therapies for dyslipidemia and fat redistribution is particularly good and includes caveats as well as interventions that can actually worsen rather than help these conditions.
The Bottom Line
Read this and you will know as much about these metabolic complications as most anyone. A must read.
Footnotes