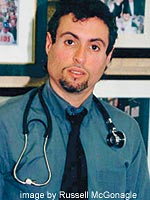 It may be impractical to attempt maintaining patients on life-long antiviral pills, especially since the evolving problem of resistance is not going away. With each passing year, more patients eventually develop resistance to their antiviral cocktail and a new regimen must be constructed. One does not ignore the mounting cost of these medications and their long-term side effects. Some patients are not able to adhere to their medication schedule. Regardless of the cause, viral resistance continues. As virologic failure occurs, the immune system is one of the first things to be affected, specifically CD4+ T-cells which begin to decline. If untreated or ignored, it can lead to feeling unwell and various complications can develop. It would be advantageous to upgrade and improve the immune system and its function, so that it helps fight the virus on its own terms and/or keeps antivirals working longer. Don't rule out the fact that if the immune system is able to fight HIV, antiviral drugs would not always be needed. This is the basis for developing therapies that improve immune response.
HIV meds, such as protease inhibitors, nucleoside inhibitors, and the upcoming integrase inhibitors act on the virus to reduce replication. Through an indirect mechanism of removing the offending virus, the immune system is facilitated to repair itself. Presently, antivirals are the mainstay of treatment for HIV infection. In the case of immunotherapy, treatments are designed to directly and effectively stimulate an immune response against HIV.
I believe that the field of immunotherapy is a sleeping giant. An example of the successful use of immune therapies can be seen with interleukin-2. Interleukin-2 stimulates the immune system to attack cancer tumors and is currently approved for metastatic kidney cancer and metastatic melanoma (a form of skin cancer).
Advertisement
It has also shown to be of value in increasing T-cell counts in HIV disease and perhaps limiting HIV replication, by way of its immune-stimulating characteristics.
The focus of this article is to rivet the eye: imagine the new work being conducted in the front yards of Chicago specifically at Northstar Healthcare, a progressive HIV treatment and research center devoted to care of patients with HIV. The reader will get an inside peak at how different and novel approaches are being tried. However, make note that the ongoing research of the various new antiviral targets such as integrase and entry inhibitors will not be discussed here, as they have already been written about in other recent installments of "The Buzz." Finally, in the face of progress with new inhibitors, there have been no signals that pointed to a cure for HIV. Perhaps immune-based approaches may lead us closer to this goal.
A Therapeutic Vaccine
We hope to be participating in a new project of immunotherapy, developed in Norway. The field of immune-based therapy is based on the premise of directly and effectively stimulating an immune response, so that the immune system components being generated can fight off HIV. In regards to this treatment vaccine, it is peptide (protein chain) based and previous study has shown significant benefit by slowing the deterioration of CD4+ T-cells after this treatment was applied to HIV-positive individuals. The current design is as follows: participating patients will be immunized or vaccinated while on their HIV medication. The continuation of HIV treatment keeps the virus in check while the immunization will take root. At a point later during the study, patients will stop their HIV meds for a short period so that the re-emerging HIV can stimulate an immune response being instigated by this vaccination. Patients will then again restart HIV meds for another short period to allow for protection of the immune response that is expected to go into high gear. Patients will then stop a second time, this time for a long period. We are hopeful that each individual mounts a response to the vaccine, sees a reduction in the decline of T-cells and has the potential for safe and prolonged time periods off of HIV meds.
New Zealand Goats
Another type of immune-based treatment study starting at Northstar is being developed in New Zealand. This type of immune treatment belongs to the area called passive immunotherapy. This refers to the passive transfer of immune fighting cells to an individual with a compromised immune system. As another example of passive immunotherapy, some patients at Northstar get an intravenous infusion of IgG antibodies to various bacteria and viruses to protect them from infections and other complications.
In this study patients with T-cells below 200 will get infusions of antibodies to HIV that will be harvested from goats who were exposed to the virus. It is in the beautiful rolling hills of New Zealand that these goats are found and bred. Importantly, the specific transfer of antibodies are of the polyclonal type. Polyclonal antibodies are created with multiple B-cell (immune cells that produce antibodies against infection) clones and are felt to be very effective compared to monoclonal antibodies (being of one cell line) which are not.
Why animals and why goats? As humans, if we get exposed to animal-related viruses, we do not get sick; conversely, animals getting exposed to human viruses including HIV also do not become ill with the disease. The goats mount a unique immune defense against HIV, producing antibodies to distinct regions of the virus which are dissimilar to the antibodies that humans can accumulate and develop. An observation showed that goat antibodies are sensitive to different parts (regions) of HIV, called epitopes, for which the human immune system ignores. (An epitope is a portion of a molecule to which an antibody binds).
The discovery of new epitopes on HIV and the new technology that is being used to stimulate antibody production against these new found epitopes make for a novel and alternate target for which to fight HIV. Possible side effects to receiving goat-derived antibodies are various allergic and hypersensitivity responses to the treatment. Because this treatment is being offered to individuals with T-cell counts below 200, it is felt that this problem will be minimized. Patients will be given this treatment by intravenous infusion at Northstar three times weekly for 16 weeks.
First in Class Mutagenesis Drug
An additional novel treatment proposes to treat patients who harbor multi-drug resistance to HIV. The treatment is borne out of genetic testing of the virus. The discovery of other genetic components of HIV has led to another target for treatment. The mechanism or how the drug works is that the medication gets incorporated into the HIV gene. The result is a uniquely mutated HIV that changes its ability to stay viable (alive), what is referred to as viral decay. This study is in early-stage work and we are hopeful that this forms a basis to rid the body of replicating virus, and possibly virus that is in the dormant (or inactive) stages.
Summary
These are very exciting times in HIV research while we take advantage of the new technology. The studies described in this article are not intended to discuss results of treatment nor how they might compare with other therapies. Instead, as is often the case, the purpose of this column is usually to discuss evolving research and new trends in treatment. Today these newly invoked treatment paradigms look quite promising as a hypothesis coming to the research-focused clinic.
To what degree an immune-based therapy will become a significant addition to treatment is still unknown. However we must continue to search because if we don't look, we will not find. Thus as an early window's view into the future, we continue to remain on the cusp of the research. As progress continues, treatments of the future will be reshaped; they will not look like the present. Already, integrase and CCR5 (entry) inhibitors are expected to be approved shortly and will surely change our approach to treatment. We strive for ways to improve HIV therapy from different vantage points. Immune therapy and other treatments continue to evolve.
Daniel S. Berger, M.D., is the founder and Medical Director of Chicago's largest private HIV treatment and research center, NorthStar Healthcare and Clinical Assistant Professor of Medicine at the University of Illinois at Chicago. Dr. Berger serves on the Medical Issues Committee for the State of Illinois and the Board of Directors for the AIDS Foundation of Chicago. Dr. Berger can be reached at DSBergerMD@aol.com or (773) 296-2400.