An excerpt from The After-Death Room: Journey Into Spiritual Activism, Soft Skull Press, 2006, List $16.95.
An Excerpt From Chapter 1:
Cape Town, South Africa (June 2000)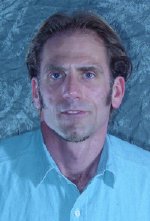 Michael McColly, HIV-positive author and yoga teacher. Click here to e-mail Michael McColly. Click here to access Michael McColly's Web site and learn more about his writings and speaking engagements.
I drop my naive ambitions of finding my way about Johannesburg and Soweto and head to Cape Town. At the airport I pick up a newspaper and scan the headlines. Clinton and Blair, in a transatlantic joint press conference, applaud the completion of the DNA molecule map as the "greatest invention since the wheel." Locally, an oil spill has stranded hundreds of migrating penguins off shore and people are flying in from around the world to help in their recovery. Even the South African military is lending a hand, flying the birds up the coast where they were headed to nest. Then, in the far left corner a headline catches my eye:
UN Predicts 50 Percent of Male Teens Will Die of AIDS Before Age 30
.
1
Advertisement
I check into my hotel and head across the street to a health club, barely noticing the magnificence of the mountains that tower over this coastal city. Craving adrenaline and the need for control, I swim, lift weights, and do a short yoga practice. Satiated, I take a long shower, noticing the array of mixed-race men who seem more comfortable in their bodies than the whites and the few blacks around. I see shades and facial types of all kinds, mixtures of Malay, European, Black African, Indian.
This is the future
, their bodies say as they walk through the dressing room with their dark hair and refined lips, their warm skin, glistening and moist.
---

Restless and pumped, I search for Cape Town's famous nightlife. At a dance club, I'm invited home by a white tennis pro, a Malayan tailor, and a black teenager who wants to take me first to see the drag divas at another club. I'm exotic, I'm an American, I'm a new body in a tight-fitting blue t-shirt. No one has anything to say when I decline their offers and explain over the dance music why I've come to South Africa. Nobody wants to talk about the subject I want to talk about.2 The tailor leans in close as if to kiss me, but asks instead, "Are you working for the police?"
I am deciding to head back to the hotel before the very handsome but very drunk tennis pro shoves another beer at me when I catch the eye of a man on the other side of the bar. He is thin, handsomely dressed in expensive, tight-fitting clothes, with a glistening, bald black head and unusually bright eyes. But something else attracts us and moves me past the tennis pro, who grabs at my arm as I cross the crowded dance floor. That something isn't necessarily sexual; it is some innate understanding of each other's bodies. Within minutes we've revealed the code visible only to others who share it. His name is Andre.
"I've been dead so many times people have quit coming to the hospital," he jokes. When I introduce myself and explain why I'm here, he assures me he can help. "I know everybody here." And when I tick off some of the names on my list of contacts, he knows almost all of them personally.
Andre grew up on the Cape Flats, the segregated city of mixed-race and black South Africans, a city built in the lowlands outside Cape Town near the sea. He, too, is of mixed heritage. Though his father was absent with another family in Germany, he provided support for Andre and his mother, which helped him escape a community that would have been brutal for a boy who fancied other boys. "I was good in school. I knew I had to get out of there. I was ruthless," he chuckles nervously. "They hated me there." He'd gone to university then worked his way up in one of the major department stores. He is now a marketing executive. He supports his mother and helps with his nieces and nephews, even though his brothers and sisters refuse to talk to him because of his lifestyle and his positive status.
Andre gives me sketchy details of his HIV history. He has stopped taking AZT, he tells me cavalierly, because he became too sick taking it. Now he uses an herbal treatment, which he swears is helping him, though he admits with a shrug, "What else can I do?" He is sick of being sick and knows unless he can stomach the side effects of antiretrovirals, he'll not make it. The last time he was in the hospital, he'd fallen into a coma and was surprised (as were his friends) that he came back.
Then Andre puts his hand on my chest; the brightness in his eyes turns off and something else turns on. I get the hint: the interview is over. "Let's go next door, the music's better."
Next door the crowd is youthful, dancing to a mix of European, Latin, and African music -- soukous guitars, West African drums, Cuban rhythms -- ethereal, earthy and unabashedly sexual. It is impossible to stand idly and talk, so we dance. Andre closes his eyes. I scan the room, envious of youth, realizing we are the oldest on the floor. I can't tell who is who or where I am or who is straight and who is not. Next to me, two women dance around each other, hips in sync, dark hair, their dark eyes smiling at each other, one Indian, one mixed-race. They seem to be in a world where bodies exist not to be questioned but to be expressed. My body finds those rhythms inside rhythms that take us into the beat of ritual time. But as these women dance and weave, their hips touching mine, I feel an aching sadness.
Others dance around us, drinking, laughing and talking, drunk on life. But I can't help thinking about the world that lies ahead of them in a country where it is expected that AIDS will not level off for another decade. How many in this room will make it? How many funerals will they attend? How many children will be born infected? But these young people are hardly the most at risk; they can afford to be in a nightclub in Cape Town. The vast majority of South Africa's youth live in poverty and powerlessness, particularly young black women, who are not only more vulnerable to HIV but increasingly to sexual assault.3
I kiss Andre outside in the cold. It's the heat that tastes good, the warmth of surprise and change. As his tongue rolls around mine, the Indian woman and her colored girlfriend dance in my head, reminding me of Sita, my last lover of months before, who for six weeks made me believe that fearlessness was the precursor to love. In every Indian woman, I still see the stabbing intensity of her black eyes, still hear her haunting voice, accusing me of not being able to take care of her: "Look at this hovel you call an apartment. You can't even take care of yourself, how could you ever take care of anyone else?"
I accept Andre as my guide. I'm tired. I'm sad. I'm alone. We speed away through the empty streets of Cape Town in his new BMW. He leads me onto a rooftop next to his apartment and points out the landmarks of Cape Town as though the city is his creation. Table Mountain looms ominous and dark behind us. Among the dark trees, he points out the old Parliament building, the historic first capital of the British Cape Colony. To the right is the Anglican Cathedral, where from his pulpit Archbishop Desmond Tutu called for Mandela's release and an end to apartheid. Beyond that stands the city hall where Mandela spoke to the world after South Africa's first free and democratic election only six years before.
Andre pours some orange juice for me and goes to the bathroom. I undress in his bedroom and wait. His fashionable clothes are strewn on chairs beside his glowing computer, fish tank and plants. Lying on his bed, I fold into a forward bend, more relaxed than I can remember in a long time, my face eventually touching my knees. I begin to wonder why he is taking so long in the bathroom. As I almost always do when I plunge into this other life, I begin to second-guess myself, thinking I should slip out now while I have the chance. The energy from the dancing and the dancers has worn off. Then the light is turned off in the bathroom, and out of the shadows Andre appears. I muzzle a gasp. His body is not only thinner than I'd imagined but covered in whitish scars like a leopard. It is Kaposi's sarcoma, a form of skin cancer associated with AIDS. Apparently, he has covered those on his head and neck with make-up.
I fold back into my forward bend to hide the shock on my face. Andre jumps into bed and covers himself quickly with blankets, shifting attention onto my body with flattery: "Look at you. So supple. Bending over like that." He rubs my back with his hands. "Those muscles in your back. I want to look like this." I flinch, unable to speak, unable to look at him. He turns out the light and explains: "The scars? You're wondering about the scars? They're from being stabbed and beaten."
"Oh?" I say, not sure if he is talking about his lesions or something else.
"I found them in my apartment, in Jo'burg. We lived there, did I tell you? Jahn and I, my lover. I'd just gotten home from Berlin, my last trip before Jahn's death. I caught them, going through our stuff."
"I'm ... I'm sorry," I say, completely lost, forgetting he's told me, in the whirlwind of the evening's storytelling, about his lover's death from AIDS.
"They stabbed me with a broken bottle, see this right here, on my head and back." I try to find the scars, touching him for the first time on his smooth dark scalp. He points to the top of his head and neck, and then takes my hand so that I can feel them. But I'm fixated on what is so visible, the spots on his face and back, that I can't see the scars that mean so much to him.
"They nearly killed me," he says. I close my eyes to keep from having to look at him. "After that and after Jahn's death, I couldn't stay in that apartment. So I moved here."
His stylish clothes, his boots, his make-up, his silver BMW are all gone. I see now who lives behind the glowing eyes and charming manner. I see a frightened man's body that feels more and more like a boy's. Some other instinct arouses me. I caress his head where he told me that bottle was smashed. I pull him into my body and hold him, kissing the top of his head as his face is buried in my shoulder. Like an animal, I run my tongue to the creamy white splotch on the top of his head, and he moans.
---

I am late and lost. I am to meet a woman by the name of Villas Tyeku, a community organizer who runs an association for women with HIV out of her home in the sprawling, dusty township of Cape Flats, where I'd driven through with an activists the night before. She told me she'd be at a bar on Long Street in one of the city's more fashionable areas. I can't find her. The bar is shabby and filled with pool tables. I'm angry with myself for being late. I called her five times to arrange the meeting. Someone calls out my name from behind. A black woman wearing a beret sits alone with two satchels at her side. "Are you Michael?"
"Villas?"
"You're late." She is suspicious, cell phone in hand and ready to go. "How did you get my name and number?"
I apologize and try to explain. She frowns, standing. "I've been waiting here almost an hour." Understandably, she sees me as another white journalist on assignment. So as quickly as I can move my mouth, out comes the HIV card and my story.
She sits back down, studying me, finally remembering the name of the man who gave me her name and number. "Oh, Michael Nixon, I know him, okay."
The waitress, whose eyes roll in suspicion that Villas is my pickup, angers Villas so much that we're forced to look elsewhere. "This is your town," I say, "where is a good place?"
She laughs, "I've never been to any of these places."
Across the street, we sit outside at a restaurant. Villas is built low to the ground with a round face and short-cropped Afro. She seems nervous and sad, and in her face I recognize the face of HIV loneliness. Reaching in my bag for my notebook, she stops me, "Are you married? Do you have children?"
I smile, "No wife, no kids."
She shakes her head, smiles, then begins her story without any prompting, her face drawing me in as she speaks. "I'm from Zambia. I'm a foreigner. That's where I met my husband. He came to my country to work. I didn't know he was infected. He didn't tell me because he didn't know. I went to the clinic when I was pregnant with my daughter and found out."
Villas's story is the story of how AIDS has devastated all of southern Africa; it's also the story of capitalism's appetite for migrant workers. Men must leave home for work, traveling far from family and community (in this case the mines of South Africa -- gold, diamonds, platinum, and chromium). The labor is hard, tedious, and dangerous. The men spend half their day underground, live in dorms in worker compounds, and have little life outside of the mines. These miners do what all exhausted, lonely men do -- drink and have sex. The mining camps attract poor young women from neighboring towns and villages and migrant sex workers (female and male) who visit the camps. In the eighties, when AIDS was largely seen as a disease of gay men in America and Europe, it was spreading ferociously through the mining camps of southern Africa. Today in the gold mines of South Africa alone there are nearly 300,000 workers from across the region. They travel home to rural towns and urban townships and infect wives, girlfriends, sex workers. It's no surprise that the highest rates of infection are precisely in the rural areas where so many of the miners come from: the South African provinces of Gauteng and KwaZulu-Natal, and the neighboring countries of Zimbabwe, Botswana, Mozambique, Lesotho, and Zambia.4
As we eat, Villas tells me of her husband and how his family treated her when they found out. "They accused me of giving it to him because, you see, I'm a foreigner. Nobody trusts the foreigner." But Villas is not bitter. She sits up and her eyes show she wants all the world to know the truth about her husband. "My husband was sick, he was dying. I had to help him. I had to keep my family going. He died building our house. It's so big, so nice. It's got two stories with a balcony. He wanted to give us this. That's all he wanted in the end -- to build this house for me and my daughter."
She fishes into a large satchel and hands me a grant proposal and a pamphlet with the ubiquitous red ribbon and the name of her organization, Wola Nani ("embrace" in Xhosa), printed on the cover. The grant asks for sewing machines, a computer, and some other materials to bring in money.
"You're a writer. Is it good?" Her face is so open, so hopeful. "You can help us, can't you?"
I bury myself in reading the grant to avoid her question. I want to return to the interview: "Where is this, this place, your organization, Wola Nani?"
"It's at my house in Cape Flats. My daughter and I now live on the second floor. The women come and stay, sometimes they bring their children. Many don't have any place to go. Their families are scared, they don't want them staying with them."
Encouraged by the possibility of my assistance, Villas explains how the monies would be used: "We want to work and make money to support ourselves, to feed our children." From her satchel she pulls out a catalog and some samples of the women's craftwork. Key chains and bracelets made of beadwork, tie-dye dresses and t-shirts, bowls made from intricate weaving of telephone wire, papier mâché toys, and bowls decorated with canned food labels. Villas pushes a key chain and a pen across the table. "Here, you take these."
The food comes, and I reach for my medications but pause and look at Villas. She carefully cuts her food with fork and knife, lifts it to her mouth and swallows. I feel the pills in my pocket -- clumps of chemistry -- that I have been living on for four years. I try to quietly pull them out of my pocket, but two spill onto the ground, and I pick them up and pop them in my mouth. When I reach for my water, she has stopped eating and folded her hands in her lap.
"You take the medications?" I nod.
"I used to take some but they made me sick. And they didn't do much good."
She goes back to her food. I go back to mine.
"We got them in a special program at the hospital. You had to come and get them every week. Get on a bus, stay there until they decided to give them out, sometimes half a day, then get on the bus, and go home. I had to miss a half or more day of work. Sometimes I took my daughter. Sometimes someone looked after her. I got sick anyway. I decided they were not worth it. We don't even have much good water to drink out in Cape Flats. All the drugs, what good are they if we don't have the good water and the healthy food? This is what makes me so mad sometimes. I decided to just spend my money for good food for my daughter and me."5 She goes back to carefully cutting up her food. And then, she looks back up, "But they work, don't they? Look at you, so healthy and strong."
I want to tell her that they made me sick, too. But the fact is without them I'd probably be dead. So what should I tell her? That they were the difference between life and death? That she, her daughter, the women of Wola Nani, and the other 99 percent of those like her in South Africa will all die, while I and others like me from wealthy countries will go on living? But Villas isn't interested in my emotions; she sees something else that has nothing to do with pharmaceutical know-how, she sees how I live in my body: she sees perhaps better than I can why I'm here. So I deliver the message I came to give: "The drugs, yes, they work, but it's yoga that has helped me the most." I lose myself and Villas in my rehearsed words about yoga's benefits, until she brings me back down to earth.
"Well, I want to learn this yoga. Can you come to our center in Cape Flats to teach the women?"
"Well, yes. I could, but I'm going to Durban for the conference, you know, and I'm going to do a workshop."
"I am going to the conference too, so I will come to your workshop. And when the conference is over why don't you come back to Cape Town and give the workshop?"
"Yes, yes, I'd like to do that," I say, nodding emphatically, wanting to believe that in the days ahead I will find the courage to fulfill her request and Andre's, who also asked me to return and offer a workshop.
---

The convent for the Sisters of Nazareth sits high on the slopes of Table Mountain. Earlier that week, I'd tried to hike, or rather climb, to the top, getting lost, dodging thieves who'd jumped the couple in front of me, and bushwhacking up through vines and brambles until I found myself fingering holds on a ledge in the middle of a trickling creek bed, with arms and legs covered in bleeding scrapes. I admitted defeat when I turned and could see no further than a few yards below as clouds had blown in from the sea and swallowed the mountain.
I check in with two guards positioned in a brick guardhouse. They look at my ID and call to make sure I'm expected. The plant life of the Western Cape is like no place else on earth, and I can't help but stop and admire the vibrant yellow and red roses in a garden along the stone path. I wander up to the roses and smell them, and as I bend over, I see a name on the stone I'm stepping on. Looking around, I see others. Then it comes to me: I'm standing on a graveyard for children. I turn and walk back out of the garden. Just as I reach the gate, the guards who have been watching call from the gatehouse. "Sir! Up ahead! That is where you go!" I walk fast then break into a jog.
At the orphanage, a pleasant, old, white woman answers the bell and leads me to an antique chair in an anteroom. The place reminds me of my grandmother's: antique furniture, jars with striped mints, doilies; everything is drab and outdated, orderly and spotless. I fold my hands and wait in my chair like I am back in grammar school sitting outside the principal's office. Sister Irene comes bustling in and I stand at attention. In a colorless tweed sweater, a practical, nondescript gray-green dress and black shoes,
Sister Irene has that ageless look of Irish nuns: trim, milky complexion, sharp hazel eyes, narrow face. "Now Mr. McColly, tell me then, what can we do for you? You're interested in the orphanage, I take it?"
I hand her my university card. "Chicago. My sister lives in Chicago," she smiles warmly. When I tell her of my project, stressing the importance of trying to write about HIV from the perspective of someone with the virus, the acronym HIV brings the blink, the piercing look, and eventually that knowing nod. "A writer, then?"
She apologizes for her lack of time as I follow her down an echoing hall, passing elderly white nuns with canes and young black nurses and housekeepers; she greets all with equal energy. We stop at the Public Relations office so that I can be added to the long list of journalists who have come to do stories on the convent and South Africa's escalating population of AIDS orphans. The PR women tells me that there are over 500,000 orphans in the country and that figure is expected to rise to over 2 million by the year 2010, accounting for almost 2 percent of the population.6 The convent has other missions -- caring for elderly sisters and working with women's groups, children, and the poor.
Sister Irene then takes me to a site where they are building a wing for the ever-growing numbers of children they receive each month. "Here's the school area and here will be dorms for the children." Walking back to the main building, I can barely keep up with her. "My yoga is hiking up there," she says, pointing to Table Mountain. "I go as often as I can."
"Up to the top?" I ask, not wanting to hear that this older woman hikes up a mountain that nearly killed me.
"Certainly. Have you been?"
"I tried. But I kind of got lost."
"Happens all the time. You have to watch it when the clouds roll in. People have had to spend the night up there."
As we walk down a long hallway, I hear children. Entering a kitchen, I see a low table with abandoned bowls of cereal, half-eaten crusts of bread, little cups for juice. The sounds of the voices are bright, supplanting the image I fear of babies dying in cribs with eyes bulging out of disproportionate heads. Passing a small side room, Sister Irene stops. "Here is a boy who needs to be on a respirator." The boy sits in a miniature bed, hooked up to oxygen, rolling a red race car over his blanket, up the wall, and off into the air. His head lolls, his eyes regard us as if we are creatures from another world. "This little boy's name is Thomas."
"Hi Thomas," I say, hardly able to hear my own voice. He looks up and sticks out his little hand.
Sister Irene brushes back his hair: "The nurse says he is doing much better." I nod, trying to be the writer, noting the details of him and the room, but what I really want is to touch him again, feel his little hand in mine.
The main room is like any kindergarten: numbers and letters painted in bright, happy colors on warm wooden walls; toy boxes overflow with balls and stuffed animals; piles of red cardboard bricks; chairs and tables that come to my knees.
One by one they come out of a far room. A few run, heads bobbing, arms fluttering, legs in tights and dungarees, bending and bouncing, as they spill forth. Girls in groups of twos and threes, absorbed in talking, head toward the play kitchen and stacked boxes. Seeing Sister Irene, many of the boys run toward us, surround me, grab onto my legs and pull on my arms, like I'm a tree that needs to be climbed.
"This is Michael, and he comes from far away, in America," says Sister Irene trying to get their attention. "They just finished their lunch and now will have a resting time." I can see cribs in a far room. She sinks to her knees to talk with one of the boys.
A boy looks up at me with his head so far back I'm afraid he's going to fall over. He says something, but I can't understand his South African brogue. I lean down and he repeats his question, "What's your name?"
I kneel and put my hand around his back, placing my big palm on his bony shoulder. I look into his face, and a tremor moves up my spine. I stand, searching for something to steady me, something to do, some question to ask Sister Irene, but she has left me alone with these little boys. They take hold of my hands, playing with them as if they were toys. They call up to me, begging for me to come down and play, wondering what's wrong, wondering how I can be there but at the same time so far away. Fatherless three-year-old boys, their heads back, their mouths agape, hang from my knees. I tighten my jaw, smiling, clinging fiercely to myself.
Sister Irene, on her knees, her arms around two boys, talks with a swarm of other children. Entering the play room, she confessed that she had a room upstairs where she often sleeps at night to be near the children. She signals to me, pointing to two little girls, walking slowly, the last two to emerge from the nap room. One girl leads the other, holding her arm as if they were two old sisters. Step by tiny step, patiently they cross the playroom. "You see, they become like a family. They are always together, these girls. They even sleep together." Sister Irene explains that the little girl being led is blind and has been sick ever since arriving. I can see now too that the blind girl's face and body are deformed, making it difficult for her to walk. The little girls make their way through the chaos of playing children. I ask Sister Irene about how her work began with the orphans. "At first, we took children with incurable diseases. We were already set up for this, you see. Our mission is to care for children with incurable diseases. We began in 1991. Nobody would take them, so we began to take these children. We are just social workers. In most cases the parents have both died. We try to find homes with the relatives. But sometimes they can't always take them." I ask her about the plots out front among the roses. "Yes, we have a little ceremony for each of our children. Thirty nine have died so far, and many of them are buried out there."
Sister Irene needs to be on her way, so I thank her and prepare to leave. Some part of me turns back, half hoping a child will notice and come running to grab my pant leg, but they have returned to their world of play.
Click here to e-mail Michael McColly.
This book excerpt has been provided with the permission of Soft Skull Press, 2006 © Soft Skull Press. To order this book, click here.
Notes