Brand Name: Atripla
Other Name(s): efavirenz/emtricitabine/tenofovir, efavirenz/emtricitabine/tenofovir DF, EFV/FTC/TDF
Drug Class: Combination Drugs
Approved Use: Treatment of HIV Infection
Chemical Images: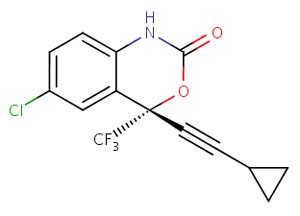 efavirenz
Molecular Weight: 315.677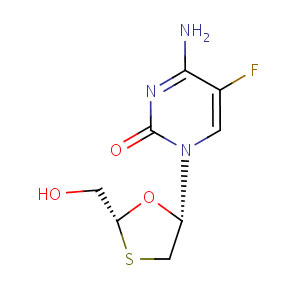 emtricitabine
Molecular Weight: 247.249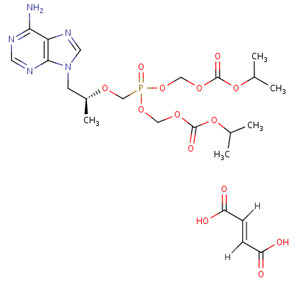 tenofovir disoproxil fumarate
Molecular Weight: 635.5166
WARNING:
Atripla can cause serious, life-threatening side effects. These include lactic acidosis (buildup of lactic acid in the blood) and liver problems.
Contact your health care provider right away if you have any of the following symptoms that may be signs of lactic acidosis:
Weakness or tiredness.
Unusual (not normal) muscle pain.
Trouble breathing.
Stomach pain with nausea and vomiting.
Feeling cold, especially in your arms and legs.
Dizziness or lightheadedness.
Fast or irregular heartbeat.
Contact your health care provider right away if you have any of the following symptoms that may be signs of liver problems:
Yellowing of your skin or the whites of your eyes (jaundice).
Dark-colored urine.
Light-colored bowel movements.
Loss of appetite for several days or longer.
Nausea.
Pain in the stomach area (abdominal pain).
Atripla is not approved for the treatment of hepatitis B virus (HBV) infection. If you have both HIV and HBV infection and take Atripla, your HBV infection may get worse (flare up) if you stop taking Atripla. The HBV drug adefovir dipivoxil (brand name: Hepsera) should not be taken with Atripla.
If you take Atripla, you should not take certain other HIV medicines.
While taking Atripla, it is important to keep all of your appointments with your health care provider.
What Is Atripla?
Atripla is a prescription medicine approved by the U.S. Food and Drug Administration (FDA) for the treatment of HIV infection in adults and children 12 years of age and older. Atripla can be used alone as a complete treatment regimen or with other HIV medicines.
Atripla contains the following three different HIV medicines combined in one pill:
Efavirenz -- an HIV medicine called a non-nucleoside reverse transcriptase inhibitor (NNRTI).
Emtricitabine -- an HIV medicine called a nucleoside reverse transcriptase inhibitor (NRTI).
Tenofovir disoproxil fumarate -- another HIV medicine (also an NRTI).
Both NNRTIs and NRTIs block an HIV enzyme called reverse transcriptase. (An enzyme is a protein that starts or increases the speed of a chemical reaction.) By blocking reverse transcriptase, the three drugs in combination prevent HIV from multiplying and can reduce the amount of HIV in the body.
HIV medicines can't cure HIV/AIDS, but taking a combination of HIV medicines (called an HIV regimen) every day helps people with HIV live longer, healthier lives. HIV medicines also reduce the risk of HIV transmission.
What Should I Tell My Health Care Provider Before Taking Atripla?
Before taking Atripla, tell your health care provider:
If you are allergic to any of the HIV medicines in Atripla (efavirenz, emtricitabine, or tenofovir disoproxil fumarate) or any other medicines.
If you have kidney problems or are undergoing kidney dialysis treatment.
If you have bone problems.
If you have liver problems, including HBV infection.
If you have ever had mental illness or are using drugs or alcohol.
If you have ever had seizures or are taking medicine for seizures.
If you have had a life-threatening skin reaction (for example, Stevens-Johnson syndrome).
If you are pregnant or plan to become pregnant. Women should not become pregnant while taking Atripla and for 12 weeks after stopping it. Serious birth defects have been seen in the babies of animals and women treated with efavirenz (one of the medicines in Atripla) during pregnancy. Whether efavirenz caused the birth defects is unknown.
If you are breastfeeding or plan to breastfeed. Do not breastfeed if you are infected with HIV or are taking Atripla.
If you are using hormone-based birth control (such as pills, injections, or implants). Atripla may make these forms of birth control less effective. Your health care provider can help you decide how to adjust your birth control while you are taking Atripla.
If you have any other medical conditions.

About other prescription and nonprescription medicines, vitamins, nutritional supplements, and herbal products you are taking or plan to take. Atripla may affect the way other medicines or products work, and other medicines or products may affect how Atripla works. Taking Atripla together with certain medicines or products may cause serious and/or life-threatening side effects.
How Should I Take Atripla?
Atripla comes in tablet form. Each tablet contains:
600 mg efavirenz (brand name: Sustiva).
200 mg emtricitabine (brand name: Emtriva).
300 mg tenofovir disoproxil fumarate (brand name: Viread).
Take Atripla according to your health care provider's instructions.
Take Atripla on an empty stomach and without food, preferably at bedtime. Swallow the pill with water.
If you take too much Atripla, contact your health care provider or local poison control center (1-800-222-1222) right away, or go to the nearest hospital emergency room.
For more information on how to take Atripla, see the FDA drug label from DailyMed. (DailyMed is a federal website that includes the most recent drug labels submitted to FDA.)
What Should I Do if I Forget a Dose?
If you miss a dose of Atripla, take the missed dose as soon as you remember it. But if it is almost time for your next dose, skip the missed dose and just take your next dose at the regular time. Do not take two doses at the same time to make up for a missed dose.
What Side Effects Can Atripla Cause?
Atripla can cause serious, life-threatening side effects. These include lactic acidosis (buildup of lactic acid in the blood) and liver problems. (See the WARNING above).
Other possible side effects of Atripla include:
Serious psychiatric problems (including suicidal thoughts).
New or worsening kidney problems, including kidney failure.
Bone problems (bone pain, softening, or thinning [osteopenia]).
Changes in body fat (lipodystrophy).
Skin discoloration (small spots or freckles).
Immune reconstitution syndrome (IRIS), a condition that sometimes occurs when the immune system begins to recover after treatment with an HIV medicine. As the immune system gets stronger, it may have an increased/exaggerated response to a previously hidden/undetected infection. Tell your health care provider if you start having new symptoms after starting your HIV medicine.
Rash. A rash can be serious, so contact your health care provider right away if you develop a rash.
Inflammation of the pancreas (pancreatitis).
Allergic reactions.
Dizziness, insomnia, impaired concentration, drowsiness, and abnormal dreams during the first few weeks of treatment.
Tell your health care provider if you have any side effect that bothers you or that does not go away.
These are not all the possible side effects of Atripla. To learn more about possible side effects of Atripla, read the drug label or package insert or talk to your health care provider or pharmacist.
The AIDSinfo fact sheet on HIV Medicines and Side Effects also includes information that may apply to Atripla.
You can also report side effects to FDA at 1-800-FDA-1088 (1-800-332-1088) or online at www.accessdata.fda.gov/scripts/medwatch/.
How Should Atripla Be Stored?
Store Atripla at room temperature, 77°F (25°C).
Keep Atripla in the container that it came in and keep the container tightly closed. If the container has a small packet of drying agent (called a desiccant), do not remove it. The desiccant protects the medicine from moisture.
Do not use Atripla if the original seal over the bottle opening is broken or missing.
Throw away Atripla that is no longer needed or expired (out of date). Follow FDA's guidelines on how to safely dispose of medicine.
Keep Atripla and all medicines out of reach of children.
Where Can I Find More Information About Atripla?
More information about Atripla is available:
Manufacturer Information
Bristol-Myers Squibb
800-332-2056
Gilead Sciences, Inc.
800-445-3235
The above Patient Version drug summary is based on the following FDA label(s): Tablet (film coated).
Comment by: nina
(montreal canada) Mon., Feb. 2, 2015 at 2:07 pm UTC
I am a transsexual Male to female and it should be noted that atripla seems to diminish the effectiveness of my hormone replacement therapy HRT.
So I was not surprise when I read about diminished effect of birth control pills since they are similar.
Please note this, as there are not much info available for Transpeople and HIV treatment.
I am using estrace 6mg a day with endrocur 50mg a day and noted a decrease of effectiveness (return of erection in the morning being the first sing) and on HRT this as been gone for years. Meaning my testosterone level is not being reduced at the proper level anymore.
This has happened within the first month of the treatment so it is quite fast at supressing the effect of HRT. I am seeing my MD for my first blood test result this week and will talk to him about it and compare testosterone level before/after to have a confirmation as well as estrogen level before / after.
This may not seem like much for the average person but for Transgender this is a crucial thing to know when opting for a HIV treatment.
thank you for your great informational web site.