Even though, since the beginning of the U.S. epidemic, at least 10% of people with AIDS have been over the age of 50, our health and social policies have generally neglected this population. Now the proportion of people living with HIV who are older is rising; in some cities, 25% or more of all people with HIV are over 50. Ageism and stereotypes contribute to the belief, among the general pubic and among health care providers, that older adults are not at risk for HIV infection.
The HIV population is often described using only health care measures: office visits, lab tests, treatments received, outpatient visits versus hospital care, etc. The health picture presented in ACRIA's Research on Older Adults with HIV (ROAH) study of 1,000 people over 50 is driven by the voices of the participants. ROAH participants rated their current health on a scale of 0 to 10, with higher scores indicating better health. Participants' scores ranged from 1 to 10, with a mean score of 6.8, slightly above the midpoint of the scale. This indicates that most consider their overall health to be at least fair or good. In many ways this measure is analogous to asking, "How are you feeling today?" The answer of ROAH's participants is, "Not bad," or "Pretty good." Given the tremendous challenges that these individuals face in managing HIV along with their daily life activities, this suggests there has been some success in providing care, services, and funding.
The older adults in ROAH have been living with HIV for an average of 12.6 years. The range from date of HIV diagnosis is 3 months to 26 years. A little over half (51%), have an AIDS diagnosis, while only 13% currently have CD4 levels below 200. Thus the extraordinary success of antiretroviral treatment is evident in the ROAH data. Consistent with NYS standards of care, the majority (88%) visited their primary health care provider every 3 to 4 months. Nearly 85% are currently on HIV meds. Most patients (76%) receive care in public hospitals, in clinics, or at AIDS service organizations. There are no apparent differences in access to treatment among the major racial and ethnic groups or between men and women.
Advertisement
Getting Older With HIV
People with HIV are now living long enough to experience the disease as a chronic illness. As they age, they will encounter the challenges of competing health risks from aging, drug toxicity, and other diseases and conditions. HIV alone does not define the health status of these individuals. Without the opportunistic infections associated with AIDS and the collapse of the immune system, there is a need to focus on non-HIV-associated health needs. As people with HIV are living longer, they and their health care providers will be challenged by at least one if not several disease processes.
Many diseases that are common in the over-50 age group mimic or parallel HIV symptoms, often resulting in the older person being misdiagnosed and HIV disease overlooked. For example, diabetic neuropathy looks like HIV neuropathy, and multifocal dementia mimics HIV dementia. The complications of a lifetime of poor health choices may affect the course of HIV in the older adult. People who are over 50 when they receive their HIV diagnosis are often diagnosed late in the course of their HIV infection. This can result in an AIDS diagnosis as the initial diagnosis.
ROAH findings highlight several important issues that need to be considered and will be examined in follow-up ROAH studies. Most participants (91.4%) reported at least one comorbidity, and 77% had two or more. The most common comorbidities were depression (52%), arthritis (31%), hepatitis (31%), neuropathy (30%), and hypertension (27%). Many medications commonly taken by older people -- tranquilizers, antianxiety agents, drugs to treat Parkinson's disease, hypertension, heart disease, rheumatoid arthritis, and pain -- can worsen depression.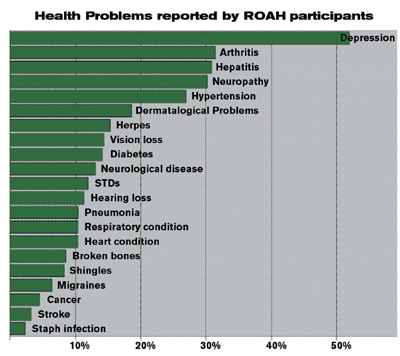 High Blood Pressure
Hypertension, or high blood pressure, is a common condition that is more frequent as we age. Close to 2/3 of people over 60 will be affected by it; left untreated it can lead to an increase in strokes, heart attacks, heart failure, and death. When treated, the frequency of these complications is greatly lowered.
Blood pressure needs to be monitored regularly as we age. A reading of 120/80 is usually considered normal; readings that are repeatedly over 135/85 usually need to be treated. Several measurements are usually needed to verify the diagnosis since blood pressure normally goes up in the doctor's office due to the normal stress of seeing a doctor ("white coat hypertension").
People with high blood pressure need to live a healthier life, which usually requires losing weight, stopping tobacco use, moderating alcohol consumption (a couple of glasses of red wine may actually be beneficial), exercising at least three or four times a week for at least 30 minutes each time, and monitoring blood lipid levels like cholesterol and triglycerides. Stress reduction, lowering salt (sodium) intake, increasing fruits and vegetables, and decreasing fat in the diet are also beneficial. Most of these interventions can reduce hypertension as well as the risk of heart disease. Medications can help when these methods don't.
High Cholesterol
Lipids, or fats, often increase in the blood as we age and are another risk factor for heart disease and stroke. Cholesterol is but one lipid found in our bodies; the good cholesterol is called high density lipoprotein, or HDL, and the bad one low density lipoprotein, or LDL. (An easy way to remember this is: HDL for "Healthy" cholesterol and LDL for "Lousy" cholesterol.) HDL helps remove cholesterol from the body while LDL helps deposit it in the walls of blood vessels, so we want HDL to be higher and LDL to be lower. The lower one's level of LDL, the lower the risk of heart disease, especially in those who already have heart disease. So, most physicians are urging patients to lower their LDL and raise their HDL as much as possible.
A diet low in fat is one way to do this. So is increasing one's intake of omega-3 fatty acids (found in flaxseed oil, certain fish -- especially salmon -- and walnuts). Statins are drugs that can be effective in doing this, but unfortunately many of them interact with HIV drugs. Your physician can help pick those with the least chance of such interactions. Exercising and stopping smoking can also lower LDL.
Diabetes
Diabetes is increasing in frequency in this country, including among people with HIV. The risk for diabetes increases the more a person weighs. It also increases when taking certain HIV drugs, especially the protease inhibitors. Type 2 diabetes, the kind that usually affects adults, is clearly tied to body weight, age, and genetics (coming from a family with diabetes increases one's risk).
Diabetes is managed by weight reduction, changing the diet, and, sometimes, oral medications (insulin injections are rarely needed in adult onset diabetes). Often, simple weight reduction is enough to normalize a person's blood sugar. Complications of diabetes include vascular diseases, such as heart disease and stroke, and damage to the vessels of the kidneys and the retina of the eye. Vascular compromise can lead to amputation of the lower limbs due to gangrene. The vascular complications are greatly increased in those who smoke. Diabetic neuropathy is also a complication of diabetes and often is difficult to differentiate from HIV neuropathy.
Cancers
There are many other diseases that become more common as we age. Breast cancer in women (and very rarely, men) is one of them, but no definite increased risk has been shown in women with HIV. Most women should begin having regular mammograms after the age of 40, and according to the latest guidelines those at higher risk are now being offered MRIs. People are at higher risk for beast cancer if they have already had it in one breast or have a family history of the disease. Genetic tests are available for those with a strong family history.
Prostate cancer is the most common cancer in men, but again with no known increase in people with HIV. Most men with prostate cancer have a low-grade disease and will die from another illness. The major problem today is determining who will develop an aggressive, life threatening cancer and who won't. This cancer is more common in older men, in men with a family history of the disease, and in African-American men.
Currently, a blood test -- the PSA (prostatic specific antigen) test -- is used to screen for prostate cancer, along with a digital rectal exam. The blood test is very sensitive, but some men with low PSA levels can have the disease while not everyone with high levels does. High levels usually indicate the need for a needle biopsy of the prostate, which may be followed by surgery, drug therapy, radiotherapy, cryotherapy or some combination, depending on the results. Men need to be well informed before they embark on screening tests for prostate cancer, given the difficulties interpreting the PSA test and the complications of prostate surgery, which can include impotence and/or urinary difficulties.
Conclusion
Growing old isn't without its risks. Some of these risks are increased in people with HIV disease; some are not; and for some, there isn't enough experience yet to know. The good health measures and preventive care recommended for people who are HIV negative also need to be followed by those who are HIV positive. As time goes on and more people with HIV live to old age, we may see different frequencies of the diseases of aging, or they may express themselves differently in those with HIV. Only time will tell.
Andrew Shippy is a Senior Research Scientist at ACRIA.
Jerome Ernst is ACRIA's Medical Director.