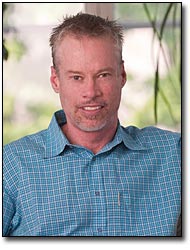 Photo © Russell McGonagle
I was recently invited to a meeting in Washington, D.C. that brought together federal policy makers from the CDC, HIV researchers, care providers, and community members from all over the country to discuss the new CDC recommendations for routine HIV testing. The meeting was meant to be influential, with a long list of AIDS divas in attendance such as Anthony Fauci, Mathilde Krim, John Bartlett, and Phill Wilson. It was an eye opening attempt to lay out all the concerns about implementation of the recommendations.
A bit of a background: You've most likely heard HIV testing is now recommended everywhere that medical care is provided. It was first called for by Tom Frieden, the alarmist New York City Health Commissioner. That apparently was the spark that ignited the CDC to make its testing recommendations. And voila ... a national policy became reality.
Routine HIV testing may be a good thing, but I left this meeting realizing there are many flaws and pitfalls in implementing this huge policy sea change. Every time the U.S. government dictates health policy, the system is not prepared for it. I chalk it up to another inadequate government plan, not unlike the Iraq invasion and occupation. There may just not be enough troops to perform all these HIV tests. I was frustrated once again at policy recommendations thrust into the arena that had not been thoroughly thought out with all the game players.
Advertisement
They
estimate
250,000 people are HIV-positive in the U.S. and don't know it. Most people agree that there is a need to test all those "dissenters" of unknown status out there infecting everyone. But that is where the accord ends. Community members and providers worry that there will be a problem linking so many people into care once they test positive, and the legal and economic concerns are immense. But policy makers simply urge identifying high-risk individuals so they won't continue to fuel the epidemic.
One thing I kept thinking as a person living with HIV is that there is nothing at all "routine" about HIV. We're not talking about something as everyday as cholesterol screening. To call it routine is to deny the reality of a stigmatizing and deadly sexually transmitted disease where treatments are expensive and not accessible to everyone who's positive. Even today people are dying while on ADAP waiting lists. Yes, good treatments abound, but this country still hasn't solved the issue of exorbitant drug costs and barriers to drug access.
And hello, there still is no cure for HIV! It's still considered incurable if not manageable. So even though testing everyone and their mother is noble, it's not putting a realistic face on dealing with a chronic manageable life with AIDS.
Giving people positive test results is also certainly not routine. Those of you who are HIV-positive might think back to the time you were tested and remember how it felt. It wasn't an easy decision for most of us. Now the plan is to do away with or reduce any counseling, pre or post. There will simply be a condition to "opt out" of the test. That does makes it a bit less compulsory, but if you sign on the dotted line you are virtually left to the conditions of the site that tests you. There is no mandate for counseling and you may get a result without any support or referrals. Talk about taking a giant leap backwards!
It is also curious that this testing offensive coincides with the process of changing mandatory names reporting laws in many states, including here in Illinois. According to the CDC, all states have adopted some system or plan for collecting the names of people with HIV and AIDS. Some 15 years ago mandatory names reporting was like a scarlet letter to many people stigmatized by society because of their HIV status, sexuality, and race. There was a huge mobilization of the AIDS community to demand that testing be anonymous. A compromise was made and both confidential and anonymous testing were offered and the names of people with AIDS were all that were reported. Today, the names of HIV-positive individuals will be reported, but until we address HIV stigma that still exists, people will be wary of testing and disclosing their serostatus. Call me paranoid but I find this juxtaposition of routine testing and names reporting creepy.
And what about prevention? The policy makers contend that testing everyone will improve safer sex practices and thus reduce HIV transmission. Again, there is no strategy in place to counsel and teach those who test negative about ways to stay negative. There is no institutional strategy or the resources to pay for it. It's a bit cart-before-the-horse.
The bottom line with this new policy from my point of view is the consideration of human rights. On paper HIV testing will help to stem the epidemic. But until inquiring minds come together to focus on civil and human rights and strategize about the very best way to implement this policy, it is set up to fail.
Let's not march on with a George Bush "Mission Accomplished" testing policy until all the t's are crossed and i's are dotted.