ACT UP Celebrates Its 20th Anniversary With a Raucously Successful Springtime Demo (Plus Miss America Is There!)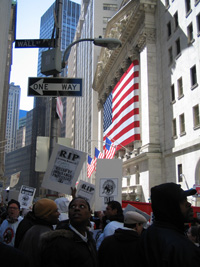 Protesting price gouging on Wall Street.
The sun was out, the electronic megaphones worked only intermittently, expressionless cops lined the streets, and some 800 to 1,200 chanting, smiling, shouting, crying, worked-up AIDS activists were making their presence felt -- a fitting anniversary for 20 years of the AIDS Coalition to Unleash Power.
Yesterday's commemorative 20th-anniversary ACT UP march throughout Manhattan's Financial District was an emotional day, as veterans of the battles of the late-'80s and early '90s remembered all they'd been through -- and all the people they'd lost -- with pride and sadness. "It's incredible that all these people came. There are faces here that I haven't seen in years," said Charles King, Housing Works CEO and former ACT UP soldier.
"It's great to commemorate the 20 years that ACT UP has been around and the goals that we've accomplished, like getting access to health care," said Eric Sawyer, legendary cofounder of both ACT UP and Housing Works, wiping tears from his eyes. "But the hardest part is remembering all of the members of ACT UP over the years who didn't make it."
Making It Count
Moving as the day was, the mass of protesters wouldn't have been content just to celebrate ACT UP's glorious past. They brought a list of demands: universal health care, expansion of the city's HIV/AIDS Services Administration (HASA) benefits, and an end to HIV-med price gouging by pharmaceutical companies. CHAMP, GMHC, ACT UP/Philadelphia and numerous other groups were all on hand.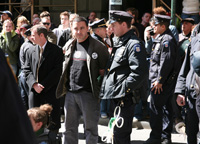 26 protesters were arrested.
(Photo: Mark Leydorf)
Advertisement
The day kicked off at noon outside the Federal Building on Broadway at Worth Street, where Dr. Oliver Fein from Physicians for a National Health Program spoke about the need for universal health care. Then King gave an impassioned speech about the
HASA for All
campaign that Housing Works and other groups are waging. He lit into Speaker of the City Council Christine Quinn for her unwillingness to embrace HASA for ALL.
"She's afraid homeless people with diabetes and cancer will want housing too," King barked. "Why shouldn't they?"
Warmed-up in the bright-but-brisk weather by the emotion of the speeches, the marchers began their journey. Toting signs and banners reading "Healthcare is a human right," "Drug price controls now," "Housing not shelters 'cause AIDS can't wait," and "ACT UP for single-payer healthcare for all!", the diverse, happy throng headed to City Hall.
That Ain't Right!
At City Hall, New York City AIDS Housing Network's Shirlene Cooper bravely disclosed her HIV status, then riled up the crowd with an inspired speech about the need to adopt HASA for ALL, asking her audience to yell "That ain't right!", when she pointed out yet another unjust or inept AIDS policy (a welcome change from "Shame, shame, shame!").
"Everybody needs healthcare and housing," said James, a Housing Works client who withheld his last name. "It's time for the government to step up to the plate. They make a lot of false promises about how they will take care of people and many people are paying for it with their lives." That ain't right!
Back to the Source
The march commemorated ACT UP's 20th anniversary with a stop at Trinity Church, the site of the group's first demonstration on March 24, 1987, where protestors demanded that the FDA release available HIV meds. Brent Nicholson Earle and Andrew Velez offered brutally honest speeches remembering those who died from AIDS over the last two decades. In one of the day's highlights, Velez encouraged folks to yell out the names of loved ones they had lost, prompting a spontaneous chorus of names of much-missed family, friends, activists, artists and others.
"It's beyond belief that 20 years later, so little has improved," said Earle, who attended that first ACT UP protest. "We must try to re-energize the AIDS activist movement and this march is a good start."
Money and Greed
The phalanx of activists, stretching two and three blocks, made its way to Wall Street. Standing behind barriers across from the American-flag-wrapped New York Stock Exchange, they tossed fake, giant $100 bills in the air and demanded price controls for HIV medications, chanting "Pills cost pennies, greed costs lives!" and "No more bull. Health care for all!"
Shortly thereafter, the Update was happy to run into an incognito celebrity, Kate Shindle, who spent her reign as Miss America 1998 advocating for better HIV prevention and treatment programs worldwide. "The march is really powerful and you feel like you're part of something," the illegally pretty Shindle said. "I used to be more active with lobbying when I was Miss America, but I moved into a fundraising capacity and I miss being more directly involved."
Dying to Make a Statement
At last, the raucous march coalesced around the famous bronze Charging Bull statue -- symbol of unchained animalistic capitalism -- on Broadway near Bowling Green. The statue was strewn with banners, signs, condoms and body bags while the crowd chanted "Health care for people, not for profits!" and passers-by gathered on both sides of the street to marvel at the activist blast from the past.
The march came to its climax when approximately 26 protesters engaged in civil disobedience, lying down in the street for a die-in. All 26 were arrested and carted off to jail but most were expected to be processed and released within a few hours.
The Next 20 Years
Amid the crowds of activists remembering the last 20 years of action, many also looked ahead to future battles and opportunities. Eric Sawyer hopes that yesterday's action will have a lasting effect locally and lead to larger discussions beyond New York State.
"Hopefully, this is a sign that the issues of HASA, single-payer health care and drug prices will resonate with New Yorkers," he said. "We need to capture this momentum to make all of this a domestic issue for the next presidential election."
Sawyer's friend Shindle saw the march as an opportunity to pass the torch "The people who have been doing this for 15 to 20 years won't be around forever," she said. "It's time for younger generations to step up and take action."
For more photos of the 20th anniversary march, click here.