The Body Covers: The 14th Conference on Retroviruses and Opportunistic Infections
Maraviroc + OBT Potent in Treatment-Experienced HIV-Infected Patients: An Interview With Roy Gulick, M.D.
Dr. Roy Gulick, of Weill Cornell Medical College in New York City, was one of the investigators in a study of the safety and efficacy of the experimental HIV medication maraviroc. He sat down at CROI with The Body's Bonnie Goldman, to discuss the outcome of the trial.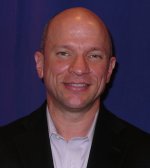 [At CROI we are presenting] the phase 3 results of maraviroc in treatment-experienced patients. Patients who were exposed to the three traditional classes -- nukes [nucleoside reverse transcriptase inhibitors (NRTIs)], non-nukes [non-nucleoside reverse transcriptase inhibitors (NNRTIs)], and PIs [protease inhibitors] -- came into the study and were checked for tropism [HIV's preference for attaching to one co-receptor versus another]. Those who demonstrated CCR5 virus were randomized to one or two doses of maraviroc, or a matching placebo. [Patients received those medications in addition to an] optimized background [regimen], which was chosen on the basis of [an individual patient's] treatment history and resistance testing. What we hear today are the 24-week results, which show that the virologic suppression rates in the two maraviroc arms are superior to those in the control arm.
There are two different studies: MOTIVATE I and MOTIVATE II. One is done just in the U.S. [and Canada]; the other in Europe, [Australia and North America]. The results of both studies show very similar results. The good news is that about 60 percent of people suppress their viral load levels to less than 400 on the maraviroc arms, compared with about half that many -- about 30 percent -- on the placebo arm. Or if you look at [the number of people whose viral loads dropped to] less than 50, it's about 50 percent on the maraviroc arms, and about 20 percent [had viral loads less than 50] on the placebo arm.
The other good news was side effects. Really, there were no increased side effects in the maraviroc arms compared to the placebo arm. So, [the] take home message [is]: This [maraviroc] looks quite potent in treatment-experienced patients and, when used with an optimized background, really showed potent and durable virologic suppression through 24 weeks. Also, CD4 cell [counts rose] about 100 over baseline.
Was enfuvirtide (T-20, Fuzeon) used in the study?
Enfuvirtide, or T-20, was allowed to be used. Patients could [start the study] on it or choose to add it as part of the optimized background.
Did patients do any better when enfuvirtide was part of their optimized background?
The difficulty in that question is that people aren't randomized. Some people used it, some people didn't. Some people were experienced with it, some people weren't. I think the basic principle is that you want to use at least two fully active agents. In some cases that would be enfuvirtide and maraviroc ... or any other fully active agent that you can get your hands on.
I know with the other CCR5 inhibitors there have been problems with lymphoma. Was that ever confirmed? Did you see anything similar in this study?
The other two CCR5 inhibitors that made it into clinical development: One was aplaviroc, which was discontinued because of hepatotoxicity, and that was not seen in the maraviroc studies; [the other is] vicriviroc, [which] is still in ongoing phase 2 studies. There's a question of malignancies associated with the compound; however, it's really not conclusive, and the numbers have been too small. In this particular study, there didn't seem to be an increased risk of malignancies in the maraviroc arms.
How does inhibiting the CCR5 receptor affect susceptibility to other kinds of viruses, like West Nile virus?
CCR5 is a receptor that sits on the surface of the CD4 cell, and likely has an immune function. If you look at people who have [an] inborn, genetic mutation that doesn't allow them to make the CCR5 receptor; they look no different than anyone else. However, there's an increasing body of data [to support the idea] that there are immunologic consequences to not having a CCR5 receptor. People who are lacking the CCR5 receptor are not more likely to get West Nile than those who have it [the receptor], but if they do get it there was increased morbidity and mortality from the illness ... just indicating that there are some immune repercussions [to not having a CCR5 receptor].
There have also been favorable immune repercussions [for people who lack the CCR5 receptor]. People with rheumatoid arthritis who don't have the CCR5 receptor actually have less inflammation and less disease.
So I guess the bottom line is: We don't know what the immunologic consequences are of a compound that blocks the receptor. It's actually safe to say that blocking the receptor may be quite different [from] an inborn genetic mutation, so the jury is still out. Looking at the study, we didn't see evidence of unusual immunologic-related events.
When is the drug expected to be approved?
Well, the FDA [U.S. Food and Drug Administration] meeting has been scheduled for April 24 of this year. [Maraviroc] will go to the advisory committee as the first drug in this class to be considered. The data that we saw today, the 24-week data in experienced patients, will be the bulk of the data presented.
I understand the drug is available on expanded access. Is that international?
I don't know. It's certainly available in the United States.
Thank you very much.
Sure.
To learn more about the maraviroc expanded access program, click here or here.
To view study summary, click here.
This article was provided by The Body PRO. Copyright © Body Health Resources Corporation. All rights reserved.