The Body Covers: The 14th Conference on Retroviruses and Opportunistic Infections
Multiple comparative clinical trials demonstrate that efavirenz (EFV, Sustiva, Stocrin) plus two nucleoside/nucleotide reverse transcriptase inhibitors (NRTIs), such as emtricitabine (FTC, Emtriva) or lamivudine (3TC, Epivir) and tenofovir (TDF, Viread), is an unbeaten standard of care for initial therapy in persons with wild-type HIV-1 infection. However, some individuals are not ideal candidates for efavirenz. This includes women of childbearing potential due to the risk of birth defects. Other patients find the central nervous system disturbances or rashes that occur during the first weeks of therapy unacceptable. Additionally, some studies suggest that efavirenz may play a role in lipid elevations when it is used in combination with some NRTI pairs. The other issue is that 7% to 16%1,2 of treatment-naive patients are coming into care with non-nucleoside reverse transcriptase inhibitor (NNRTI) resistance. In addition, once a patient has failed on an NNRTI regimen, cross resistance excludes the use of any other NNRTI. So, for the multitude of reasons, clinicians could use a second-generation NNRTI. Fortunately, there are currently two NNRTIs in development: etravirine (TMC125), which is already in expanded access and advanced clinical development, and TMC278, which is in phase 2b development.
TMC278 has a terminal half-life of 45 hours and a resistance profile in vitro that suggests activity against most single mutations associated with resistance to efavirenz or nevirapine (NVP, Viramune). The C204 study presented by Anton Pozniak et al3 was a phase 2b dose-finding study of TMC278 dosed at 25 mg once daily, 75 mg once daily or 150 mg once daily versus efavirenz 600 mg once daily, each dosed with an NRTI pair of the physician's choice.
The investigator-selected nukes were the fixed-dose combination drugs zidovudine/lamivudine (AZT/3TC, Combivir) (75.3%) and tenofovir/emtricitabine (TDF/FTC, Truvada) (24.7%). Patients entering the study were naive to antiretroviral therapy, had no pre-existent NNRTI resistance or NRTI resistance-associated mutations at screening, and had a viral load of 5,000 or more copies/mL. The study was blinded for TMC278 dose. A total of 279 individuals received TMC278 and 89 individuals received efavirenz. The individuals were well matched for multiple baseline characteristics, with a baseline viral load of 4.84 log and 4.88 log, and CD4+ cell counts of 200 cells/mm3 and 207 cells/mm3, respectively.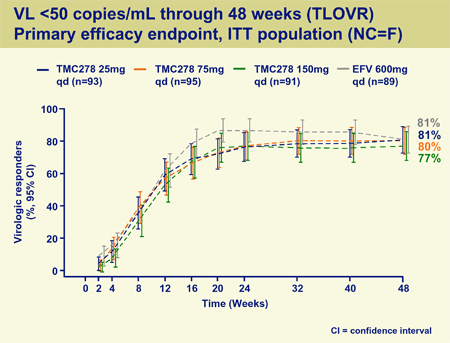 Click to enlarge
Anton L. Pozniak, M.D., F.R.C.P.; reprinted with permission.
Click here
to download the complete slide presentation.

All doses of TMC278 performed similarly to efavirenz with regards to efficacy. The number of individuals defined as experiencing virological failure was 9%, 5%, 7%, and 6% for the TMC278 25 mg, TMC278 75 mg, TMC278 150 mg and efavirenz groups, respectively. The rate of adverse event-related and other administrative discontinuations were also similar across groups. Using a Time to Loss of Virologic Response (TLOVR) analysis, the proportions of individuals with a viral load less than 50 copies/mL at week 48 were 81%, 80%, 77% and 81%, respectively. Data were similar when observed analysis was used.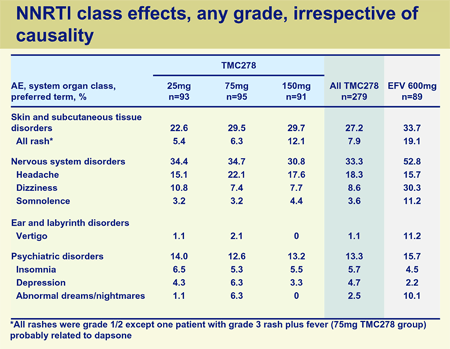 Click to enlarge
Anton L. Pozniak, M.D., F.R.C.P.; reprinted with permission.
Click here
to download the complete slide presentation.

TMC278 was generally well-tolerated, with numerically fewer individuals experiencing central nervous system disturbances, dizziness, abnormal dreams and skin rashes. Rates of laboratory abnormalities were low, with grade 3 and grade 4 liver transaminase tests each being reported in 2.5% of the TMC278 recipients and 1.2% of efavirenz recipients.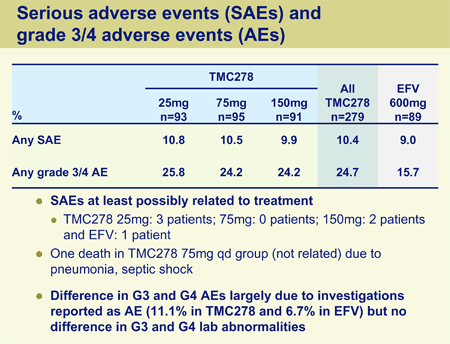 Click to enlarge
Anton L. Pozniak, M.D., F.R.C.P.; reprinted with permission.
Click here
to download the complete slide presentation.

Overall, grade 3/4 laboratory abnormalities were reported in 22% of the TMC278 recipients and 20% of the efavirenz recipients. Changes in lipids were smaller with TMC278 relative to efavirenz. Total cholesterol increased by 5 mg/dL with TMC278 compared with an increase of 31 mg/dL with efavirenz. Mean changes for LDL and HDL cholesterol were 0 mg/dL and 16 mg/dL and 5 mg/dL and 12 mg/dL for TMC278 and efavirenz, respectively, whilst triglycerides fell by 10 mg/dL with TMC278 and rose by 18 mg/dL with efavirenz.
The data suggest that TMC278 warrants further investigation as an NNRTI for use as an alternative to efavirenz in initial therapy. A dose of 75 mg has been selected for phase 3 development.
Footnotes
Boden D, Hurley A, Zhang L, et al. HIV-1 drug resistance in newly infected individuals. JAMA. September 22, 1999;282(12):1135-1141.
Brenner B, Wainberg MA, Salomon H, et al, and the Investigators of the Quebec Primary Infection Study. Resistance to antiretroviral drugs in patients with primary HIV-1 infection. Int J Antimicrob Agents. December 2000;16(4):429-434.
Pozniak A, Morales-Ramirez J, Mohapi L, et al. 48-week primary analysis of Trial TMC278-C204: TMC278 demonstrates potent and sustained efficacy in ART-naive patients. In: Program and abstracts of the 14th Conference on Retroviruses and Opportunistic Infections; February 25-28, 2007; Los Angeles, Calif. Oral 144LB.
View slides: Download PowerPoint
This article was provided by The Body PRO. Copyright © Body Health Resources Corporation. All rights reserved.