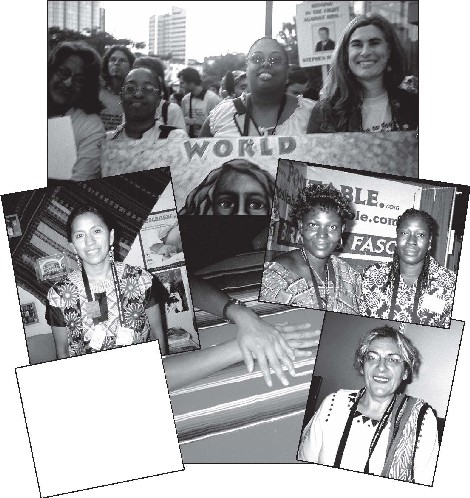 Clockwise from top: Marching through the streets of Toronto with a universal message. Mme Leontine Ouedraogo/Tougouma (left) and Mme Ouedraogo/KI Abi of the Burkina Faso group, Association Burkin Action -- a volunteer group working with HIV+ women and children with no access to HIV treatment. Maria Jose Vaszques, ICW International Steering Committee Chair. Anne-christine d'Adesky and Kathryn Anastos, MD of Women's Equity in Access to Care and Treatment (WE-ACTx). Hilda Perez-Vasques of Collectiva Sol in Mexico, a group of women helping to fight for visibility and empowerment of HIV+ women in Mexico. Center: "Tonya", a 30-year old HIV+ Mexican woman. Her husband died shortly after her diagnosis and within 6 months she began co-facilitating a support group for women. She stays strong with the help of her fellow HIV+ women.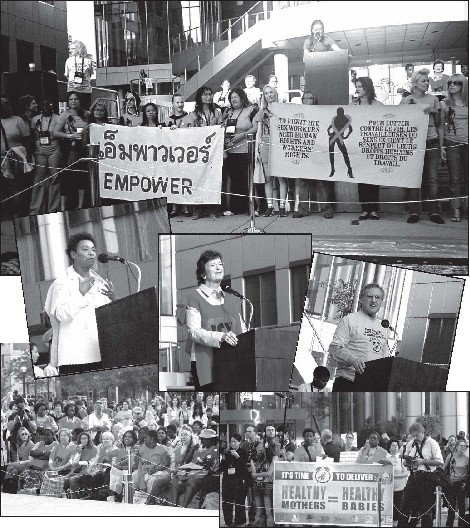 Advertisement
Top: Members of Stella from Quebec and Asian advocates for Sex Workers Rights gather at the Women and Girls Rally. Middle row from left: Congresswoman Barbara Lee speaking out for HIV+ women. Mary Robinson, former President of Ireland, a tireless advocate for women living with HIV/AIDS. Stephen Lewis, UN Special Envoy for AIDS in Africa, a committed and inspiring ally in the fight against HIV/AIDS among women. Bottom row from left: International Community of Women Living with HIV/AIDS (ICW) members at the Women and Girls Rally. ICW activists at the Women and Girls Rally.
Back to November 2006 Table of Contents.

This article was provided by
Women Organized to Respond to Life-Threatening Diseases
. It is a part of the publication
WORLD Newsletter
. Visit
WORLD's website
to find out more about their activities and publications.