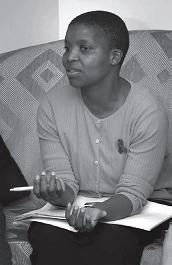 Lisungu Hazel Marion Chieza
My name is Lisungu and I am 36 years old. As a result of the ill health my late husband was experiencing I was mandated under those circumstances to know my HIV status I was diagnosed with HIV in 1996.
My mother is familiar with the symptoms of AIDS related illnesses, as she has witnessed best friends, sisters and brothers passing away because of AIDS. It gave her the guts to confront me to own up and know my status. "How could my own mother suspect that I am HIV positive?" I asked myself. I was bold enough to take the test; I could not believe it when the results showed that I was HIV positive. My thinking was the only people who tested positive were prostitutes or people who were promiscuous, poor, or uneducated. "It wasn't me, it couldn't be!" I guess this started the long journey of my denial and my coping with the fact that I am HIV positive.
My late husband died eight months later. He died in my arms at home. I would have taken my husband to a hospice but I did not know about this service. I had met him while I was studying at University of Zimbabwe in 1990.
Advertisement
I experienced a lot of emotions like
depression
, stress, anger, and many others as a result of testing positive and losing my husband. In African culture when something goes right the husband gets the credit but when something goes wrong it's considered the wife's fault. My in-laws blamed me when my husband got sick. They said that I'm the one who had made him sick. They said I had put witchcraft on him and made him ill. When he died they said I killed him. I did not know at the time that this was stigma and discrimination at its best.
As per our African custom, people gather together in the home to make funeral arrangements. In my case, my in-laws made all the arrangements separately without any family representation from my side. They came to our house where I had stayed with my husband demanding all his personal belongings. When my mother-in-law left the house she said, "Her foot will never step in the same house again," and also warned that she will have nothing to do with the welfare of the children. She said, "If those children of yours get sick, don't even call us. We won't have anything to do with them or you." I still recall these remarks vividly.
They made arrangements to bury him without me. I tried to follow them to the burial place but they refused to let us attend.
"What do you want here? You bewitched him, you killed him, and do you want to eat the body too?" the in-laws said. We were chased away. We stood at a distance clasping our hands. I was confused, angry and at a loss. Life became meaningless. I lost my sense of time.
Traditionally, it is important for the wife to attend the funeral. To this day, I do not know my husband's grave. He was buried while I was at a distance.
I lived in fear because traditionally there are rituals performed at funerals and I was not there to perform them. As such, I feared that something bad was going to happen to me.
I became suspicious whenever something happened; I always felt it was because I missed the ritual. I believed I was a bad person because my in-laws blamed me for my husband's death. The first years were really difficult coping with loss and my HIV status. The myth that when one loses a partner one would also die subsequently gripped me. I stopped living a normal life as a result. My dreams had come to an end. As time progressed I kept on thinking that I would die.
I had earlier registered for an MBA program but gave up. All I thought about was death. I started neglecting my children and myself. I did not take the kids out to play. I could not concentrate on anything. I would fail to go to work, as I felt unmotivated to do so.
Through the support of my mother who came to check on me constantly, I began to pull myself back together. She was already interested in HIV due to her losses. She told me about support groups, counseling, books she'd read, and documentaries she'd watched. She really motivated me. I joined a support group, sought counseling and began to learn about HIV. She would ask me, "Did you read this in yesterday's paper?" Or, "Did you see this documentary?
While working as a microbiologist at a private firm in Harare seemed worthwhile, I knew that I wanted to be involved more in HIV/AIDS. When it came to personal development, I changed my focus to HIV/AIDS. I studied for Systemic Counseling in HIV/AIDS. This assisted me in coping, and I counseled others who were newly diagnosed. There is power in getting involved. Later I enrolled at Stellenbosh University in Cape Town, South Africa. I studied for a Post-Graduate Diploma In HIV/AIDS Management.
In my Church, I did HIV/AIDS programs with youth and adults in the community. I wore HIV positive t-shirts to break the stigma.
I left my microbiology work to concentrate full time on HIV/AIDS. The first agency I worked for was "The Center" in Zimbabwe as a training coordinator. I coordinated trainings for schools, agencies, and churches everywhere. It was needed. Then I left to work for Vital Hope as a support-workplace coordinator, empowering companies to have HIV/AIDS workplace policies. I became involved in activism, working for people in grassroots communities advocating for access to treatment. Later I left for Canada. I work for AIDS Committee of Toronto (ACT) as a women's community education coordinator. I coordinate programs for positive women and agencies working with women. In one of the support groups in Zimbabwe I met Believe Dhliwayo, also an HIV positive activist. We got married. I disclosed my status to my children. They've taken on an interest in HIV/AIDS themselves. My daughter Takudzwa will be 15 years old in October. She's taken a leading role in the AIDS clubs at her school in Zimbabwe. In Zimbabwe they have AIDS clubs in schools just like United States schools have drama clubs. My son, Tapihwa will be turning 13 years old soon.
I'm passionate about HIV/AIDS because women from the grass roots told me that I wasn't going to die. Professional people in my country usually don't associate with grass roots people. HIV caused me to be a new person altogether. I used to go to church just to be going. When I say "Thank you God," now I really mean it! Many people did not want to have anything to do with me so when someone calls me I say thank you. HIV has helped me develop a relationship with God and a better relationship with my mother and others. I took everybody and everything for granted. Now I value all my relationships and people I meet.
In Zimbabwe professionals who are HIV positive don't attend support groups or come out about their status. I broke this cycle. I let the whole company I worked for know I had HIV. I called everyone in my company together and told them I was leaving. They asked me if I was going somewhere to make more money. I disclosed to them and told them it would be less money but it was not about the money.
In the support group I received moral support and empowerment. I felt safe in the support group and our educational differences didn't matter. In conclusion, I would like to say to other women "It's not the end of the world. Take it as the beginning of another life. You are the first person that can help you. Come to terms with the fact that you will live with something for the rest of your life. Live with your HIV, talk to it, because you are sharing your body with it! Blaming yourself or others won't change anything. If there is something you are passionate about, do it! I wasted two years of my life just waiting to die!"
Back to November 2006 Table of Contents.