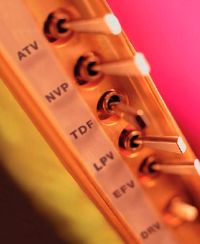 Once antiretroviral therapy (ART) is initiated, patients generally remain on medications indefinitely. A switch in the antiretroviral (ARV) regimen is often necessary because of both acute and chronic toxicities, concomitant clinical conditions, and development of virologic failure. The approach to patients who need to switch ART will differ depending on several issues, including the reason for change, the amount of previous ART experience, and the available treatment options. For example, when patients develop an adverse effect to a drug during their first ARV regimen, effective treatment may be easily accomplished by substituting another agent for the offending drug in the regimen. At the opposite end of the spectrum are patients with advanced HIV disease who have experienced toxicities, virologic failure, and drug resistance during multiple past treatment regimens and thus require a new treatment regimen. This article reviews these circumstances and provides clinical evidence and strategies for switching ART.
Toxicities from ART are common and may necessitate changes in medications (Table 1). These toxicities are typically not life threatening but can affect quality of life and negatively affect patients' willingness to adhere to their regimens. In fact, several cohort studies have suggested that toxic effects are a more common reason for switching ART than are virologic failures. A review of published cohort studies that examined modification of initial ART regimens found that antiretroviral intolerance and toxicity were the most common reasons for changing therapy in eight of 11 studies. Gastrointestinal disturbance such as nausea, vomiting, and diarrhea was the most frequently cited toxicity leading to a change in an initial ARV regimen, and this has been confirmed in a separate cohort study. Most of the modifications due to intolerance in these studies occurred within three months of starting ART. The large majority of the patients in these cohort studies were taking protease inhibitor (PI)-based regimens.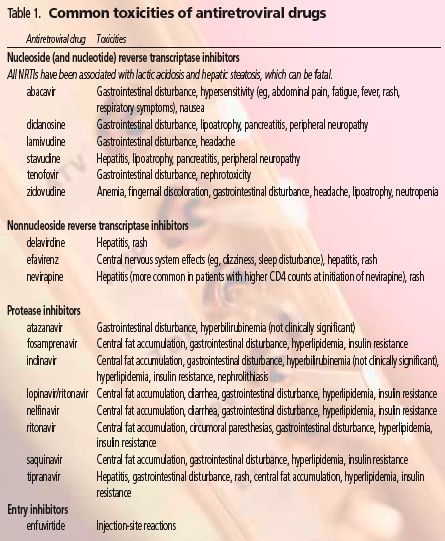 Investigators monitoring an Italian cohort of HIV-infected patients examined the outcomes of patients whose first ARV regimens were based on nonnucleoside reverse transcriptase inhibitors (NNRTIs). They found that clinical drug toxicity, which occurred in 18% of patients starting a nevirapine (NVP)-based regimen and in 10% of patients starting an efavirenz (EFV)-based regimen, was the most common reason for switching an initial ARV regimen. In contrast to gastrointestinal disturbance with PI-based regimens, hypersensitivity (e.g., rash and hepatitis) was the most common reason for discontinuing an NVP-based regimen (12%), and central nervous system toxicity was the most common reason for discontinuing an EFV-based regimen (5%). In addition to the toxicities mentioned above, rash, headache, fatigue, and abnormalities in hematologic and liver function tests are common toxic effects leading to a change in ART. In some resource-constrained settings, where ARV regimens usually consist of an NNRTI (typically NVP) in combination with either zidovudine (ZDV) or stavudine (d4T) plus a second nucleoside analogue, high rates of acute toxicities necessitating antiretroviral changes have been reported. These adverse effects include rash, hepatotoxicity, and anemia.
No absolute guidelines exist for determining when to change regimens if these toxicities occur. Given that many patients improve within a few weeks of starting ART, providers often attempt to control adverse effects with short-term palliative medicine (e.g., loperamide for diarrhea and prochlorperazine or metoclopramide for nausea). Efavirenz-associated central nervous system toxicity often subsides within a few weeks after starting the medication and is usually managed by reassuring the patient. In the case of acute toxicity attributable to a specific antiretroviral drug, same-class substitution of a drug with a differing toxicity profile is accepted clinical practice, based largely on anecdotal experience and descriptive data from clinical trials (e.g., abacavir (ABC) or tenofovir (TDF) for ZDV-related gastrointestinal intolerance). The decision to change antiretroviral medications is based on consideration of the severity of symptoms, efficacy of palliative medications, options for substitution, and risks associated with those options. The occurrence of adverse effects has been associated with reduced adherence, and providers generally should offer a change in medications for patients who report diminished adherence due to toxicity. Modification of ART because of toxicity in patients who are starting an initial ARV regimen does not seem to be associated with subsequent virologic failure.
Certain toxicities emerge months to years after the initiation of antiretroviral medications. These include neuropathy, changes in body composition (commonly termed lipodystrophy), and metabolic toxicities (e.g., dyslipidemia and insulin resistance) that are associated with an increased risk of cardiovascular events. Researchers have shown great interest in the strategy of changing antiretrovirals to manage these chronic toxicities. The presumed multifactorial etiology of such complications makes their study a challenge because more than one drug or class of drugs in a regimen may contribute pathogenetically to the toxicity. Nonetheless, investigators have addressed chronic toxicities by substituting drugs that have been linked epidemiologically to specific adverse effects.
Lipoatrophy (e.g., loss of subcutaneous fat in the face, extremities, and buttocks) is a component of lipodystrophy. Thymidine analogue use has been associated with lipoatrophy, and, in particular, d4T use has been identified as a risk factor in several studies. Although fat loss was once thought to be irreversible, small proof-of-concept studies have suggested that substituting ZDV or ABC for d4T was an approach worthy of further examination. In a landmark study, subjects with lipoatrophy were randomized to continue d4T or ZDV or to switch the thymidine analogue to ABC. Those who switched had statistically significant increases in both subcutaneous abdominal tissue volumes by computed tomography and peripheral fat mass by dual-energy X-ray absorptiometry (DEXA) scanning at 24 weeks of follow-up. Although these short-term changes were not clinically significant, further follow-up to two years demonstrated continued improvements in lipoatrophy. Other studies have demonstrated improvements in lipoatrophy after substituting ABC, TDF, or ZDV in place of d4T, suggesting that this approach may be reasonable to consider if a patient's treatment history permits safe substitution. A patient with a history of ABC hypersensitivity or documented resistance to ABC would not be an appropriate candidate for this switch. Similarly, a history of single or dual nucleoside analogue therapy is associated with an increased risk of virologic failure after changing to ABC, probably because of preexisting nucleoside resistance mutations, and precludes such a switch.
Observational data have suggested that PIs may act synergistically with nucleoside analogues in the development of lipoatrophy. Several small, randomized controlled studies in which a PI was switched to an alternative agent, however, have not shown objective improvements in lipoatrophy. For example, among 77 subjects randomized either to switch from a PI to NVP or EFV or to continue the PI, the 58 subjects with lipodystrophy at baseline showed no changes in body composition by DEXA or anthropometric measurements after one year of follow-up. Contrasting results came from a subgroup analysis of a larger trial in which eight subjects taking a regimen containing ZDV and a PI switched their PI for ABC. On average, these subjects gained small amounts of leg fat over 48 weeks, as assessed by DEXA, compared with seven control subjects who remained on a ZDV-based regimen that included a PI. Taken together, these data suggest that substituting another agent for a PI is not likely to have a clinically significant impact on lipoatrophy, at least in the short term.
Because increased truncal (visceral) fat has been linked epidemiologically to PI use, the effect on truncal fat of switching to regimens that do not contain a PI has been explored in several small studies, most of which have lacked a control group and objective endpoints. In one randomized study, subjects with increased visceral abdominal tissue volume at baseline had greater reductions after switching from a PI-containing regimen to ABC, NVP, adefovir (ADV), and hydroxyurea compared with controls who stayed on PI-containing regimens. Lipoatrophy, however, worsened in those randomized to the change in regimens. In a metabolic substudy of a large randomized trial, no significant improvement was found in body composition abnormalities 24 months after patients switched from a PI to ABC, NVP, or EFV. Overall, the approach of switching from PIs has not proven successful and cannot be recommended as a strategy for addressing increased truncal fat. Specific therapies for this condition are an active area of research.
Hypertriglyceridemia and hypercholesterolemia have been clearly associated with the use of specific PIs and may occur within weeks after initiation. These toxicities have been managed successfully by switching within the PI class or by switching to drugs from other antiretroviral classes. As an example of the first approach, replacing ritonavir (RTV) with nelfinavir (NFV) or NFV plus saquinavir (SQV) improved lipid profiles in a small, randomized study. Similarly, substituting atazanavir (ATV) for a PI improved lipid profiles in uncontrolled studies and in a randomized comparison with lopinavir-ritonavir (LPV/r). The effect of substitution of a PI with the combination of ATV and low-dose RTV is less clear; in one randomized study, ATV/r appeared to affect total cholesterol and triglycerides favorably, whereas LPV/r appeared to worsen these parameters. Several studies have examined the approach of switching a PI to an NNRTI or ABC. These studies are reviewed in detail elsewhere. In general, substitution of NVP or ABC has had favorable effects on triglycerides and often on total cholesterol, whereas substitution of EFV has yielded mixed results. However, in a randomized study, triglyceride levels decreased in the first 12 months after substitution of EFV, NVP, or ABC for a PI, but returned to baseline by 24 months. Changing to EFV or NVP may increase high-density lipoprotein (HDL) cholesterol, but may have variable effects on low-density lipoprotein (LDL) cholesterol.
Nucleoside analogues also may contribute to dyslipidemia in HIV-infected patients. Stavudine has been associated with greater adverse lipid effects in two randomized, controlled studies when compared with ZDV or TDF, in conjunction with lamivudine (3TC) and EFV or NFV. Several studies have suggested that substituting TDF for d4T may improve total cholesterol and LDL cholesterol; the effect on triglyceride levels is less clear.
Insulin Resistance/Diabetes Mellitus
The effect of drug substitution has been characterized less well for insulin resistance than for dyslipidemia. Whereas indinavir (IDV) clearly causes decreased insulin sensitivity when administered to healthy, HIV-uninfected volunteers, the relative effects of other PIs have not been clearly discerned in vivo. In vitro data concerning insulin resistance and diabetes mellitus associated with PI use, however, do suggest that certain other drugs within the class may induce insulin resistance directly or indirectly. Switching a PI to ABC, EFV, or NVP appears to have a favorable effect on insulin resistance; few data exist on the effect of substituting ATV for another PI. Substituting an alternative drug for a PI may therefore be a reasonable strategy for patients with other risk factors for diabetes mellitus, such as obesity and positive family history, although no data are available on the efficacy of such a strategy in preventing the development of diabetes mellitus. Because insulin resistance is associated with increased cardiovascular risk in the general population, reducing insulin resistance may have long-term benefits.
Life-threatening toxicities are rare, but remain an important reason for changing ART. Severe rash such as Stevens-Johnson syndrome or erythema multiforme is an indication to switch ART. These rashes have been reported most commonly with NNRTIs: delavirdine (DLV) (rarely), EFV (0.1%), and NVP (1%). Lactic acidosis is potentially fatal and is most commonly associated with d4T, but it has been reported with all nucleoside reverse transcriptase inhibitors (NRTIs). In the case of symptomatic hyperlactatemia or lactic acidosis, retrospective data suggest that it is generally safe to change the presumed offending agent (typically d4T or ddI) to an alternative nucleoside analogue considered to have similar virologic activity but less propensity to injure mitochondria (typically ABC, 3TC, or TDF). This substitution is generally made after a treatment interruption to allow resolution of the initial toxicity. Other potentially fatal toxicities include ddI-associated pancreatitis and ABC hypersensitivity. Rechallenge with the offending agent after the onset of any of these life-threatening toxicities should not be attempted.
Much progress has been made in simplifying ART so that regimens are easier for patients to take in a consistent manner. In the mid- to late 1990s, combination ART involved taking medications at least three times a day, often with food and water restrictions and high numbers of pills. These complex regimens are gradually giving way to simpler regimens involving fixed-dose combination pills, newer drugs or formulations that can be taken once daily, and the use of RTV for pharmacokinetic enhancement of other PIs (Table 2). Given these new options, many patients with stable virologic suppression on more difficult regimens can change to regimens with lower pill burdens and minimal dosing complexity, thus improving adherence and quality of life.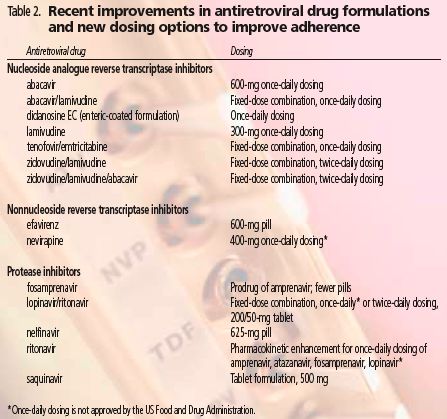 Investigators have studied many approaches to simplifying complex ARV regimens with the aim of improving adherence and quality of life, and thereby reducing rates of virologic failure. The most widely studied approach has been replacing a PI with NVP, EFV, or ABC in patients with full virologic suppression while taking a PI-based regimen. In two studies, adherence improved in subjects randomized to switch from a PI to EFV or to ABC compared with those who continued the PI-based regimen. In both studies, time to virologic failure was delayed in the switch arms, suggesting that the improvement in adherence was clinically relevant. Other investigators have reported improvements in quality of life, as assessed by questionnaires, in two randomized studies in which PIs were switched to NVP or to either NVP or EFV compared with continuing the PI.
Clinicians who are contemplating changing an ARV regimen for quality-of-life considerations should keep in mind the potential for adverse effects of the new regimen. In a large, randomized study that assessed the efficacy of simplifying PI-based regimens by substitution with ABC, EFV, or NVP, approximately 50% of subjects had new adverse events, although few of those events resulted in discontinuation of the regimen. With the advent of several simpler PI regimens that include options for once-daily dosing with decreased pill burden and fewer adverse effects, clinicians may have less need for the strategy of replacing PIs merely for the purpose of simplification.
Changing ART in Patients With Virologic Suppression
When considering switching an ARV regimen for any of the reasons discussed above in a patient with virologic suppression, it is critical to examine the patient's treatment history. Previous virologic failure on an NNRTI, whether or not resistance testing was performed, or documented resistance to this class of agents, is a contraindication to switching to NVP or EFV. Similarly, previous monotherapy or dual therapy with nucleoside analogues increases the risk of virologic failure when changing to ABC because of selected nucleoside resistance mutations. Of note, substituting ABC for a PI or NNRTI typically results in a triple nucleoside regimen, which has been shown to be virologically inferior to EFV-based regimens as initial therapy. Although switching a virologically suppressed patient to a triple-nucleoside regimen may differ from using such a regimen as initial treatment, a randomized simplification trial in which subjects on PIs were switched to ABC, NVP, or EFV showed a trend toward a greater rate of virologic failure in the ABC arm. Thus, drug substitution that results in a triple-nucleoside combination without additional drugs cannot be recommended for most patients.
Concomitant Medical Conditions
A patient's changing clinical status often mandates a change in ART. For example, certain antiretroviral medications are less favored in pregnancy. Efavirenz is teratogenic in animals and was linked to birth defects in several reported cases, so this agent should be substituted with NVP or an appropriate PI-based regimen in pregnant women. Caution should be used with NVP in pregnancy because it has been associated with an increased risk of fatal hepatitis in pregnant women, especially in women with higher CD4 counts; NVP generally should not be initiated in women whose CD4 count is >250 cells/µL. The oral solution of amprenavir (APV) should not be used in pregnant women because of the high content of polyethylene glycol, and hyperbilirubinemia induced by ATV and IDV is a theoretical risk for the newborn.
Medications used to treat comorbid illnesses often interact with antiretroviral agents. A prime example is the interaction of rifampin, a first-line drug for the treatment of tuberculosis, with both NNRTIs and PIs. This interaction may be avoided by substitution of EFV for NVP, perhaps by dose adjustment of EFV, or by substitution of rifabutin for rifampin in the case of PIs. Other important drug interactions include cholesterol-lowering "statins" with PIs, oral contraceptives with NNRTIs or PIs, and ergot derivatives with PIs. The activity of TDF, emtricitabine (FTC), and 3TC against hepatitis B has encouraged many providers to include these drugs in the ARV regimens of patients with chronic hepatitis B.
Suboptimal Immunologic Response
Patients starting ART may fail to have a significant increase in CD4 cells despite control of viral replication. Investigators from the Swiss HIV Cohort Study reported that 38% of patients with stable suppression of HIV during ART for more than five years failed to reach a CD4 count of at least 500 cells/µL. In some cases, the particular ARV regimen may be problematic; several studies have shown suboptimal increases, or even decreases, in the CD4 count in patients treated with virologically suppressive ARV regimens that include the combination of ddI and TDF. Generally, however, the causes and clinical significance of this phenomenon are unclear, but remain a concern for both patient and provider. Treatment intensification (supplementing an existing regimen with additional antiretroviral drugs) in the setting of poor CD4 recovery has not been shown to increase the CD4 count. Interleukin-2 has been shown to increase CD4 cells, but its relationship to clinical outcomes has been lacking, and adverse effects are common. The Evaluation of Subcutaneous Proleukin in a Randomized International Trial (ESPRIT) study is a large ongoing trial that is assessing clinical endpoints (e.g., death, new opportunistic infections) with subcutaneous interleukin-2 versus placebo in patients taking ART. However, this study is limited to individuals who have CD4 counts >300 cells/µL at baseline. Without additional data, the best strategy for patients with virologic suppression and suboptimal immunologic response is probably to continue their current regimens.
Clinical events such as opportunistic infections or AIDS-associated malignancies are uncommon in patients with virologic suppression during ART. The ART Cohort Collaboration, involving 13 cohort studies of patients starting a first ARV regimen, estimated the risk of an AIDS-defining illness or death within three years of starting ART. Among those patients with virologic suppression six months after starting ART, the estimate of risk ranged from 14% for those with a six-month CD4 count of Caution should be used in interpreting clinical events that occur soon after the initiation of ART (e.g., within three months). During this period, patients starting ART with lower CD4 counts, especially <100 cells/µL, can experience an immune reconstitution syndrome consisting of unusual manifestations of opportunistic infections such as Mycobacterium avium complex, cytomegalovirus, and progressive multifocal leukoencephalopathy. These events result from an improved immune response to ongoing infection; they do not represent failure of the chosen regimen and do not mandate a change in therapy. Treatment should be directed at the opportunistic pathogen and at symptomatic relief (i.e., with anti-inflammatory agents or corticosteroids) if indicated.
Changing ART for Virologic Failure
The treatment guidelines of the US Department of Health and Human Services suggest criteria for assessing virologic failure: HIV RNA >400 copies/mL at 24 weeks of therapy, HIV RNA >50 copies/mL by 48 weeks of ART, or repeated detection of viremia after virologic suppression. A single elevated HIV RNA level should be confirmed with a second measurement because an isolated increase ("blip") in HIV RNA may occur in up to 40% of patients and is not associated with virologic failure. However, repeated or sustained increases in HIV RNA levels are associated with an increased risk of virologic failure.
Once a patient has experienced virologic failure, the cause of the failure should be explored. If adherence, toxicity, and pharmacokinetic reasons can be excluded, then virologic failure of the current regimen has been established. The initial approach to treatment failure is to carefully review the patient's antiretroviral history, including each specific drug (noting the formulation) and each previous regimen, the duration of each regimen, any adverse effects or toxicities, and the response in HIV RNA levels and CD4 counts (if known). This information is essential for assessing the likelihood of archived resistance mutations to individual drugs or drug classes. The patient should be encouraged to continue the current regimen during the assessment of virologic failure because discontinuing ART, even in the setting of virologic failure, may lead to both a rapid increase in HIV RNA level and a decrease in CD4 cell count, with or without clinical events.
Resistance testing gives information only about the most prevalent viral strain circulating at the time the blood specimen is obtained. Therefore, resistance testing should be performed while the patient is taking the failing treatment regimen, because virus that harbors resistance mutations may not be detected readily after the selective pressure of drug is removed, but nevertheless will remain archived in tissue reservoirs. In separate studies, both genotypic testing and phenotypic testing led to significantly improved virologic responses with the subsequent ARV regimen as compared with the strategy of using the antiretroviral history alone in selecting the regimen. Although current guidelines recommend the use of resistance testing in the management of antiretroviral failure, it is not clear whether the optimal test is a genotype, a phenotype, or both. Used together, a careful ART history and resistance testing yield the most complete assessment of both archived and present resistance mutations, and this strategy optimizes selection of the next ARV regimen.
Evaluation and management of antiretroviral-experienced patients are complicated. Because HIV clinicians may have limited knowledge about resistance testing, expert advice is recommended. In the Havana study, resistance testing and expert advice for selecting subsequent ARV regimens were each associated with improved virologic responses. Current guidelines suggest obtaining expert advice when managing treatment-experienced patients.
Drug concentrations are associated with virologic responses in treatment-experienced patients. For example, as part of the Viradapt study, PI concentrations were measured in patients taking combination regimens and were assessed as optimal or suboptimal (less than two-fold of the 95% inhibitory concentration [IC]). The reduction in HIV RNA was superior in the optimal concentration group (-1.3 log10 copies/mL) compared with the suboptimal group (-0.4 log10 copies/mL), and drug concentration was an independent predictor of virologic response. In the Genotypic Antiretroviral Resistance Testing (GART) study, patients taking two nucleoside analogues and a PI who experienced virologic failure were enrolled and underwent both genotypic and phenotypic resistance testing and evaluation of drug concentrations. The investigators found that a greater number of active drugs (based on resistance testing) and higher plasma drug concentrations were both associated with a better virologic response. Current treatment guidelines do not recommend routine measurement of antiretroviral drug concentrations, although controversy exists and prospective studies are in progress.
Antiretroviral drug concentrations, particularly those of the PIs, may be manipulated even without formal use of therapeutic drug monitoring. As a potent inhibitor of the hepatic cytochrome P450 system, which metabolizes PIs, RTV in low doses can enhance (or "boost") the concentrations of APV, ATV, fosamprenavir (FPV), IDV, LPV, SQV, tipranavir (TPV), and investigational PIs. Because drug resistance is relative, enhanced drug concentrations may overcome partial drug resistance. For example, in a study of 37 subjects with detectable viremia while taking a standard three-times-daily IDV-based regimen, the substitution of IDV/r resulted in a six-fold increase in IDV trough plasma concentrations, and 58% of the subjects (21 of 36) had a decrease in HIV RNA level of at least 0.5 log10 copies/mL or to A parameter that incorporates both drug exposure and drug susceptibility of a viral isolate is the inhibitory quotient (IQ). The IQ is a ratio of drug concentration (e.g., trough level of a PI in a given patient) to drug susceptibility (e.g., 50% IC of the PI for that patient's viral isolate). Several retrospective studies in treatment-experienced patients have shown that a higher IQ was associated with virologic response and was a better predictor than either drug concentration or drug resistance information alone for regimens containing APV/r, IDV/r, and LPV/r. Prospective studies that evaluate a baseline IQ and then recommend a change in PI dose (to achieve a higher concentration) are in progress.
For a patient experiencing virologic failure, how is the next ARV regimen optimally designed? The initial approach was simply to use drugs that the patient had not yet taken, but in early clinical studies such as AIDS Clinical Trials Group (ACTG) studies 359 and 398, this strategy achieved maximal virologic suppression in only about 30% of patients. However, these early studies did suggest factors that were associated with better virologic responses, including a lower baseline HIV RNA level at the time of regimen change; use of two PIs, rather than one, in the next regimen; and use of a new class of agents (e.g., NNRTIs). The initial studies of resistance testing also led to the recommendation that the new ARV regimen for a patient experiencing virologic failure should contain at least three active (on the basis of resistance testing) antiretroviral agents to achieve an optimal virologic response.
One study incorporated several of these factors in its design by enrolling 70 patients who had experienced failure of only one PI, had not taken NNRTIs, and had HIV RNA levels ranging from 1,000 copies/mL to 100,000 copies/mL. The subjects substituted LPV/r (at either of two randomly assigned doses) for their current PI and also added NVP (introducing a new drug class for these subjects) and at least one new nucleoside analogue. At 48 weeks in an intent-to-treat analysis, 70% of subjects had HIV RNA levels Antiretroviral drugs with novel resistance patterns are currently in preclinical or clinical development. These drugs include both the current classes (nucleoside, nucleotide, and nonnucleoside reverse transcriptase inhibitors; PIs; and the newest approved drug class, HIV entry inhibitors) and newer drug classes. The HIV entry inhibitors comprise three distinct groups classified by mechanism of action: CD4 receptor attachment inhibitors, CCR5 and CXCR4 chemokine receptor inhibitors, and fusion inhibitors. Other investigational antiretroviral classes include HIV integrase inhibitors and HIV maturation inhibitors (Table 3).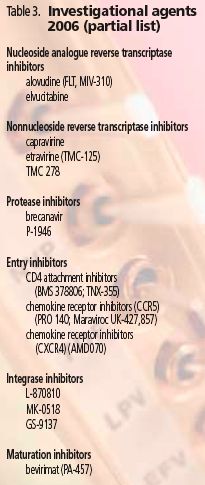 With newer antiretroviral agents in development, the best strategy to regain virologic control is to optimize the background ARV regimen based on the patient's history, resistance testing, and the addition of one or more new active agents. Recently, the TORO 1 and TORO 2 (T20 versus Optimized Regimen Only) studies incorporated these strategies in heavily treatment-experienced patients. TORO 1 was a study of 501 patients with heavy treatment experience who underwent resistance testing to help select an optimal background ARV regimen; they were randomized to add or not add the HIV entry inhibitor enfuvirtide (ENF) to their regimen. At 24 weeks, the mean change in HIV RNA level was -1.6 log10 copies/mL in the ENF group versus -0.8 log10 copies/mL in the control group (P<0.001). The TORO 2 study showed similar results, and both studies demonstrated durable virologic responses through 96 weeks of follow-up. The TORO trials and subsequent studies of the newer PIs TPV and darunavir (TMC-114) have demonstrated the benefit of using treatment history and resistance testing to select an optimal regimen for heavily treatment-experienced patients, and the additional benefit of adding an antiretroviral agent with a novel mechanism of action.
Changing an ARV regimen is common in clinical practice for patients with either suppressed virologic replication or virologic failure. Those with virologic suppression usually have changes in ART in an attempt to alleviate acute toxicities, control chronic toxicities, or improve quality of life. This strategy generally appears safe as long as relevant issues such as previous ART use are considered. The benefits of changing ART must be weighed against the possibilities of encountering new toxicities and increasing the risk of virologic failure. The management of virologic failure among treatment-experienced patients has improved over the last several years. The establishment of clear criteria for assessing virologic failure, the development and availability of HIV resistance testing, the identification of factors leading to improved virologic responses in subsequent regimens (e.g., three active drugs in the regimen), the development of new antiretroviral agents with activity against resistant virus, and the exploration of therapeutic drug monitoring have contributed to progress in the field.
Timothy Wilkin is Assistant Professor of Medicine, Marshall Glesby is Associate Professor of Medicine, and Roy M. Gulick is Associate Professor of Medicine, all at Weill Medical College, Cornell University.
Editor's Note: Reprinted with permission from the HIV InSite Knowledge Base. © 2006, Regents of the University of California San Francisco.
Ammassari A, Murri R, Pezzotti P, et al. Self-reported symptoms and medication side effects influence adherence to highly active antiretroviral therapy in persons with HIV infection. J Acquir Immune Defic Syndr. 2001;28:445-449.
Amprenavir package insert.
Arasteh K, Lazzarin A, Clotet B, et al. TORO: 96 week virological and immunological response and safety evaluation of enfuvirtide with an optimized background regimen. XV International AIDS Conference. July 11-16, 2004. Bangkok. [Abstract MoOrB1058]
Arenas-Pinto A, Grant AD, Edwards S, Weller IV. Lactic acidosis in HIV infected patients: A systematic review of published cases. Sex Transm Infect. 2003;79:340-343.
ART Cohort Collaboration. Risk calculator for HIV positive patients on antiretroviral therapy for 6 months. (Accessed July 19, 2006.)
Atazanavir package insert.
Barrios A, Rendon A, Negredo E, et al. Paradoxical CD4+ T-cell decline in HIV-infected patients with complete virus suppression taking tenofovir and didanosine. AIDS. 2005;24;19(6):569-575.
Baxter JD, Mayers DL, Wentworth DN, et al. A randomized study of antiretroviral management based on plasma genotypic antiretroviral resistance testing in patients failing therapy. CPCRA 046 Study Team for the Terry Beirn Community Programs for Clinical Research on AIDS. AIDS. 2000;14:F83-F93.
Baxter JD, Merigan TC, Wentworth DN, et al. Both baseline HIV-1 drug resistance and antiretroviral drug levels are associated with short-term virologic responses to salvage therapy. AIDS. 2002;16:1131-1138.
Becker S, Rachlis A, Gill J, et al. Successful substitution of protease inhibitors with efavirenz in patients with undetectable plasma HIV-1 RNA levels: Results of a prospective, randomized, multicenter, open-label study (DMP 266-049). Fifth International Congress on Drug Therapy in HIV Infection. October 22-26, 2002. Glasgow. [Abstract P21]
Benson CA, Deeks SG, Brun SC, et al. Safety and antiviral activity at 48 weeks of lopinavir/ritonavir plus nevirapine and 2 nucleoside reverse-transcriptase inhibitors in human immunodeficiency virus type 1-infected protease inhibitor-experienced patients. J Infect Dis. 2002;185:599-607.
Bernasconi E, Boubaker K, Junghans C, et al. Abnormalities of body fat distribution in HIV-infected persons treated with antiretroviral drugs: The Swiss HIV Cohort Study. J Acquir Immune Defic Syndr. 2002;31:50-55.
Boulle A, Van Cutsem G, Coetzee D, et al. Regimen durability and tolerability to 36-month duration on ART in Khayelitsha, South Africa. 12th Conference on Retroviruses and Opportunistic Infections. February 22-25, 2005. Boston. [Abstract 66]
Calza L, Manfredi R, Colangeli V, et al. Substitution of nevirapine or efavirenz for protease inhibitor versus lipid-lowering therapy for the management of dyslipidaemia. AIDS. 2005 ;19(10):1051-1058.
Carr A, Hudson J, Chuah J, et al. HIV protease inhibitor substitution in patients with lipodystrophy: A randomized, controlled, open-label, multicentre study. AIDS. 2001;15:1811-1822.
Carr A, Workman C, Smith DE, et al. Abacavir substitution for nucleoside analogs in patients with HIV lipoatrophy: A randomized trial. JAMA. 2002;288:207-215.
Chene G, Sterne JA, May M, et al. Prognostic importance of initial response in HIV-1 infected patients starting potent antiretroviral therapy: Analysis of prospective studies. Lancet. 2003;362:679-686.
Clifford DB, Evans S, Yang Y, et al. ACTG 5097s: Impact of efavirenz (EFV) on neuropsychological performance, mood, and sleep behavior in HIV-positive individuals. 2nd IAS Conference on Pathogenesis and Treatment. July 13-16, 2003. Paris. [Abstract 54]
Clumeck N, Goebel F, Rozenbaum W, et al. Simplification with abacavir-based triple nucleoside therapy versus continued protease inhibitor-based highly active antiretroviral therapy in HIV-1-infected patients with undetectable plasma HIV-1 RNA. AIDS. 2001;15:1517-1526.
Cohen C, Nieto-Cisneros L, Zala C, et al, and the BMS AI424-043 Study Group. Comparison of atazanavir with lopinavir/ritonavir in patients with prior protease inhibitor failure: A randomized multinational trial. Curr Med Res Opin. 2005;21(10):1683-1692.
Cohen CJ, Hunt S, Sension M, et al. A randomized trial assessing the impact of phenotypic resistance testing on antiretroviral therapy. AIDS. 2002;16:579-588.
Cooper D, Hicks C, Cahn P, et al. 24-Week RESIST study analyses: The efficacy of tipranavir/ritonavir is superior to lopinavir/ritonavir, and the TPV/r treatment response is enhanced by inclusion of genotypically active antiretrovirals in the optimized background regimen. 12th Conference on Retroviruses and Opportunistic Infections. February 22-25, 2005. Boston. [Abstract 560]
Cozzi-Lepri A, Phillips AN, d'Arminio Monforte A, et al. Virologic and immunologic response to regimens containing nevirapine or efavirenz in combination with 2 nucleoside analogues in the Italian Cohort Naive Antiretrovirals (I.Co.N.A.) study. J Infect Dis. 2002;185:1062-1069.
D'Aquila RT, Hughes MD, Johnson VA, et al. Nevirapine, zidovudine, and didanosine compared with zidovudine and didanosine in patients with HIV-1 infection. A randomized, double-blind, placebo-controlled trial. National Institute of Allergy and Infectious Diseases AIDS Clinical Trials Group Protocol 241 Investigators. Ann Intern Med. 1996;124:1019-1030.
Dassopoulos T, Ehrenpreis ED. Acute pancreatitis in human immunodeficiency virus-infected patients: A review. Am J Med. 1999;107:78-84.
Delavirdine package insert.
Dore GJ, Cooper DA, Pozniak AL, et al. Efficacy of tenofovir disoproxil fumarate in antiretroviral therapy-naive and -experienced patients coinfected with HIV-1 and hepatitis B virus. J Infect Dis. 2004;189:1185-1192.
Drechsler H, Powderly WG. Switching effective antiretroviral therapy: A review. Clin Infect Dis. 2002;35:1219-1230.
Dube MP. Disorders of glucose metabolism in patients infected with human immunodeficiency virus. Clin Infect Dis. 2000;31:1467-1475.
Durant J, Clevenbergh P, Garraffo R, et al. Importance of protease inhibitor plasma levels in HIV-infected patients treated with genotypic-guided therapy: Pharmacological data from the Viradapt Study. AIDS. 2000;14:1333-1339.
Durant J, Clevenbergh P, Halfon P, et al. Drug-resistance genotyping in HIV-1 therapy: The VIRADAPT randomised controlled trial. Lancet. 1999;353: 2195-2199.
Duval X, Lamotte C, Race E, et al. Amprenavir inhibitory quotient and virological response in human immunodeficiency virus-infected patients on an amprenavir-containing salvage regimen without or with ritonavir. Antimicrob Agents Chemother. 2002;46:570-574.
Efavirenz package insert.
Falco V, Crespo M, Ribera E. Lactic acidosis related to nucleoside therapy in HIV-infected patients. Expert Opin Pharmacother. 2003;4:1321-1329.
Fichtenbaum CJ, Gerber JG, Rosenkranz SL, et al. Pharmacokinetic interactions between protease inhibitors and statins in HIV seronegative volunteers: ACTG Study A5047. AIDS. 2002;16:569-577.
Fisac C, Fumero E, Crespo M, et al. Metabolic benefits 24 months after replacing a protease inhibitor with abacavir, efavirenz or nevirapine. AIDS. 2005;19(9):917-925.
Fundaro C, Genovese O, Rendeli C, Tamburrini E, Salvaggio E. Myelomeningocele in a child with intrauterine exposure to efavirenz. AIDS. 2002;16:299-300.
Gallant JE, Staszewski S, Pozniak AL, et al. Efficacy and safety of tenofovir DF vs stavudine in combination therapy in antiretroviral-naive patients: A 3-year randomized trial. JAMA. 2004;292:191-201.
Gish R, Leung N, Sacks S, et al. Antiviral activity, safety and incidence of resistance in chronically infected hepatitis B patients (CHB) given once daily emtricitabine for two years. Hepatology. 2002;36:372A.
Greub G, Cozzi-Lepri A, Ledergerber B, et al. Intermittent and sustained low-level HIV viral rebound in patients receiving potent antiretroviral therapy. AIDS. 2002;16:1967-1969.
Gulick RM, Hu XJ, Fiscus SA, et al. Randomized study of saquinavir with ritonavir or nelfinavir together with delavirdine, adefovir, or both in human immunodeficiency virus-infected adults with virologic failure on indinavir: AIDS Clinical Trials Group Study 359. J Infect Dis. 2000;182:1375-1384.
Gulick RM, Ribaudo HJ, Shikuma CM, et al. Triple-nucleoside regimens versus efavirenz-containing regimens for the initial treatment of HIV-1 infection. N Engl J Med. 2004;350:1850-1861.
Haffner SM. Epidemiology of insulin resistance and its relation to coronary artery disease. Am J Cardiol. 1999;84:11J-14J.
Hammer SM, Bassett R, Fischl M, et al. ACTG 372A: Randomized, placebo-controlled trial of abacavir intensification in HIV-1-infected adults with plasma HIV RNA <500 copies/mL. 11th Conference on Retroviruses and Opportunistic Infections. February 8-11, 2004. San Francisco. [Abstract 56]
Hammer SM, Vaida F, Bennett KK, et al. Dual vs single protease inhibitor therapy following antiretroviral treatment failure: A randomized trial. JAMA. 2002;288:169-180.
Hansel A, Bucher HC, Nuesch R, Battegay M. Reasons for discontinuation of first highly active antiretroviral therapy in a cohort of proteinase inhibitor-naive HIV-infected patients. J Acquir Immune Defic Syndr. 2001; 26:191-193.
Havlir DV, Bassett R, Levitan D, et al. Prevalence and predictive value of intermittent viremia with combination HIV therapy. JAMA. 2001;286:171-179.
Hazuda DJ, Felock P, Witmer M, et al. Inhibitors of strand transfer that prevent integration and inhibit HIV-1 replication in cells. Science. 2000;287:646-650.
Hewitt RG. Abacavir hypersensitivity reaction. Clin Infect Dis. 2002;34:1137-1142.
Hirsch MS, Brun-Vezinet F, Clotet B, et al. Antiretroviral drug resistance testing in adults infected with human immunodeficiency virus type 1: 2003 recommendations of an International AIDS Society-USA Panel. Clin Infect Dis. 2003;37:113-128.
Hitti J, Frenkel LM, Stek AM, et al, and the PACTG 1022 Study Team. Maternal toxicity with continuous nevirapine in pregnancy: Results from PACTG 1022. J Acquir Immune Defic Syndr. 2004;36(3):772-776.
Hsu A, Isaacson J, Brun S, et al. Pharmacokinetic-pharmacodynamic analysis of lopinavir-ritonavir in combination with efavirenz and two nucleoside reverse transcriptase inhibitors in extensively pretreated human immunodeficiency virus-infected patients. Antimicrob Agents Chemother. 2003;47:350-359.
Indinavir package insert.
John M, McKinnon EJ, James IR, et al. Randomized, controlled, 48-week study of switching stavudine and/or protease inhibitors to combivir/abacavir to prevent or reverse lipoatrophy in HIV-infected patients. J Acquir Immune Defic Syndr. 2003;33:29-33.
Johnson M, Grinsztejn B, Rodriguez C, et al. Atazanavir plus ritonavir or saquinavir, and lopinavir/ritonavir in patients experiencing multiple virological failures. AIDS. 2005;19(7):685-694.
Joly V, Flandre P, Meiffredy V, et al. Increased risk of lipoatrophy under stavudine in HIV-1-infected patients: Results of a substudy from a comparative trial. AIDS. 2002;16:2447-2454.
Katlama C, Berger D, Bellos N, et al. Efficacy of TMC114/r in 3-class experienced patients with limited treatment options: 24-week planned interim analysis of 2 96-week multinational dose-finding trials. 12th Conference on Retroviruses and Opportunistic Infections. February 22-25, 2005. Boston. [Abstract 164LB]
Katlama C, Carcelain G, Duvivier C, et al. Interleukin-2 accelerates CD4 cell reconstitution in HIV-infected patients with severe immunosuppression despite highly active antiretroviral therapy: The ILSTIM study -- ANRS 082. AIDS. 2002;16:2027-2034.
Kaufmann GR, Perrin L, Pantaleo G, et al. CD4 T-lymphocyte recovery in individuals with advanced HIV-1 infection receiving potent antiretroviral therapy for 4 years: The Swiss HIV Cohort Study. Arch Intern Med. 2003;163:2187-2195.
Kempf DJ, Marsh KC, Kumar G, et al. Pharmacokinetic enhancement of inhibitors of the human immunodeficiency virus protease by coadministration with ritonavir. Antimicrob Agents Chemother. 1997;41: 654-660.
Kumar P, Rodriguez-French A, Thompson M, et al. Prospective study of hyperlipidemia in ART-naive subjects taking Combivir/Abacavir (COM/ABC), COM/Nelfinavir (NFV), or stavudine (d4T)/Lamivudine (3TC)/NFV (ESS40002). 9th Conference on Retroviruses and Opportunistic Infections. February 24-28, 2002. Seattle. [Abstract 33]
Kumarasamy N, Vallabhaneni S, Cecelia AJ, et al. Reasons for modification of generic highly active antiretroviral therapeutic regimens among patients in southern India. J Acquir Immune Defic Syndr. 2006;41(1):53-58.
Lai CL, Chien RN, Leung NW, et al. A one-year trial of lamivudine for chronic hepatitis B. Asia Hepatitis Lamivudine Study Group. N Engl J Med. 1998;339:61-68.
Lalezari JP, Henry K, O'Hearn M, et al. Enfuvirtide, an HIV-1 fusion inhibitor, for drug-resistant HIV infection in North and South America. N Engl J Med. 2003;348:2175-2185.
Lawrence J, Mayers DL, Hullsiek KH, et al. Structured treatment interruption in patients with multidrug-resistant human immunodeficiency virus. N Engl J Med. 2003;349:837-846.
Lazzarin A, Clotet B, Cooper D, et al. Efficacy of enfuvirtide in patients infected with drug-resistant HIV-1 in Europe and Australia. N Engl J Med. 2003;348:2186-2195.
Le Moing V, Chene G, Leport C, et al. Impact of discontinuation of initial protease inhibitor therapy on further virological response in a cohort of human immunodeficiency virus-infected patients. Clin Infect Dis. 2002;34:239-247.
Li F, Goila-Gaur R, Salzwedel K, et al. PA-457: A potent HIV inhibitor that disrupts core condensation by targeting a late step in Gag processing. Proc Natl Acad Sci USA. 2003;100:13555-13560.
Liaudet L, Buclin T, Jaccard C, Eckert P. Drug points: Severe ergotism associated with interaction between ritonavir and ergotamine. BMJ. 1999;318:771.
Lonergan JT, Barber RE, Mathews WC. Safety and efficacy of switching to alternative nucleoside analogues following symptomatic hyperlactatemia and lactic acidosis. AIDS. 2003;17:2495-2499.
Lopez-Cortes LF, Ruiz-Valderas R, Viciana P, et al. Pharmacokinetic interactions between efavirenz and rifampicin in HIV-infected patients with tuberculosis. Clin Pharmacokinet. 2002;41:681-690.
Marks K, Gulick RM. New antiretroviral agents for the treatment of HIV infection. Curr Infect Dis Rep. 2004;6:333-339.
Martin A, Smith DE, Carr A, et al. Reversibility of lipoatrophy in HIV-infected patients 2 years after switching from a thymidine analogue to abacavir: The MITOX Extension Study. AIDS. 2004;18:1029-1036.
Martinez E, Arnaiz JA, Podzamczer D, et al. Substitution of nevirapine, efavirenz, or abacavir for protease inhibitors in patients with human immunodeficiency virus infection. N Engl J Med. 2003;349:1036-1046.
Martinez E, Conget I, Lozano L, Casamitjana R, Gatell JM. Reversion of metabolic abnormalities after switching from HIV-1 protease inhibitors to nevirapine. AIDS. 1999;13:805-810.
Martinez E, Garcia-Viejo MA, Blanco JL, et al. Impact of switching from human immunodeficiency virus type 1 protease inhibitors to efavirenz in successfully treated adults with lipodystrophy. Clin Infect Dis. 2000;31:1266-1273.
McComsey GA, Ward DJ, Hessenthaler SM, et al, and the Trial to Assess the Regression of Hyperlactatemia and to Evaluate the Regression of Established Lipodystrophy in HIV-1-Positive Subjects (TARHEEL; ESS40010) Study Team. Improvement in lipoatrophy associated with highly active antiretroviral therapy in human immunodeficiency virus-infected patients switched from stavudine to abacavir or zidovudine: The results of the TARHEEL study. Clin Infect Dis. 2004;38(2):263-270.
McNicholl IR, McNicholl JJ. On the horizon: Promising investigational antiretroviral agents. Curr Pharm Des. 2006;12(9):1091-1103.
Meynard JL, Vray M, Morand-Joubert L, et al. Phenotypic or genotypic resistance testing for choosing antiretroviral therapy after treatment failure: A randomized trial. AIDS. 2002;16:727-736.
Mobius U, Lubach-Ruitman M, Castro-Frenzel B, et al. Switching to atazanavir improves metabolic disorders in antiretroviral-experienced patients with severe hyperlipidemia. J Acquir Immune Defic Syndr. 2005;39(2):174-180.
Mocroft A, Youle M, Moore A, et al. Reasons for modification and discontinuation of antiretrovirals: Results from a single treatment centre. AIDS. 2001;15:185-194.
Moore JP, Doms RW. The entry of entry inhibitors: A fusion of science and medicine. Proc Natl Acad Sci USA. 2003;100:10598-10602.
Moreno S, Domingo P, Labarga P, et al. Dyslipidemia improvement in patients switching from d4T to tenofovir. 43rd Interscience Conference on Antimicrobial Agents and Chemotherapy. September 14-17, 2003. Chicago. [Abstract H-855b]
Moyle G, Baldwin C, Mandalia S, et al. Changes in metabolic parameters and body shape after replacement of protease inhibitor with efavirenz in virologically controlled HIV-1-positive persons: Single-arm observational cohort. J Acquir Immune Defic Syndr. 2001;28:399-401.
Moyle G, Baldwin C, Mandalia S, et al. Changes in metabolic parameters and body shape after replacement of protease inhibitor with efavirenz in virologically controlled HIV-1-positive persons: Single-arm observational cohort. J Acquir Immune Defic Syndr. 2001;28:399-401.
Moyle GJ, Sabin C, Cartledge J, et al. A 48-week, randomized, open-label comparative study of tenofovir DF vs abacavir as substitutes for a thymidine analog in persons with lipoatrophy and sustained virological suppression on HAART. 12th Conference on Retroviruses and Opportunistic Infections. February 22-25, 2005. Boston. [Abstract 44LB]
Murata H, Hruz PW, Mueckler M. The mechanism of insulin resistance caused by HIV protease inhibitor therapy. J Biol Chem. 2000;275:20251-20254.
Negredo E, Cruz L, Paredes R, et al. Virological, immunological, and clinical impact of switching from protease inhibitors to nevirapine or to efavirenz in patients with human immunodeficiency virus infection and long-lasting viral suppression. Clin Infect Dis. 2002;34:504-510.
Negredo E, Molto J, Burger D, et al. Unexpected CD4 cell count decline in patients receiving didanosine and tenofovir-based regimens despite undetectable viral load. AIDS. 2004;18(3):459-463.
Noor MA, Lo JC, Mulligan K, et al. Metabolic effects of indinavir in healthy HIV-seronegative men. AIDS. 2001;15:F11-F18.
Noor MA, Seneviratne T, Aweeka FT, et al. Indinavir acutely inhibits insulin-stimulated glucose disposal in humans: A randomized, placebo-controlled study. AIDS. 2002;16:F1-F8.
O'Brien ME, Clark RA, Besch CL, Myers L, Kissinger P. Patterns and correlates of discontinuation of the initial HAART regimen in an urban outpatient cohort. J Acquir Immune Defic Syndr. 2003;34:407-414.
Opravil M, Hirschel B, Lazzarin A, et al. A randomized trial of simplified maintenance therapy with abacavir, lamivudine, and zidovudine in human immunodeficiency virus infection. J Infect Dis. 2002;185:1251-1260.
Parkin N, Chappey C, Maroldo L, et al. Phenotypic and genotypic HIV-1 drug resistance assays provide complementary information. J Acquir Immune Defic Syndr. 2002;31:128-136.
Park-Wyllie LY, Scalera A, Tseng A, Rourke S. High rate of discontinuations of highly active antiretroviral therapy as a result of antiretroviral intolerance in clinical practice: Missed opportunities for adherence support? AIDS. 2002;16:1084-1086.
Polo R, Verdejo J, Gonzalez-Lahoz J, et al. Switch to AZT + 3TC improves lipodystrophy signs in the presence of protease inhibitors. 39th Interscience Conference on Antimicrobial Agents and Chemotherapy. September 26-29, 1999. San Francisco. [Paper 1306]
Rotunda A, Hirsch RJ, Scheinfeld N, Weinberg JM. Severe cutaneous reactions associated with the use of human immunodeficiency virus medications. Acta Derm Venereol. 2003;83:1-9.
Rozenbaum W, Molina M, Delfraissy JF, et al. Improvement of lipodystrophy in HIV-1 infected subjects switching from 2NRTI/PI to 2NRTI/abacavir (French substudy, CNA30017). 7th Conference on Retroviruses and Opportunistic Infections. January 30 - February 2, 2000. San Francisco. [Abstract 47]
Ruiz L, Negredo E, Domingo P, et al. Antiretroviral treatment simplification with nevirapine in protease inhibitor-experienced patients with HIV-associated lipodystrophy: One-year prospective follow-up of a multicenter, randomized, controlled study. J Acquir Immune Defic Syndr. 2001;27:229-236.
Saint-Marc T, Touraine JL. The effects of discontinuing stavudine therapy on clinical and metabolic abnormalities in patients suffering from lipodystrophy. AIDS. 1999;13:2188-2189.
Salama C, Policar M, Cervera C. Knowledge of genotypic resistance mutations among providers of care to patients with human immunodeficiency virus. Clin Infect Dis. 2003;36:101-104.
Shelburne SA 3rd, Hamill RJ, Rodriguez-Barradas MC, et al. Immune reconstitution inflammatory syndrome: Emergence of a unique syndrome during highly active antiretroviral therapy. Medicine (Baltimore). 2002;81:213-227.
Shulman N, Zolopa A, Havlir D, et al. Virtual inhibitory quotient predicts response to ritonavir boosting of indinavir-based therapy in human immunodeficiency virus-infected patients with ongoing viremia. Antimicrob Agents Chemother. 2002;46:3907-3916.
Tural C, Ruiz L, Holtzer C, et al. Clinical utility of HIV-1 genotyping and expert advice: The Havana trial. AIDS. 2002;16:209-218.
US Centers for Disease Control and Prevention. Updated Guidelines for the Use of Rifamycins for the Treatment of Tuberculosis Among HIV-Infected Patients Taking Protease Inhibitors or Nonnucleoside Reverse Transcriptase Inhibitors. January 1, 2004. (Accessed July 19, 2006.)
US Department of Health and Human Services; Panel on Clinical Practices for Treatment of HIV Infection. Guidelines for the Use of Antiretroviral Agents in HIV-Infected Adults and Adolescents. May 4, 2006. (Accessed July 19, 2006.)
US Department of Health and Human Services; Perinatal HIV Guidelines Working Group. Recommendations for Use of Antiretroviral Drugs in Pregnant HIV-1-Infected Women for Maternal Health and Interventions to Reduce Perinatal HIV-1 Transmission in the United States. November 17, 2005. (Accessed July 19, 2006.)
Walli RK, Michl GM, Bogner JR, Goebel FD. Improvement of HAART-associated insulin resistance and dyslipidemia after replacement of protease inhibitors with abacavir. Eur J Med Res. 2001;6:413-421.
Wensing AM, Reedijk M, Richter C, Boucher CA, Borleffs JC. Replacing ritonavir by nelfinavir or nelfinavir/saquinavir as part of highly active antiretroviral therapy leads to an improvement of triglyceride levels. AIDS. 2001;15:2191-2193.
Wester CW, Kim S, Bussmann H, et al. Initial response to highly active antiretroviral therapy in HIV-1C-infected adults in a public sector treatment program in Botswana. J Acquir Immune Defic Syndr. 2005;40(3):336-343.
Wilkin T, Haubrich R, Steinhart CR, et al. TMC114/r superior to standard of care in 3-class-experienced patients: 24-week primary analysis of the POWER 2 study (TMC114-C202). 45th Interscience Conference on Antimicrobial Agents and Chemotherapy. December 16-19, 2005. Washington, DC. [Abstract 2860]
Wilkin TJ, Hay CM, Brudney KF, Chiasson MA. The association of gender and long-term durability of ART and CD4 count rise. 9th Conference on Retroviruses and Opportunistic Infections. February 25-27, 2002. Seattle. [Abstract 777]
Wood R, Phanuphak P, Cahn P, et al. Long-term efficacy and safety of atazanavir with stavudine and lamivudine in patients previously treated with nelfinavir or atazanavir. J Acquir Immune Defic Syndr. 2004;36:684-692.
Yoon C, Gulick RM, Hoover DR, Vaamonde CM, Glesby MJ. Case-control study of diabetes mellitus in HIV-infected patients. J Acquir Immune Defic Syndr. 2004;37(4):1464-1469.