Infertility in HIV-Infected Women on HAART Linked to Mitochondrial DNA Depletion in Oocytes
Previous studies have noted that HIV-infected women on antiretrovirals, as compared with HIV-uninfected women, are less likely to get pregnant when undergoing in vitro fertilization (IVF).1 However, when an HIV-infected woman uses a donated oocyte (i.e., egg) from an HIV-uninfected woman, the chance of a successful pregnancy improves. The question, then, is does this have something to do with the oocytes themselves?
It has been known for some time that HIV and, to a greater extent, some HIV therapies can deplete mitochondrial DNA (mtDNA) and thus mitochondrial function from human cells. Mitochondria are important for providing the energy necessary for cell function. Depletion of mtDNA is thought to be responsible for much of the toxicity caused by some antiretrovirals, most notably the nucleoside analogs zalcitabine (ddC, Hivid), stavudine (d4T, Zerit) and didanosine (ddI, Videx). Such mitochondrial depletion is thought to result in problems such as pancreatitis, peripheral neuropathy and lipoatrophy that sometimes arise following treatment with these medicines. It should be pointed out that not all nucleosides cause such interference with mtDNA.
Oocytes are the largest of human cells and also contain the most mtDNA. Oocytes contain one copy of mtDNA per mitochondrion, totaling between 150,000 and 500,000 copies per cell. In comparison, other human cells contain approximately 10,000 mtDNA copies. Past studies have noted a link between infertility and mtDNA copy number in infertile, HIV-uninfected women.2,3
The current study was carried out by Dr. Garrabou and colleagues in the Mitochondrial Research Department, in collaboration with the Obstetrics Department, at the Hospital Clinic of Barcelona in Spain.4 The aim of the study was to compare the mtDNA content of oocytes taken from HIV-infected women on antiretrovirals with those taken from HIV-uninfected women.
A total of 16 oocytes were removed from eight infertile, HIV-infected women on highly active antiretroviral therapy (HAART) after hormone stimulation during IVF. As a control, nine oocytes were taken from infertile, HIV-uninfected women. The oocytes were no longer of use for the IVF process since they were not fertilized. The mtDNA content of the oocytes was determined using real-time quantitative PCR. Results from the two groups were then compared and statistical analysis was applied using the independent-samples T test.
The mean age of the HIV-uninfected women and that of the HIV-infected women were matched at 36 years. All of the HIV-infected women were on HAART regimens that included nucleoside reverse transcriptase inhibitors (NRTIs), and all had undetectable viral loads. The HIV-infected women had well-preserved CD4+ cell counts (mean of 781 cells/mm3), were on HAART for on average 101 months and were exposed to NRTIs for an average of 100 months.
The results show quite marked differences between the two groups. Overall, the mtDNA content in the oocytes from the HIV-infected women was 48% less than the mtDNA oocyte content for the HIV-uninfected women (P = .001).
The HIV-infected women who were unsuccessful in the IVF program and who did not become pregnant had lower mtDNA levels than the HIV-infected women who did become pregnant, with 52% depletion compared with 39% depletion. This difference was not statistically significant.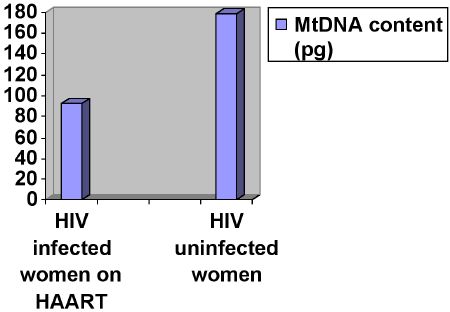 Figure 1. Overall mitochondrial DNA content between the two groups in picograms.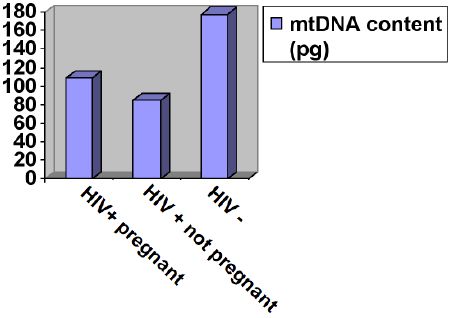 Figure 2. Comparison of mitochondrial DNA content among women who went on to become pregnant after IVF with those who did not and HIV-uninfected controls.

The results were examined to see if there was any correlation between the women's CD4+ cell count or time on HAART and their oocyte mtDNA content. No correlations were found.
The authors of this study concluded that the poor reproductive outcome of the infertile, HIV-infected women on HAART could be explained by the decrease in mtDNA content of their oocytes.
There are a few limitations of this study that stimulate further questions. First, the study was small, so it is difficult to obtain conclusive information. It is known that HIV infection alone, without HAART, can cause mtDNA depletion. It would therefore be useful to examine the mtDNA content of oocytes from untreated, HIV-infected women to determine the independent effect of HAART. Since the control group consisted of infertile women seeking IVF, it would be interesting to know how their oocyte mtDNA content varies from that of women with normal fertility. Similarly, it would also be useful to look at the oocyte mtDNA content of HIV-infected women on HAART who have had no problem conceiving. If these women with normal fertility also have low mtDNA levels, then another mechanism could be at play in infertile women. Another important question is what happens after conception in women who have mtDNA-depleted oocytes? Since the mtDNA is inherited by the woman's offspring, what does this mean for the health of the child?
Footnotes
This article was provided by The Body PRO. Copyright © Body Health Resources Corporation. All rights reserved.