The Body Covers: The 46th Interscience Conference on Antimicrobial Agents and Chemotherapy
Several genetic markers have been found that correlate with a reduced ability to become infected with HIV or are associated with a reduced chance of disease progression. Well known examples of this phenomenon include mutations in the CCR5 receptor gene or in markers such as HLA B57.
Another recently found marker may also correlate with a chance of decreased disease progression. It is called FUT2. The FUT2 gene codes for an enzyme called α(1,2)-fucosyltransferase that is involved in regulating ABH blood group antigens in saliva and mucosal secretions. These glycosphingolipids are antigens on the surface of a variety of epithelial cells. About 20% of the Caucasian population has a stop mutation in the FUT2 gene (428G→A) that results in the absence of this enzyme. People who do not have this enzyme are referred to as nonsecretors, as they cannot express these antigens on their cells or in their secretions. Because various bacteria and viruses use attachment to cells as a means of causing infections, it has been determined that some nonsecretors have been found to have increased bacterial infections, but a decreased risk in respiratory and gastrointestinal viral infections. Recent data from a study by Ali Suleman, et al1 indicates that absence of this enzyme resulting in a nonsecretor status is associated with a reduced likelihood of infection after exposure and a greater chance of long-term nonprogression.
B Rodés and colleagues2 evaluated a group of Spanish HIV-infected patients who were either long-term nonprogressors (LTNP) or slow progressors. They also included a group of HIV negative controls. They genotyped patient DNA looking for the 428G→A mutation. In addition, the CCR5∆32 genotype and HIV-1 nef and vpr genes were sequenced to determine if there were any viral factors associated with nonprogression.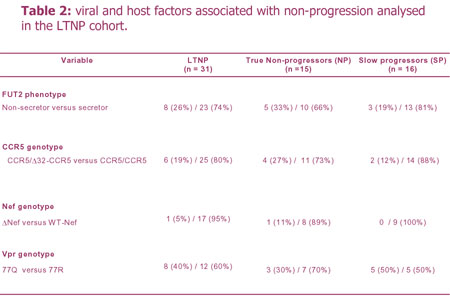 Click to enlarge
The results showed that 8/31 (26%): 5 true non-progressors and 3 slow progressors had the G→A mutation genotype and were nonsecretors. No nonsecretors were found in the HIV negative patients. The CCR5Δ32 genotype was found in 4 true non-progressors and 2 slow progressors; 1 true non-progressors (5%) had a defective nef gene and 3 true non-progressors and 5 slow progressors (40%) had mutations in the vpr gene.
The authors conclude that in their cohort, nonsecretor status was marginally associated with nonprogression in HIV infection, but there was no distinction between LTNP and slow progressors. The numbers in this study are small, so it is difficult to determine if there is a real association or not.
The recently published paper by E Kindberg, et al3 found that in a Swedish cohort, the presence of nonsecretor status was 10/15 (67%) in LTNP and that 15/19 (79%) patients who were progressors had normal secretor status. So the difference in the two cohorts may reflect the different ethnic background between the two groups and therefore more differences in underlying genetics may be contributing to risk of progression. Further work and larger numbers of patients will need to be studied to determine the importance of this finding.
Footnotes
Ali S, Niang MAF, N'doye I. Secretor Polymorphism and Human Immunodeficiency Virus Infection in Senegalese Women. JID 2000;181:737-9.
Rodés B, Toro C, Simón A, Soriano V. The Protective Role of FUT2 Gene in a Cohort of LTNP Compared to Other Factors Associated with Non-progression. In: Program and abstracts of the 46th Annual Interscience Conference on Antimicrobial Agents and Chemotherapy; September 27-30, 2006; San Francisco, Calif. Abstract H-1404.
View slides: Download PowerPoint
Kindberg E, Hejdeman B, Brat G, Wahren B. A nonsense mutation (428G->A) in the fucosyltransferase FUT2 gene affects the progression of HIV-1 infection. AIDS. 20(5):685-689, March 21, 2006.
This article was provided by The Body PRO. Copyright © Body Health Resources Corporation. All rights reserved.