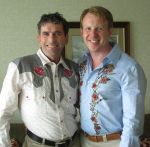 Maxwell Lawton (left) and Ed Grieff at their wedding in Niagara Falls, Canada, August 2, 2006.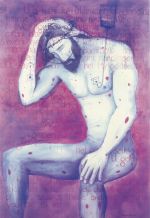 "Man of Sorrows: Christ With AIDS," 1993; Maxwell Lawton. A version of this painting hangs in Wola Nani-Embrace's center in Cape Town, South Africa.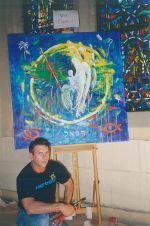 Maxwell Lawton with his painting "Raphael."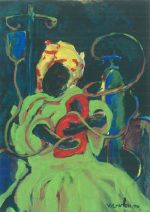 "Wola Nani: South African Madonna," 1995; Maxwell Lawton.
When Wesley Maxwell Lawton was diagnosed with AIDS in 1992, few expected him to survive more than a few weeks, much less make a full recovery. But for 14 years, Maxwell successfully fought off many opportunistic infections and complications. On Sept. 16, however, he died after a struggle with metastatic malignant melanoma. A painter and AIDS activist, Maxwell was 50 years old. He is survived by his husband Ed Grieff and his dog Jack.
Maxwell was a gifted painter whose work broke barriers in the United States and abroad. He was trained at Virginia Commonwealth University School of the Arts in Richmond, and at Wesley Theological Seminary's Center for Art and Religion in Washington, D.C. Maxwell translated his journey with AIDS onto canvas. He used his art to draw attention to the AIDS crisis and to create bridges between AIDS, art and spirituality. As a gay, HIV-positive Christian and the son of a Baptist minister, he felt called to raise awareness. He once wrote, "I ... knew I had to answer the fundamentalists who were saying AIDS was God's judgment on gay people and drug users."
In 1993, he created a painting called "Man of Sorrows: Christ With AIDS," which depicts Jesus speckled with Kaposi's sarcoma lesions and wearing a crown of thorns. In the painting, Maxwell quoted Jesus' words from Matthew 25 in the Bible: whatever you do "to the least of these, my brethren, you are doing it unto me." This painting had an international impact: Maxwell was invited to paint a version of it for St. George's Cathedral in Cape Town, South Africa. In 1994, he set up his studio in the back of the cathedral and began to work publicly on a new version of the painting.
Advertisement
Some people in the community found the painting heretical and blasphemous. After an image of "Man of Sorrows" appeared on the front page of the
Cape Times
, Maxwell received violent threats and was placed in protective custody. Archbishop Desmond Tutu responded to the press, defending Maxwell and the painting. The incidents at St. George's received worldwide attention, raising awareness of the global AIDS pandemic. A decade later, "Man of Sorrows" has been viewed by more than 10 million people. It was shown at the World Council Of Churches, has appeared in numerous print media and on the Internet, and now hangs at Wola Nani-Embrace's center in Cape Town.
Maxwell had an unbreakable spirit. During his second semester at Wesley Theological Seminary in 1992, he found out he had AIDS. He was so ill that his doctors told him he was at death's door. His family visited him in the hospital, thinking it was for the last time. Against all odds, Maxwell returned to good health. Three months later, he was back in the studio, painting. In an interview with The Body, he said, "I have been through a lot. I have been through hell and high water. I have been through the storms, and I have learned how to find a balance and not give in to fear, but to have hope." Maxwell has left that legacy of hope for us. He will be sorely missed.
Click here to e-mail Maxwell's husband, Ed Grieff.
Click here to visit Maxwell's Web site.
Click here to read The Body's interview with Maxwell from May 2006.