The Body Covers: The 46th Interscience Conference on Antimicrobial Agents and Chemotherapy
The Once-Daily Abacavir/Lamivudine Co-Formulation Proves Its Mettle by Being Both Safe and Effective
The combination of abacavir (ABC, Ziagen) and lamivudine (3TC, Epivir) is an attractive option as a nucleotide reverse transcriptase inhibitor (NRTI) backbone in antiretroviral therapy, because the combination permits a wide array of future NRTI options in the event of initial treatment failure. This is largely due to the fact that the L74V and M184V mutations selected by abacavir and lamivudine do not appear to confer cross-resistance to other NRTI agents.
Both abacavir and lamivudine were developed as drugs with twice-daily dosing. However, each can now be administered once daily as a fixed-dose abacavir/lamivudine (Epzicom) co-formulation. At least one study comparing administration of the drugs once daily versus twice daily reported a higher rate of abacavir hypersensitivity reactions, including severe reactions, in patients assigned to the once-daily abacavir/lamivudine arm.1 As such, it is imperative to fully understand whether the safety and efficacy of the once-daily abacavir/lamivudine co-formulation are the same as those when the drugs are administered separately twice daily. Moreover, it is important to compare the two regimens in a "real-world" population, especially since the incidence of abacavir hypersensitivity reactions varies considerably across studies.
Accordingly, Marshall Kubota, from the Center for HIV Prevention and Care in Santa Rosa, California, and colleagues performed a multi-center, randomized, open-label, parallel-arm, phase 3b study called Abacavir Lamivudine Once-daily HIV Assessment (ALOHA).2
A total of 680 treatment-na?ve individuals with a viral load above 1,000 copies/mL were randomly assigned 2:1 to receive the abacavir/lamivudine 600/300 mg co-formulation once daily (n=455) or abacavir 300 mg twice daily + lamivudine 150 mg twice daily (n=225). A third (or fourth, if appropriate) antiretroviral chosen by the treating physician was added to the NRTI backbone. Based on these choices, patients were stratified into non-nucleoside reverse transcriptase inhibitor (NNRTI) and protease inhibitor (PI) groups for analysis. Patients took their regimen for a total of 12 weeks, with assessments at weeks 4, 8 and 12. The study was completed by 81% of patients.
The results revealed that rates of toxicities, as measured by adverse events -- and this included the abacavir hypersensitivity reaction -- did not differ significantly between the once-daily abacavir/lamivudine group and the twice-daily abacavir + lamivudine group. The proportion of individuals in the once-daily arm who reported a possible abacavir hypersensitivity reaction was 4.4%, compared with 7.1% in the twice-daily arm; grade 3/4 hypersensitivity reactions occurred in 0.9% and 2.2%, respectively. Neither difference was statistically significant.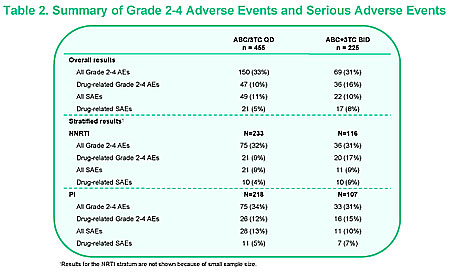 Click to enlarge
Image by Marshall Kubota, M.D. Copyright GlaxoSmithKline. Used with permission, 2006. Click
here
to download the complete poster.

In terms of antiretroviral efficacy, both dosing schedules produced comparable levels of HIV-1 RNA suppression.
Click to enlarge
Image by Marshall Kubota, M.D. Copyright GlaxoSmithKline. Used with permission, 2006. Click
here
to download the complete poster.

In conclusion, use of the once-daily abacavir/lamivudine co-formulation appears to be equally safe and effective in comparison with twice-daily abacavir + lamivudine administration. In general, it should be remembered that abacavir/lamivudine appears to be virtually devoid of toxicities once individuals have passed the initial six-week treatment period during which the risk of abacavir hypersensitivity reactions is greatest. The findings from the ALOHA study indicate that the use of co-formulated abacavir/lamivudine administered once daily should strongly be considered as a potent and safe NRTI backbone in first-line treatment regimens.
Footnotes
Goedken AM, Herman RA. . Ann Pharmacother. July-August 2005;39(7): 1302-1308.
Kubota M, Cohen C, Scribner A, et al. Short-term Safety and Tolerability of ABC/3TC Administered Once-Daily (QD) Compared with the Separate Components Administered Twice-Daily (BID): Results From ESS101822 (ALOHA). In: Program and abstracts of the 46th Annual Interscience Conference on Antimicrobial Agents and Chemotherapy; September 27-30, 2006; San Francisco, Calif. Abstract H-1904.
View slides: Download PDF
This article was provided by The Body PRO. Copyright © Body Health Resources Corporation. All rights reserved.