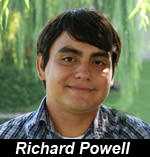 Advertisement

Richard Powell's mother had to fight to get him accepted to kindergarten -- local schools didn't want to have an HIV-positive student. Richard was born with HIV, and grew up with people throwing rocks through his windows and refusing to play with him at school. He found solace in the strength of his mother and the love of his friends at Camp Sunburst, a California retreat for HIV-positive children. When Richard was one year old, he lost his sister to AIDS. In 2004, his mother also died from complications of the illness. "[My mom] never let HIV control her, nor did she ever feel as if living with HIV was the end of the world... [S]he'd be proud to know I don't let HIV ruin my life." Richard plans to start taking classes in massage therapy, and hopes one day to settle down and have a family.


My Concern
October 14, 2006; 11:30 p.m.


I'm very excited that we're all set up and on the tour bus, but I did receive a call from my doctor on Friday telling me they're concerned because my viral load went from 1,600 to 19,000 in just months. It was a major wake up call for me, it told me that I need to consider my health more and take my meds everyday like I should. That's always been a challenge for me.
I'm also really excited about Sunday because I'll be leading the first program for the tour! I'm very happy that I signed up for the tour and I know that we're going to make a difference.
Richard's thoughts
September 5, 2006; 4:52 p.m.
I've been thinking a lot about my experience this summer at Camp Healing Waters -- a camp for people living with HIV/AIDS. We went kayaking every day for a week on the American River in Sacramento, CA. On one of the days we went rafting I went on a rapid called the gremlin, and I smacked into a rock and got stuck. I yelled out "help I'm stuck," but I thought no one heard. There was a bunch of people camping in their RV's. I was yelling out "help help, I'm stuck on this rock," but the people camping just stood there and watched. Finally someone from the camp paddled upstream (that's hard to do, but some of the people working there were olympic kayakers with a lot of experience) and saved me.

On another note, I wash dishes for my job. One of my co-workers always makes the same joke. As we're cleaning the pans, all the food gets stuck in the sink strainer and we have to clean it out. He always shows me all the stuff that collected in the strainer and says "hey I made your favorite salad today." It's pretty gross! It doesn't look very appetizing.

Sometimes in my spare time I play RPG's (role playing video games). Sometimes if I'm feeling sad, playing games is a good way to get out my feelings. Sometimes if you want to do something you can't normally do in the real world, a video game is a way to do that.

I'm looking forward to meeting everyone on the tour.
Thanks, Richard
Hello I'm Richard
September 1, 2006; 5:38 p.m.
I'm 19 years old and I'm HIV positive. I contracted it at birth. When I was 4 years old the doctor told me and my parents that I was dying, that I would not live past age 6. I remember my mom said, ?It just means we have to keep trying.?

My mom first found out that she had HIV when I was 3 years old. She was very strong willed. She wasn't willing to give up until she could find good medication for me. She wanted to make sure that I'd live a long life. Before she passed away she wanted to make sure that I'd be okay and that I could handle her passing away when it happened. She wanted me to stay home and not drift away from the family. She cared a lot about other people. She was mostly worried about me. She always wanted to make sure that I was okay first.

When my mom got sick and ended up in the hospital and was on her deathbed, they gave her medication to make her wake up. I saw her in a lot of pain. By the look on her face, it was telling me that she didn't want me to see her like that. Something told me to leave the room and remember her as she was, to remember all the good memories, all the good times we shared. I felt that's what she wanted for me. I had a feeling that she thought it would have changed me, changed the way I viewed life, if I had seen her die.

When I was old enough for kindergarten, a lot of elementary schools wouldn't take me because I had HIV. My mom had to fight so they would let me in. They said they didn't want to take any major health risks by letting me into the school. My mom told me that if they didn't let me in she would take it up with the school board and she would raise hell. That's exactly what she said. She said if they didn't let me in, she would call the media, and their reputation as a school would be ruined for discriminating against me. It was a big deal for her. She said no one deserves that.

Throughout my childhood I lost a lot of friends because their parents found out I had HIV and wouldn't let them play with me. When I was in 5th grade, one of the kids from school who was a neighbor, found out I had HIV because we were living in a home for people with HIV. He told someone and they told someone and pretty soon about half the school found out that I had HIV. He called me names like "AIDS boy" and "monkey." He said that people with HIV and AIDS should be put into a rocket and shot up to the moon. A girl came up to me and asked if I had HIV. I asked her who told you that? That's how I found out it was going around school. At the time I lied, I told her if I had HIV I would be too sick to be here. I just didn't want people to look at me like I was an alien. It was also a difficult year, because they put me in a general education class instead of special education. They ran out of room in special ed. It wasn't the right setting for me.

I was 6 when I first went to Camp Sunburst -- a camp for kids with HIV. I met other kids like me. It was always fun. I've been going for over ten years now. Last year I graduated from camp because I was 18. I plan to go back someday as a counselor.

For a while my health was up and down. I was in and out of the hospital a lot. Eventually we found medicine that worked for me for a while. I kept switching from med to med. Every med had some kind of side effect. I've been on my current regimen for 4 years now. Now I'm undetectable. That means I have a lot less HIV virus in my body. I'm a lot healthier than I ever was.

I don't let HIV ruin my life. I do normal things like anyone else. I finished high school and I'd like to be a massage therapist. I'd like to settle down with someone eventually and start a family.

If you meet someone with HIV, they might not tell you at first that they have it. It's something that's really hard to talk about. But you should treat them like anyone else. People with HIV are just normal people -- we do the same things -- go to the mall, hang out with friends, go to the movies and have fun like anyone else.

If you have HIV and want to tell someone you really care about, remember the most important part of a relationship is trust. And when you tell someone about your HIV it tells them that you trust them enough to share that secret.

Sincerely,
Richard