The Body Covers: The 46th Interscience Conference on Antimicrobial Agents and Chemotherapy
Slide by Graeme Moyle, M.D.; reprinted with permission. Click
here
to download the complete slide presentation.

HIV uses two types of cellular co-receptors for entry into CD4+ cells: CCR5, also known as R5, and CXCR4, or X4. R5 would be the only kind of co-receptor used in newly HIV-infected people, however, in many people with advanced HIV disease, HIV uses the X4 co-receptor for cellular entry. Use of tropism screening to detect the presence of R5-using HIV may have several valuable clinical roles. If X4-using virus is associated with a more rapid CD4+ cell count decline and HIV disease progression, then detection of virus with this tropism may prompt earlier treatment introduction. Secondly, tropism assays are being used as screening tools for use with R5 and X4 antagonist agents that are currently in clinical development.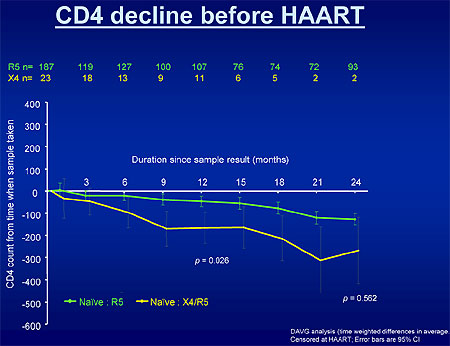 Click to enlarge
Slide by Graeme Moyle, M.D.; reprinted with permission. Click
here
to download the complete slide presentation.

A cohort study by Laura Waters et al from the Chelsea and Westminster Hospital in London1 evaluated the change in CD4+ cell count from detection of R5 versus X4 and R5 virus. A previous publication from this cohort study2 has provided valuable information on the epidemiology of viral tropism and its relationship with CD4+ cell count and viral load. The study had two objectives. Firstly, to look at the impact of the detection of X4 virus on CD4+ cell count decline and, secondly, to evaluate the efficacy of standard antiretroviral combination regimens across different viral tropisms.
The study included 402 treatment-naive individuals, 326 with R5-only virus, 73 with X4/R5 virus and three with X4-only virus. The populations were well matched with regards to gender, ethnicity, viral clade and the presence of transmitted resistance. As expected, CD4+ cell numbers were significantly higher in individuals testing positive for R5 virus only: 325 cells/mm3, relative to those with X4/R5 virus with 203 cells/mm3, P < .001. Similarly, viral load was lower in the R5-only patients: 39,385 copies/mL, as compared with 142,568 copies/mL in those with X4/R5 virus, P < .001. The data presented were adjusted for these differences.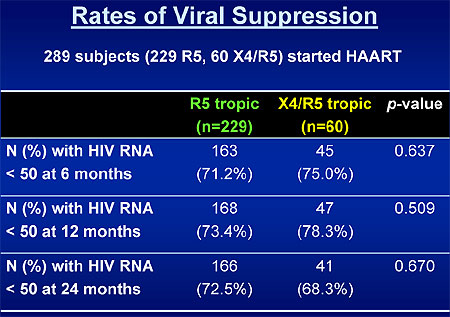 Slide by Graeme Moyle, M.D.; reprinted with permission. Click
here
to download the complete slide presentation.

There was an accelerated decline from the time of tropism evaluation in individuals with X4/R5 tropic virus relative to those in the R5-only group (P = .026 at month 12). However, neither the speed of CD4+ cell recovery nor the absolute CD4+ cell recovery differed significantly between the groups after antiretroviral therapy initiation nor did the time to virological suppression or the rates of viral suppression at 6, 12 and 24 months.
The data are consistent with previous smaller studies that have reported an accelerated CD4+ cell count decline or disease progression when X4 virus is present. The data regarding CD4+ cell recovery and treatment responses to approved antiretroviral agents are reassuring.
Footnotes
Waters LJ, Mandalia S, Wildfire A, Gazzard B, Moyle G. CXCR4/mixed-tropic HIV-1 is associated with more rapid CD4 cell decline compared with CCR5-tropic virus in antiretroviral-naive individuals. In: Program and abstracts of the 46th Interscience Conference on Antimicrobial Agents and Chemotherapy; September 27-30, 2006; San Francisco, Calif. Abstract H-1667.
View slides: Download PowerPoint
Moyle GJ, Wildfire A, Mandalia S, et al. Epidemiology and predictive factors for chemokine receptor use in HIV-1 infection. J Infect Dis. March 15, 2005;191(6):866-872.
This article was provided by The Body PRO. Copyright © Body Health Resources Corporation. All rights reserved.