What Are Side Effects?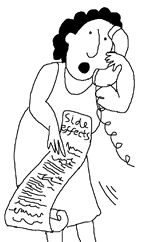 Every drug is generally licensed to treat a specific illness. Any other effect is called a side effect. Side effects are also called adverse events (ae's) or drug toxicities.
In this booklet we will focus on unwanted side effects of HIV antiretroviral drugs (ARVs).
Advertisement
Many of the symptoms of side effects are similar to symptoms of illnesses. Different treatments are needed when these symptoms relate to illnesses.
Why Do Side Effects Occur?
Although drugs are designed to work against specific illnesses, they sometimes interfere with other ways that your body works.
It is difficult to develop a drug that works against HIV. Any drug that is approved has undergone a lot of research trying to minimise toxicity. Often, very promising drugs are never approved because of toxicity. The aim is always to develop safer and more tolerable, as well as better drugs.
Most people -- people living with HIV, doctors and researchers -- recognise that the current drugs available to treat HIV are far from perfect. New drugs in the future should be easier to tolerate.
Do All Drugs Have Side Effects?
Most drugs have side effects of some sort. In the majority of cases these will be mild and easily manageable.
Sometimes side effects are so mild that they are rarely noticed, and they may only affect a small proportion of the people who use the drug.
Sometimes side effects only become apparent after the drugs have been licensed and approved, when many more people use them over a much longer period than the original studies.
All drugs have side effects, but not everyone taking drugs will experience the same effects and to the same extent. What is important is how they affect you.
The leaflet included with your drugs (called the Summary of Product Characteristics or SPC) lists all the reported range of possible side effects associated with each drug. The SPC also includes other useful information including how the drug needs to be taken, possible interactions with other medications, and other useful information.
How Are Side Effects for Drugs Reported?
When drugs are first studied, every side effect is recorded, even if it cannot be directly linked to the drug being studied. This means that if you look at the leaflet that comes with your treatment you usually find a long list of potential side effects.
The risk of getting most of these listed side effects is usually very low - often less than a 1 in 10 or 1 in 100 chance.
If side effects only become apparent after the drug has been approved, as with lipodystrophy, the drug leaflet may not have this latest information.
Starting Treatment for the First Time?

Everyone worries about the risk of side effects before they start HIV treatment. It will help if you know what to expect from different drugs before choosing your combination.
Ask for information about each of the drugs you might take, including the likelihood of side effects. Ask what percentage of people had side effects related to each drug and how serious they were.
You may be asked to consider entering a study looking at side effects in different combinations. These studies are important to define the extent of side effects when different drugs are used together.
Can I Change Drugs Easily?
If this is your first combination, you will usually have a lot of flexibility in choosing and changing drugs until you find a combination that works and is tolerable.
There are more than 20 HIV drugs approved in the UK, including several formulations that include more than one drug in each pill. While you can't quite mix and match them all, you have a lot of choice. If one or more of the drugs in your combination are difficult to tolerate, you can change it for another.
Often people are not given a choice when starting treatment. This is not right. your doctor should at least talk about two options.
If you change a drug because of tolerability, you can usually go back and use it later if you need to (note: except for abacavir). Just because you used a drug once, doesn't mean you have 'used up your option' of using it again in the future.
Usually side effects improve after the first few days, weeks or months, but sometimes they don't. See the sections on each side effect in this guide for an idea of how long you should put up with them before changing.
You do not have to continue with a drug to prove anything to yourself or your doctor. If something is wrong, ask your doctor to change to something else. Some drugs are just not for everyone.
Can I Predict if I Will Get Side Effects?
Generally you cannot know how difficult or easy you will find any particular drug until you take it. Some symptoms may make the risk of side effects greater.
For example, if you have raised liver enzymes, they may increase even higher if you use nevirapine. If you start with high cholesterol or triglycerides, they may be more likely to increase if you use some protease inhibitors.
Are Side Effects Different in Men and Women?
Most trials have enrolled too few women to be able to study differences between men and women. Sometimes differences in side effects are only reported later.
For example, women have higher rates of side effects in some nevirapine studies (both liver toxicity and rash), which highlights the importance of careful monitoring.
In this example it took many years before we found out that women were at a higher risk if their CD4 count was over 250 cells/mm3 when they started treatment with nevirapine, and this is now not recommended.
There may also be differences relating to lipodystrophy and gender
What About Side Effects and Adherence?
There is special section about adherence and side effects.
Whether you are starting your first treatment or have been using HIV drugs for a long time, your doctor should have talked to you about the importance of adherence.
This is the term that describes taking the meds in your combination exactly as they are prescribed - ie on time and following any diet advice.
Getting Your Doctor to Help
Unfortunately, some doctors generally think that their patients overestimate side effects.
They think that people exaggerate side effects, and that they are not really as bad as their patients say.
It is also true that most patients actually underestimate side effects.
People generally say that side effects are less difficult than they really are, or often forget to mention them at all.
This means there can be a big difference between what is actually going on and what your doctor thinks is going on.
This is one reason that side effects are often under-treated.
What Happens if Side Effects Persist?
If the first treatment you are given to help with a side effect does not work, there are usually other drugs that you can use.
This is why we listed a range of options, including alternative treatments, for each main symptom. If one doesn't work -- try others.
Changing treatment is an important option.
If your quality of life is bad because of the side effects, you may chose to look at experimental strategies like an immune-boosting treatment such as IL-2.
Using the Yellow Card Scheme
In the UK, both patients and healthcare professionals can report side effects directly to the Medicines and Healthcare products Regulatory Agency (MHRA).
Side effects from new drugs often emerge after approval, and it is worth reporting them even if you aren't sure.
This contributes to an important safety database, especially for new and unexpected side effects. http://yellowcard.mhra.gov.uk/
If you are feeling more anxious or nervous, are not sleeping properly, have a lower sex drive... or are too nauseous to eat proper meals, it is important that your doctor understands this.
i-Base can answer your questions by email; questions@i-Base.org.uk or online: www.i-base.info/questions