For most of the epidemic, males have greatly outnumbered females among people living with HIV and AIDS. In 1999, for the first time, more females than males were diagnosed with HIV among 13 to 19 year olds -- over six out of every 10 new HIV infections reported in this age group (CDC, 2000b). In that same year, girls account for 58 percent of new AIDS cases reported among adolescents (KFF, 2000b).
Young Gay and Bisexual Men
Half of young men ages 13 to 24 reported to be living with HIV through June 2000 were exposed to the virus through sex with other men, and half of AIDS cases reported in 1999 in that age group were also among men who have sex with men (CDC, 2000a, 2000c). As with all other ages and exposure categories, young African Americans and Latinos are over-represented among men who become HIV infected through sex with men when compared to their numbers in the general population. In a recently released six-city CDC study, young urban gay and bisexual men had an alarming 12.3 percent rate of HIV infection, compared to a 7 percent overall rate in a similar study from 1994-1998 (Valleroy, et al., 2001). Most alarming, though, was the finding that 30 percent of young gay and bisexual black men, ages 23-29, are HIV infected.

Unsafe sex is clearly a problem among some groups of young gay and bisexual men. In the 1994-98 CDC study of 3,500 men ages 15 to 22 who have sex with men, 41 percent reported having engaged in unprotected anal sex, an extremely high-risk activity, in the previous six months. Bisexual men also are a bridge for HIV transmission to women. One in six of those young men had recently had sex with women, and nearly one-fourth had recently had unprotected sex with both men and women. Because sexual identity and sexual behavior do not always match, HIV prevention programs and strategies must be developed for young men who have sex with men but do not think of themselves as gay or bisexual. Such men are not likely to be reached by prevention messages aimed at men who identify as part of the gay community.
Young Women of Color
Young disadvantaged women, particularly African American women, are becoming HIV infected at higher rates -- and at younger ages -- than their male peers (CDC, 1998). This was demonstrated conclusively through HIV test results from over 350,000 16 to 21 year olds entering the Job Corps, a federally funded training program for disadvantaged out-of-school youth. Among the young women, rates of HIV infection were seven times higher for African Americans than for their white counterparts. For the population as a whole, black and Hispanic adolescents and women ages 13 to 24 account for more than three-fourths of all AIDS cases reported among females in that age group (CDC, 2000b).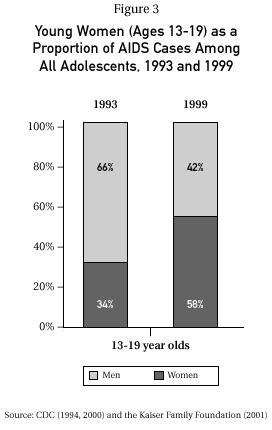 Homeless and Runaway Youth
Homeless and runaway youth also are among those at highest risk for HIV and AIDS. No one knows how many young people are living in these circumstances. Estimates vary widely, ranging from 730,000 to 1.3 million (ONAP, 2000). In order to survive on the streets, many of these young people exchange sex for money, food, or shelter; many also use injection and other drugs. The rate of HIV infection in homeless and runaway youth is also unknown, with one four-city study finding a median HIV infection rate of 2.3 percent among homeless youth, and some shelters reporting rates as high as 10 percent (ONAP, 2000).
Geography
One of the greatest risk factors for young people is where they live, because they tend to socialize, explore, and develop relationships close to home. A high HIV prevalence in a community greatly increases their risk of becoming HIV infected compared to youth living in communities where few people are infected. The highest rates of adolescent HIV infection are in the South and along the East Coast, as well as in Texas, California, and some Midwestern states. However, new HIV infections are appearing all over the country, and young people in rural and other low-prevalence areas who live in high-risk circumstances also need HIV prevention education and access to targeted HIV prevention interventions.



Risk Behaviors
Membership in a particular population group does not confer automatic risk for HIV infection. Risk depends on behavior, and millions of American youth are engaging in sexual and drug-using behaviors that put them at risk for HIV. In fact, experimentation and risk-taking are considered fundamental to the period of adolescence, and as long as the epidemic exists each generation of American youth will need access to the information and skills necessary to make good decisions and to stay healthy.

More than in any other age group, HIV is spread sexually in young people (Collins, 1997). The good news is that there has been a drop in sexual risk behaviors and an increase in condom use among sexually experienced high school students (National Center for Health Statistics (NCHS), 2000). The bad news is that two-thirds of the 12 million Americans who have sexually transmitted diseases (STDs) are under age 25, and each year three million teenagers contract a STD (CDC, 1999) -- indicators of continuing high-risk sexual behavior among young Americans. Despite significant drops in the prevalence of sexual intercourse among high school students in the past decade, by their senior year 65 percent of American students have had intercourse.

Although condom use reported at last intercourse by high school students went up from 46 percent to 58 percent between 1991 and 1997 (KFF, 2000b), too many sexually active youth are not using condoms. And, there are signs that young people at highest risk in particular are not consistently protecting themselves with condoms, such as the 46 percent of young urban men who have sex with men in one study who reported recent unprotected anal sex (Valleroy, et al., 2001). Among some groups of young women, not using a condom may be a statement about their feelings for their partners. In interviews with over 500 African American adolescent females, Crosby and his colleagues (2000) found that more than 75 percent had sex with a steady partner, while less than 10 percent had casual sex; not using a condom with a steady partner was seen as a sign of intimacy in the relationship and trust in their partner.

This is consistent with findings from several recent studies that many sexually active teens, despite knowing the facts about HIV and STDs, do not consider themselves at risk for infection. A recent Kaiser Family Foundation/MTV survey found that 68 percent of sexually active 15 to 17 year olds do not think they personally are at risk (Kaiser, 2000b).

Drug and alcohol use among youth also contributes to sexual risk behaviors, putting many young people at risk for HIV infection by impairing their judgment. One in four sexually active high school students say they were under the influence of alcohol or drugs the last time they had sex. Substance abuse also is a direct risk for some young people through shared needles: one in 50 high school students say they have injected illegal drugs (CDC, 1997).

Clearly, American youth are at risk for HIV infection from the same behaviors that put adults at risk. Young people, however, may have less power and fewer skills when it comes to navigating through high-risk circumstances. Many studies have documented that youth whose first sexual intercourse occurred in their early teens report a very high incidence of involuntary or coerced sex, and in some groups of girls, early sex is relatively common. Almost one-third of babies born to 15-year-olds have fathers who are at least 21 (FCAA, 1997). Coercive early sex and early sex with partners several years older are both factors associated with high risk for HIV infection.



Counseling and Testing
Because most youth who are HIV infected don't know it, they are not receiving the care that can help prevent or delay HIV's early damage. Getting tested is a first step to getting the health care they need and learning how to protect themselves and their partners. Those who test negative can get counseling and support to help them stay that way.

Voluntary counseling and testing is an important component of youth HIV prevention, but adolescents and young people face significant barriers to getting tested. Many who are at risk have no health care provider they can turn to for advice and do not know how to arrange for an HIV test. A recent Kaiser Family Foundation national survey found that two-thirds of teens do not know for sure where to go to get tested, including a majority of those who are sexually active (KFF, 2000a). Some counseling and testing facilities are open primarily during school hours. Many sites are geared toward adults and are not youth-friendly in language, environment, or approach. In some states, parents will be notified of an adolescent's HIV-positive test result. In others, parental permission is a significant barrier for youth who are afraid to tell their parents why they need to be tested. Even when young people manage to overcome these barriers and get tested for HIV, many never return for their test results.

Community-based organizations can change this for the better. Where feasible, a CBO might choose to open a youth-friendly counseling and testing program. Those already operating testing programs can review them to see if they are, in fact, youth friendly and how they can be modified, if necessary, to better serve adolescents and young people. CBOs not in a position to offer such services directly can form strong links with youth-friendly testing sites and actively encourage young people in high-risk circumstances to get counseled and tested.