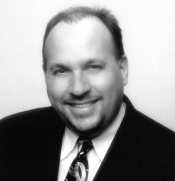 Douglas Cunningham, D.O.
Douglas Cunningham, D.O., like many other AAHIVM members, came of age during the early days of the AIDS crisis. In a recent interview with The Nexus, Dr. Cunningham said, "I started treating HIV patients as a resident in 1986 and quickly realized that what was needed were HIV specialists who could provide care targeted to the specific needs of HIV+ patients. For the past 15 years those of us in the care-providing community have been working to be on the cutting edge of HIV care and at the same time able to administer to the all-encompassing medical and emotional needs of the patient. This type of comprehensive care was not available in the early days of the crisis."
Cunningham's years of AIDS activism have recently led him to the Arizona statehouse where he and other HIV health care workers have joined forces with Arizona State Representative Steve May to tackle issues related to the HIV standard of care and health-plan reimbursements. The Arizona chapter of AAHIVM, of which Dr. Cunningham is president, has built a coalition of AIDS activists groups (Arizona AIDS Project, Phoenix Body Positive) to, as he states, "provide support, background, and information resources to negotiate with health plans on reimbursement issues." Representative May, Dr. Cunningham and others are assisting efforts to require health care companies to have an HIV team of specialists on staff to treat patients. He observed, "Among the most difficult challenges I face as an HIV specialist is dealing with third-party payers regarding appropriate reimbursement for care to HIV patients. Arizona is a highly managed care environment, and all of us are dealing with medical and reimbursement issues. As the Academy sets a standard of care for HIV specialists, we will hopefully also have a positive influence on the rate of reimbursement for HIV specialists." Cunningham went on to say, "Medical practices and patients alike will benefit by having access to HIV specialists that are on top of the latest developments in HIV care. In the long run this will cut health care costs related to HIV care."
At present, legislation is pending in Arizona that will define an HIV specialist incorporating AAHIVM's self-assessment tool. The effort to enact this legislation has been spearheaded by Cunningham and other Academy members from around the state. The introduction of the bill has already generated interest and discussion to the extent that third-party payers have already begun reviewing contracts with HIV providers to improve reimbursements and recognize HIV specialists. It is hoped that the same or similar guidelines will be mandated by other states in coming years.
Advertisement
Cunningham went on to say, "Short-term treatment and management of HIV includes stabilization of T cells and viral loads. Long-term treatment involves multiple drug regimes for multiple mutations and resistance. Physicians and health care workers need to demonstrate competency through a standard core curriculum and have CME (continuing medical education) training or seminars regarding the latest therapies available. The Academy has been proactive in helping physicians and health care workers find these types of conferences. Enacting legislation requiring HMOs to have HIV specialists on their plan will help ensure having access to the latest treatments available for patients as well as appropriate reimbursement for care providers. Adopting this legislation will be a 'win-win' for both."
Dr. Cunningham's practice includes offices in Phoenix and Scottsdale. He told The Nexus he is "proud" to be a second-generation family practice physician, following in the footsteps of his father who served the same community for more than 35 years. Dr. Cunningham also says he loves the warm climate and variety of landscape that Arizona and "the great Southwest" offer, but that he travels outside the U.S. whenever he has any sizable "nugget" of time to escape for some needed "R&R."
Editors Note: "A Profile" is an opportunity for Nexus readers to learn about the work and activities of other Academy members from around the country. The Nexus hopes you enjoyed the interview with Dr. Cunningham, the first of this new story/article format.