Long-Time HIV Researcher and Clinician Speaks on the Issues of Keeping Up-to-Date in HIV Medicine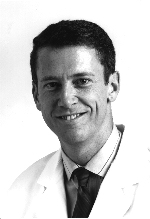 Joel E. Gallant, M.D., M.P.H.
Like many of our members, Joel E. Gallant, M.D., M.P.H., has been on the front lines of the HIV epidemic since day one, and he knows the value of keeping current on treatment developments. He studied medicine at the University of California at San Francisco from 1981 to 1985, which he describes as "ground zero for the AIDS epidemic." Since then, he has watched the epidemic spread and has witnessed rapid changes in the field, including the transformation of HIV infection in the late 1990s from a progressive and ultimately fatal illness to a chronic, manageable, but extremely complex disease.
Gallant understands the importance of staying on top of new developments and believes that the Academy's Core Curriculum Educational Objectives for HIV Specialists can go a long way toward making sure that all frontline HIV care providers have the tools they need to maintain that educational currency.
Gallant now wears two hats, one as an academician and another as a hands-on health care provider. In addition to caring for approximately 200 HIV-infected patients, he is an associate professor of medicine in the Division of Infectious Diseases at the Johns Hopkins University School of Medicine in Baltimore. He is also the associate director of the Johns Hopkins AIDS Service and director of the Garey Lambert Research Center, a research unit at Johns Hopkins that conducts HIV-related clinical trials. And he is an associate editor of The Hopkins HIV Report and is on the editorial board of the Johns Hopkins AIDS Service Website, where he conducts interactive question-and-answer forums on HIV disease for patients and clinicians.
Advertisement
In the field of HIV medicine, Gallant tells
The Nexus
, keeping up-to-date is absolutely critical. This is because HIV is "perhaps the most rapidly changing field in medicine. By the time a study is published in a journal, it's old news. The only way to keep current is to attend meetings and conferences, to read newsletters, and to be active on the Web." Someone then has to disseminate that information to full-time clinicians, he adds, who are often unable to attend medical conferences. "Without that the type of education," he stresses, "your practice would quickly become outdated."
At Johns Hopkins, Gallant explains, "we have a weekly case conference, where all of the clinicians come together and present and discuss challenging cases." If the weekly meeting falls right after a major conference, he adds, "we use the hour to review the presented data. But the meetings are usually a forum for an interactive and often heated discussion of how to manage HIV infection, often involving discussion of complex antiretroviral decisions."
In addition, Gallant says, the Johns Hopkins AIDS Service maintains a quality assurance program in which clinicians review the charts of their peers and in which faculty members conduct more in-depth reviews to specifically assess the appropriateness of antiretroviral therapy and decision making. Further, he adds, Johns Hopkins has a self-test on its Website (http://hopkins-aids.edu) that clinicians there "are expected to complete and pass" -- everyone takes it once, and it is updated frequently.
The American Academy of HIV Medicine, says Gallant, "is trying to do something similar but in a broader capacity. Our program is designed to ensure quality of care here at Hopkins, but it's not an attempt to certify people outside of the Hopkins program." The Academy, he emphasizes, by taking such educational efforts nationwide in a consistent, often-updated effort, "is filling an important gap in making sure patients nationwide are being taken care of by HIV experts coming from a variety of medical specialty areas."Gallant, who served on the committee that developed the Academy's list of Core Curriculum Educational Objectives, notes that providers who seek board certification in other subspecialties "have a body of knowledge they're expected to be familiar with. They have to demonstrate their grasp of that knowledge base by taking board exams. Because HIV medicine is not a subspecialty, there's no well-defined knowledge base for the field. The kind of knowledge an HIV Specialist ought to have hasn't been defined." Indeed, he says, because there's no specialty exam at this point, "it's even more important that we define the knowledge base."
Forming a knowledge base is especially problematic in a field like HIV, Gallant notes, because providers come from so many different specialties and bring such diverse backgrounds to the table. For this reason, he stresses, "it's useful to come up with a cohesive document that spells out what's expected of someone who calls him or herself an HIV expert. We all need to be on the same page."
The Core Curriculum "is a wonderful tool for physicians or trainees who want to expand their knowledge of HIV to become experts," says Gallant, "or to identify areas where they're a little weak. It can be used as a tool for self-study or for continuing medical education. Any provider who goes through that list will immediately recognize areas he or she isn't as familiar with and can thus use it as a platform to further his or her knowledge about the virus and its treatment."
Gallant also supplements his patient-oriented clinical knowledge with his own work as a researcher. "Doing clinical research keeps me up-to-date with what's going on," he says. "Knowing the latest data and which studies are in progress or being planned helps me be a better physician for my patients, who always want to know what's around the corner. If I weren't involved in clinical research, it would be harder for me to stay current and harder to tell my patients what's available now and what to look for a year or two from now."
And, adds Gallant, the reverse is true, as well: "As a clinician, I'm a much better researcher. A lot of people doing clinical research are not involved in patient care and have lost touch with the burning issues that should be directing our research. They may also be unaware of some of the practical issues that may complicate a clinical trial or make enrollment more difficult. It's critical to include clinicians in the research process. It's pretty easy to spot a research protocol that was designed by folks who don't see patients. Fortunately, here at Hopkins, clinicians are integrally involved with clinical research activities, and most of our researchers wear both hats."
Gallant has a long-standing interest in infectious diseases and originally intended to pursue a career in tropical medicine. However, he has been actively involved in HIV care since he was a medical student in San Francisco, working in the world's first AIDS ward at San Francisco General Hospital. He worked in the HIV clinic during his residency at Yale-New Haven Hospital and in the Johns Hopkins Moore Clinic while completing his M.P.H. degree. During his infectious disease fellowship at Johns Hopkins, he decided to devote his career to HIV infection, and in 1992 he became the director of the Moore Clinic, a position he held until earlier this year, when he became associate director of the Johns Hopkins AIDS Service. He is a Fellow in both the Infectious Disease Society of America and the American College of Physicians, and he serves on the editorial board of The Journal of the Gay and Lesbian Medical Association.

Back to The Nexus Fall 2001 contents page.