A 1960s Activist and Feminist Finds Continuing Challenges in Her 21st-Century Role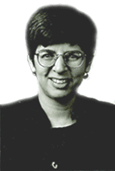 Judith E. Feinberg, M.D.
Judith E. Feinberg, M.D., professor of medicine, Associate Director of the Infectious Diseases Center, and principal investigator in the AIDS Clinical Trials Unit at the University of Cincinnati College of Medicine -- and newly elected board member of the Midwest chapter of the American Academy of HIV Medicine -- is an educator first and foremost. And, she says, she's also "an activist from the 1960s. I guess you can take the girl out of the '60s, but you can't take the '60s out of the girl." She combines those roles in her work both at Holmes Hospital, a county-run facility in Ohio, and as coeditor of the Academy's Self-Directed Study Guide for HIV care providers.
"I love to teach," Feinberg says. "My primary role is really not in a practice, although I take care of 250 HIV-positive people. I'm in an academic setting and my career objectives are around doing research and educating others. That has always been a very satisfying, very rewarding thing for me to do. And I'm delighted to be doing it in this context." She's learned a thing or two herself in her work on the Study Guide, she adds. "As much as I think I know about HIV," she tells The Nexus, "I learned more -- and I even remembered other things I'd forgotten."
She sees the value of that kind of educational effort for her colleagues -- and for other interested parties in the war on HIV. "We need to keep educating the lay public, too," she stresses, "which is still way behind the times in its understanding of HIV disease. I see that every day as I interact with new patients." She continues, "Also, a significant and important part of our educational efforts should be focused on the people who write our laws. This is a disease whose management changes faster than any medical literature can keep up with. It's immensely important to have educational avenues with rapid turnaround. By the time it appears in the New England Journal of Medicine it's old, it's ancient history. It's not what anybody's doing anymore. As much as we academics like to see our names in the NEJM, by the time it's there, it's out of date."
Advertisement
But disseminating new information quickly isn't enough, Feinberg adds. That information also must be disseminated objectively. "It's really crucial to have an educational forum that isn't the voice of the pharmaceutical industry," she says. "You have to be an independent thinker. The drug companies often want you to see particular information, which may or may not be lined up with the educational needs of HIV practitioners. We really do need to get education from an unbiased voice."
Her voice and education fills that need nicely. A Ph.D. candidate at the University of Chicago's Department of History, she's also a graduate of the University of Chicago and completed her premedical course work at the University of California at Berkeley, then attended Rush Medical College, Chicago. She's worked with the Office of AIDS Research at the National Institutes of Health and with the National Institute of Allergy and Infectious Diseases in Bethesda, The Johns Hopkins University School of Medicine in Baltimore, the University of California at Los Angeles, and Rush-Presbyterian-St. Luke's Medical Center in Chicago. She served alongside the highly esteemed Anthony S. Fauci, M.D., on the Public Health Service AIDS Task Force Subcommittee on Therapeutic Intervention -- and she holds a 1986 patent for "use of recombinant interferon alfa-2b as an anti-retroviral agent in HIV infection." Plus she's written or contributed to more than 200 abstracts, articles, invited papers, letters to journals, editorials, and book chapters.
In other words, she's active. In fact, she's proud to be an activist in the truest sense of the word. "I'm a feminist," she says, "but I didn't get involved with the Academy to be 'the female voice.' Still, I think in all domains women tend to be the forgotten half. In so far as my presence helps to represent women practitioners of HIV medicine, I'm happy to do it. But it's a chronic, lifetime issue for women to be underrepresented. I think that's why you see so many women and so many gay physicians involved in HIV care. They're the people who already are underrepresented in general. It's an interesting natural political match-up."
Indeed, she sees the tremendous political impact that HIV has had. "Above and beyond the fact that this is a terrible disease," she says, "which it certainly is, it really, beyond the medical horror of AIDS, is also such a 'canary in a coal mine,' so to speak. It's such a lightening rod for important social, political, and economic issues both in the United States and worldwide. You can see that even if your only involvement with HIV was the first layer, HIV disease itself. Beyond that, there are layers about autonomy and disenfranchisement and poverty and so many other important facets of human existence that in many ways it's kind of a microcosm of a lot of what's wrong with the world. Working in this area makes me feel like I'm playing my small part to set that right. Those things are critically important -- and they're certainly critically important to me. They symbolize so much of what society could do so much better if we tried."

Back to The Nexus June 2002 contents page.