Since HIV was first identified over 15 years ago, the virus has spread rapidly to every corner of the globe.
Close to 6 million people became infected with HIV in 1998 -- 11 every minute.

More than 3 million children and youth under age 25 became infected with HIV in 1998 -- 8,500 per day.

33.4 million people were estimated to be living with HIV/AIDS as of December, 1998.

Advertisement

6.2 million children had been orphaned by AIDS as of 1997 -- 95% of them live in sub-Saharan Africa.

In 1998, 43% of HIV-positive people were women.

95% of all HIV-infected people live in developing regions of the world, where social, economic, cultural and political conditions that contribute to the spread of the virus are more prevalent.

If the spread of HIV is not contained, AIDS may increase infant mortality by as much as 75% and mortality in children under 5 by more than 100% by the year 2010 in regions most affected by the disease.
Factors in the Spread of AIDS
Factors known to promote the rapid spread of the HIV/AIDS epidemic include poverty, discrimination, sexual inequality, inadequate health or social services, rapid urbanization, and a migrant labor force. Also, some social mores and political issues surrounding sex, injection drug use, and blood transfusions have created environments that promote the spread of the virus.
Although these conditions exist to varying degrees in every region of the globe, they are more prevalent in certain areas, resulting in increased numbers of HIV infections. However, it is not clear why HIV infections have increased dramatically in some places while rates in neighboring regions remain stable over many years.
Despite the challenges, it is possible to decrease rates of infection through prevention efforts that acknowledge the behaviors that spread HIV and that provide skills and services to help people abstain from higher-risk behaviors.
Adults & children estimated to be living with HIV/AIDS in 1998

Total cases of HIV/AIDS worldwide: 33.4 million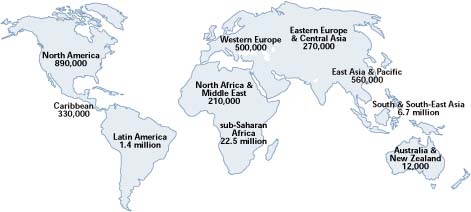 AIDS Around the World
. . . in North America and Western Europe
As new infections continue to occur and new drug therapies keep people with HIV alive longer, the proportion of the population living with HIV has actually grown in these regions. Correspondingly, the number of AIDS-related deaths have declined. This shift has caused greater demands for care and presented new prevention challenges in these developed regions.
In 1998 alone, nearly 75,000 people became infected with HIV, bringing the total number living with HIV in this region to almost 1.4 million.

In 1998 in North America, 44,000 new HIV infections were reported; in Western Europe, 30,000.

In Western Europe, there has been a 600% increase in condom use during first sexual experiences among young people since the early 1990s.
. . . in Sub-Saharan Africa
Within the African continent, sub-Saharan Africa is still the "global epicenter" for AIDS and HIV, with over two-thirds of the world's HIV-positive people living in this region.
Currently over 22 million sub-Saharan Africans are estimated to be living with HIV or AIDS. Almost 12 million have already died in this region due to AIDS-related illnesses.
AIDS deaths in this region represent 83% of AIDS deaths worldwide.

1.7 million Ugandan children have become orphaned due to AIDS since the beginning of the epidemic.

AIDS cut the average predicted life span from 64 to 47 in the nine worst-affected countries in Africa.

70% of the people who became infected with HIV in 1998 live in this region.

In Zimbabwe's city of Mutare, close to 40% of pregnant women are HIV-infected.

An estimated 87% of the world's children who are living with HIV live in Africa.
. . . in North Africa and the Middle East
Less is known about the HIV/AIDS epidemic in North Africa and the Middle East than in other parts of the world. The generally conservative social and political attitudes and traditions in many of the countries in these regions present challenges to HIV/AIDS awareness and prevention efforts among their populations.
In 1998, 19,000 new cases of HIV infections were reported among people living in North Africa and the Middle East.

A total of 210,000 people are thought to be living with HIV in this region.
. . . in Asia and the Pacific
An estimated 7 million people are now living with HIV/AIDS in Asia and the Pacific. By the end of the year 2000, an estimated 25% of people in this region will be living with HIV. The high rates of infection and rampant spread of HIV in Asia are attributed primarily to sharing of equipment for injection drug use and to the commercial sex industry.
India has over 4 million people living with HIV -- the largest number of HIV-infected people in any country in the world.

In China, over 400,000 people were estimated to be living with HIV/AIDS in 1997.

In Cambodia, 1 in 30 pregnant women and almost 1 in 2 sex workers tested positive for HIV.

An estimated 40% of injection drug users in Thailand are HIV-positive.

The number of HIV-infected people in South and Southeast Asia now exceeds the total number of infected people in the entire industrialized world.
. . . in Eastern Europe
Many countries in Eastern Europe have reported dramatic growth in HIV infection rates since the early 1990s. By contrast to the early part of this decade, the number of Eastern Europeans estimated to be living with the virus today is up to 70 times greater, with injection drugs as the largest factor.
In the Russian Federation, 4 of every 5 newly diagnosed infections are among injection drug users.

Today there may be nearly four times as many infections in the Ukraine alone as there were in the entire Eastern European region just three years ago.
. . . in Latin America and the Caribbean
In Latin America and the Caribbean, an estimated 1.7 million adults and children were living with HIV by the end of 1998. In this region, HIV/AIDS has taken its greatest toll on men who have sex with men and on injection drug users. However, rising infection rates in women -- and, consequently, in infants -- show that heterosexual transmission is becoming prominent. Traditional mores and attitudes can lead to double-standards that encourage men to have many sexual partners. Cultural expectations of female submissiveness and male dominance in sexual relations result in more women being placed at a risk of infection. In addition, the HIV epidemic is shifting to younger populations.
The number of young people (ages 15-24) infected with HIV was over 65,000 in this region during 1998.

In Brazil, women account for 1 in 4 of all AIDS cases.

In the Caribbean, 1 in 3 HIV-infected adults are women.

In Mexico, between 3% and 11% of injection drug users are HIV-infected; in Argentina and Brazil, the percentage may be close to 50%.
Back | Next
Table of Contents