Our nation is facing the most critical and devastating epidemic in recent history. HIV infection and the clinical complications that result are placing a heavy strain on medical and social services. The Centers for Disease Control and Prevention (CDC) report the following:
AIDS is the second leading cause of death among adults ages 25-44.

The total number of HIV-infected persons in the US is estimated to be between 650,000 and 900,000, and approximately 40,000 are infected each year.

Approximately 1 in 300 Americans is HIV-positive -- 1 in 160 males and 1 in 1,000 females.

Advertisement

Although racial and ethnic minorities account for only 25% of the US population, they account for over 50% of all AIDS cases.

Over 410,000 Americans have died of AIDS.

The three most common modes of exposure are sex among men who have sex with men; injection drug use; and heterosexual contact, primarily through sexual contact with injection drug users.

Many at greatest risk of HIV infection are still not aware of the higher-risk behaviors that can result in HIV infection, or they are reluctant or unable to change their higher-risk behaviors.
Anyone Can Be at Risk
Many falsely assume that only certain special populations are at risk for HIV/AIDS. However, anyone who engages in higher-risk behaviors may become infected with HIV.
The spread of HIV/AIDS among young people across the country is due to combination of unsafe sexual and drug practices, inadequate prevention services and a misconception among young people that they are not at risk.
200,000 people in the United States are HIV-positive and don't know it, according to estimates.

Approximately 40,000 new cases of HIV infection occur each year in the US, according to projections. As many as 50% of those cases may be among young people under age 25.

African-Americans and Hispanics account for 58% of adolescent males with AIDS and 83% of adolescent females with AIDS.

The proportion of all AIDS cases reported among adult and adolescent women has nearly tripled -- from 7% in 1985 to 22% in 1997.
One of the best ways to prevent the spread of HIV is to promote open communication and greater honesty about issues of postponing sex, using safer sex practices and avoiding the sharing of needles and other injection equipment.
Disparities in HIV Care
While most people infected with HIV in the US have good access to care, a recent study suggests that disparities in access and quality of care exist in some populations, including the following:
African-Americans

Latinos/Hispanics

Women

The uninsured

The Medicaid insured
These disparities in care are reflected in infrequent office visits, increased hospitalizations and an increased risk of not receiving potentially life-saving medications. Disparities among disadvantaged populations suggest that a person's insurance status (that is, whether the person is insured or uninsured) contributes to differences in receiving care.
The Stigma
The stigma that still surrounds HIV/AIDS causes many people to worry that they would suffer discrimination if their HIV-positive status became known. Prevailing attitudes concerning people with HIV/AIDS often center around the myths that only gay men and drug users can contract HIV. The truth is that anyone can be at risk of HIV/AIDS if they engage in higher-risk behaviors. The goal is to create an environment in which children and adults with HIV or AIDS can live free from discrimination. To overcome people's ignorance and misconceptions about HIV/AIDS, greater awareness and communication are essential.
Still No Cure
Vaccines are the most cost-effective medical intervention for preventing disease and death. While an AIDS vaccine has not yet been developed, several vaccines and new drugs currently under development show promise. Current drug therapies can prolong life and alleviate symptoms, but they do not cure AIDS, and not everyone benefits from them. While dedicated researchers, physicians, health workers and community activists around the world are working hard to find a cure, HIV/AIDS remains one of the most devastating epidemics in modern history.
The Nation Responds
Countless community and national HIV/AIDS organizations have worked to draw attention to the AIDS epidemic in the US. In response to their sustained efforts over the last decade and the alarming statistics about the growing crisis, the federal government and many state governments have increased financial resources for HIV/AIDS. In 1998, the president and the Congressional Black Caucus announced a new initiative to invest $156 million to improve the prevention and treatment of HIV/AIDS in African-American and other minority communities. In 1999, the White House Office of National AIDS Policy announced a new $100 million initiative to address the AIDS crisis in Africa. While much has improved, much still remains to be done, especially in the area of HIV prevention.
Total AIDS cases reported through December 1998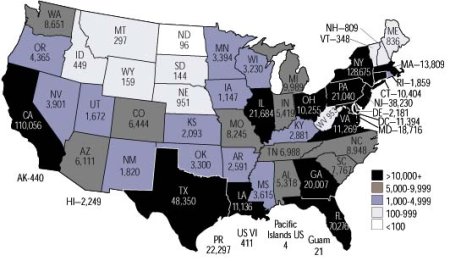 data source: Centers for Disease Control and Prevention
(Click the image to enlarge.)
Back | Next
Table of Contents