The ideas listed below challenge everyone -- members of the community, teachers, HIV/AIDS educators and members of the faith, business, and health communities to use their creativity to inform themselves and their peers about the AIDS epidemic.
In addition, the Centers for Disease Control and Prevention (CDC) has identified numerous programs that work -- HIV/AIDS-related programs that have been proven statistically to work. For information on HIV/AIDS-related programs, call CDC's Division of Adolescent and School Health (DASH) at (770) 488-3168. Information on DASH can be found at www.cdc.gov/nccdphp/dash/.
In the Community
Work with state and local health departments to involve your community in HIV/AIDS awareness.
Develop workshops for parents on the role they play in shaping their children's behavior.
Organize community panels about sensitive and taboo issues and develop materials to help facilitate discussions in these settings.

Advertisement

Find out what social and cultural norms increase vulnerability to HIV in your community (e.g. social pressure for boys to have sex early).
Use the sample proclamation and officially declare World AIDS Day in your community.
Observe a "Day Without Art," to signify the loss of artists to AIDS and to increase awareness of AIDS.
Organize an HIV/AIDS fund-raising walk or run.
Distribute HIV/AIDS Fact Sheets and red ribbons to the community to wear on World AIDS Day.
Hold a toy or food drive to help children affected by HIV/AIDS.
Contact a local book store to co-sponsor an event.
Ask Congress to increase HIV/AIDS funding.
Decorate Christmas trees with red ribbons and tags with the names of community residents who have died of AIDS.
Organize musical performances and educational seminars for all age groups.
Contact The NAMES Project and bring panels from The AIDS Memorial Quilt to your community [(415) 882-5500].
Set up a special display of books and resource materials about HIV/AIDS at your local library.
Volunteer or make a donation to an AIDS program.
In the Classroom
The classroom provides numerous opportunity to educate students about HIV/AIDS.
Place a question box in classrooms where students can ask anonymous questions that will be answered by teachers at appropriate times.
Start a peer education program where students can educate other students about HIV/AIDS.
Invite a young adult with HIV or a health practitioner who works with HIV as a guest speaker.
Train young people as peer educators on life skills, sexual health, and AIDS education.
Develop a pen-pal exchange for children and young people infected and affected by HIV/AIDS in different cities and countries.
Show videos in which other teens talk about their personal experiences with HIV/AIDS. [See "HIV/AIDS Education Videos"]
At Work
At work, launch a Business Responds to AIDS program or a Labor Responds to AIDS program. [Contact CDC's National Prevention Information Network, (800) 458-5231, or the National AIDS Fund Workplace Resource Center, (202) 408-4848.]
Establish December 1 as a day to address issues of HIV/AIDS at your workplace.
Educate employees on the protection of people with HIV/AIDS and on non-discrimination laws.
Initiate a program to have World AIDS Day messages inserted in paycheck envelopes and printed on bags and packaging materials.
Form a team at your workplace to raise money and support for a local AIDS Walk.
Plan a training session or a brown bag lunch on HIV/AIDS discrimination, myths and stereotypes.
Colleges and Universities
At colleges and universities, work with university administrators, faculty, staff, and students.
Invite a local HIV testing center/clinic to your campus on December 1 or ask the campus student health center to test at no charge for the day. Contact the National Association of People with AIDS at (202) 898-0414.
Distribute information on HIV testing and prevention. [See Fact Sheets in this booklet]
Distribute "Basic Facts About HIV and AIDS" and "HIV/AIDS Quiz" from this booklet.
Create tabletop displays with World AIDS Day messages and place them in cafeterias and dining halls.
Coordinate with popular restaurants to give out free condoms; pass out literature focusing on the high correlation between HIV transmission and alcohol consumption.
Organize HIV/AIDS workshops with student educators in an informal setting such as a student center or residence hall lounge. Distribute information on HIV testing and prevention. [See Fact Sheets in this booklet]
Write an article or letter to the editor of the school paper; include statistics about the prevalence of HIV and AIDS in your school or community.
Encourage students to work with younger students in local middle and high schools to challenge social norms that put them at risk for HIV.
Organize discussions about sensitive and taboo issues; develop materials to facilitate discussions.
Co-host seminars with medical and/or law schools.
Incorporate HIV/AIDS materials into courses.
Show films or hold a film festival/discussion about films dealing with HIV/AIDS, such as the following:

Jeffrey (R)
The Cure (PG-13)
It's My Party (R)
Roommates (NR)
Fotos del Alma (NR)
Playing by Heart (R)
Longtime Companion (R)
Kids (R)
Boys on the Side (R)
Common Threads (NR)
Philadelphia (PG-13)
A Mother's Prayer (PG-13)
Love! Valour! Compassion! (R)
Bloodbrothers, The Joey DiPaolo Story (NR)
Silverlake Life: The View from Here (NR)
And the Band Played On (PG-13)
In Faith Communities
In your faith community encourage a long-term commitment to HIV/AIDS.
Present the Interfaith Declaration to your church council. Propose that your church community make a similar declaration.
Participate in or establish a collaboration with interfaith observances of World AIDS Day in your community.
Hold a candlelight service of remembrance for those affected by HIV/AIDS; contact your local AIDS ministry program and coordinate with them.
Join with other congregations and ring your steeple bell 20 times at 2:00 pm on December 1 to signify the 20 years of the epidemic. [For more details, contact the Council of Religious AIDS Networks at councilran@aol.com.]
Check the partial listing of national interfaith contacts in Faith Communities and HIV/AIDS fact sheet for materials and ideas for collaborations.
Encourage your religious leaders to speak about HIV/AIDS in sermons, and invite an individual living with HIV/AIDS to share his or her story.
Observe a moment of silence during services for those who have died of AIDS.
Contact the national office of your religious affiliation or organization to ask for information regarding HIV/AIDS programs and policies.
Start an AIDS ministry within your congregation or with others in your community.
Start a service program. Members of your congregation can work with a local AIDS group to provide meals, transportation, shelter, companionship or other services to people living with HIV/AIDS.
Ask associations of people living with HIV/AIDS to talk with young people about their experience with HIV.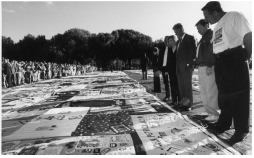 President and Mrs. Clinton and others view the AIDS Memorial Quilt on the National Mall in Washington, DC.
In Government
Governments should participate in World AIDS Day. Effective HIV prevention programs can benefit from high-level political commitment.
Provide your community with statistics on HIV infection rates in your area, and use these numbers as a call to action. (Contact your health department.) [See "State and Territorial Contacts"]
Hold meetings with district leaders to brief them on the World AIDS Day theme, "All Men -- Make a difference!"
Sponsor a World AIDS Day information session to discuss HIV prevention, education and treatment needs in your community. Personally invite student groups and various community organizations.
Develop policies that address unmet needs, especially those of traditionally underserved populations, including African Americans, Hispanic/Latinos, Native Americans, young people, men who have sex with men, injection drug users, rural communities, women, the homeless and the incarcerated.
Adopt a proclamation (see "Sample Proclamation") urging citizens to take part in World AIDS Day activities and observances.
Encourage your communities to join the White House in dimming their lights as a visual demonstration expressing national and worldwide commitment to stop the spread of HIV/AIDS. For details, check the White House Office of National AIDS Policy's website www.whitehouse.gov/onap.
Prepare a press package describing World AIDS Day events locally and in your state.
Invite speakers to your State Capitol or City Building to speak on HIV/AIDS.
Advocate for local, state and national policies that promote the rights of all people who are living with, affected or orphaned by HIV/AIDS.
Hold workshops for government officials on the utility and effectiveness of men's participation in HIV/AIDS prevention.
In Health Care Settings
In health care settings, the campaign against HIV/AIDS should continue not only on World AIDS Day, but throughout the entire year.
Organize training sessions with employees and health professionals on such topics as dealing with AIDS issues and communicating with patients.
Distribute free condoms to patients making office visits.
Develop a questionnaire for an HIV risk history.
Copy, display and distribute reading material and Fact Sheets about AIDS in the office regularly.
Offer routine HIV prevention counseling and free testing services on World AIDS Day.
Organize workshops and assemblies on HIV/AIDS at local schools to educate students and teachers.
Contact AIDS service organizations serving various ethnic and racial groups and ask that they make a presentation to your staff regarding cultural competence and sensitivity about HIV.
Mobilize the communication department in your institution to develop World AIDS Day messages to be distributed throughout the institution and surrounding communities.
Encourage local health centers to set aside special times to provide health services to young people.
Have trained peer counselors serve as links between young clients and health care personnel.
Design a specific area where patients can confidentially obtain condoms and information about HIV and other STDs.