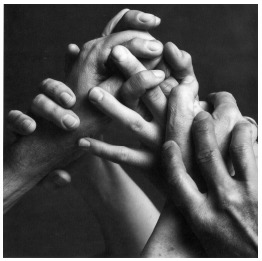 Photo by Carolyn Jones, Photographer, New York
The topic men and AIDS was selected as the worldwide theme of World AIDS Day 2000 by UNAIDS, the Joint United Nations Programme on HIV/AIDS. Men are a highly diverse group, and we must be cautious about making generalizations about their behavior. The hope is, however, that such a focus will result in greater awareness of the risk of HIV/AIDS among all men, whatever their age, race or sexual orientation. It is also hoped that increased awareness will stimulate all men to use their influence to stem the tide of the HIV/AIDS epidemic.
Why Focus on Men?
UNAIDS cited 5 powerful reasons to focus on men and AIDS:
Men represent the majority of people living with HIV/AIDS. Men outnumber women worldwide in the number of HIV infections and AIDS deaths. According to studies, men are more likely to use alcohol, inject illegal drugs and use other substances that lead to unsafe sex.
Men's behavior often puts their sexual partners at risk for HIV. On average, men have more sex partners than women, and a man with HIV is therefore more likely to infect more people over a lifetime.

Advertisement

Unprotected sex endangers men's male and female sex partners. Many men who have sex with men also have sex with women. Often, fear of being stigmatized as homosexual causes men to deny their sexuality and/or to ignore HIV prevention warnings.
Men need to give greater consideration to AIDS as it affects their families. Fathers and future fathers should be encouraged to consider the potential impact of their sexual behavior on their partners and children and to take a greater role in caring for family members with HIV or AIDS.
Men often do not give adequate attention to their own health. In most settings, men are less likely to seek health care than women, and more likely to engage in behaviors -- such as drinking, using illegal substances, driving recklessly and practicing unsafe sex -- that put their health at risk. Often men do not know their own HIV status, thus putting others at risk for HIV.
Let's Take Action!
Let's provide opportunities for open discussion on ways to reduce factors that increase men's risk for HIV/AIDS. Let's do so by promoting awareness and understanding of the following key issues:
Gender stereotypes and cultural expectations that negatively affect women and men
Harmful and divisive concepts of masculinity and the need for gender equity
The ways in which boys are brought up and men are expected to behave
Men's reluctance to talk about sex, drug use and AIDS, with each other and with their partners.
Men's relationship with women and their willingness to discuss when, where and whether sex takes place
Understanding and acceptance of men who have sex with men
Men's access to help, including appropriate sources of information, counseling and support
Reducing male violence, including sexual violence
The importance of men's roles as fathers and providers of care and support in the family and the community