The year 1999 saw a higher total of deaths from HIV/AIDS than any year since the beginning of the epidemic, despite new treatments which are reducing deaths in developed countries. Of the people now infected with HIV, 95% live in the developing world.
47 million people around the world have been infected with HIV since the virus was first identified over 15 years ago.
34.3 million people were estimated to be living with HIV as of December, 1999.
About 5.4 million people were infected with HIV in 1999.
Globally, an estimated 15,000 new HIV infections occur every day.

Advertisement

Of the new HIV infections in 1999, 3.8 million live in sub-Saharan Africa, the hardest-hit region.
Eastern Europe and Central Asia saw the sharpest increase in HIV infections in 1999; most new cases in those regions are due to infection through injection drug use.
95% of all HIV-infected people live in developing regions of the world, where social, economic, cultural and political conditions that contribute to the spread of the virus are more prevalent.
AIDS and the Young
AIDS is particularly threatening to children and young adults around the world.
About one half of all people who acquire HIV become infected before they turn 25; typically they die before their 35th birthday.
In 1999, an estimated 570,000 children 14 or younger were infected with HIV. Over 90% were babies born to HIV-positive women. They acquired the virus at birth or through their mothers' milk.
13.2 million children have been orphaned by AIDS since the beginning of the epidemic.
Factors that Fuel the Epidemic
A major issue preventing adequate HIV prevention is the stigma associated with HIV/AIDS in many cultures. Stigma often leads to a deadly form of denial that paralyzes prevention efforts.
In addition, cultural practices involving multiple sex partners, risk taking, male sexual domination, inequality of women, lack of condom use and availability, violence, and injection drug use have a major impact on the spread of HIV. Societal factors, including poverty, lack of education, isolation, rapid urbanization, civil unrest, migration and inadequate health services also fuel the epidemic.
34.3 Million Adults and Children are Estimated to be Living with HIV/AIDS in 1999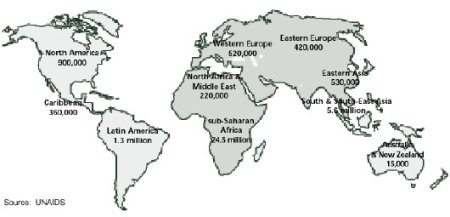 (Click the image to enlarge.)