The Price of Denial and Inaction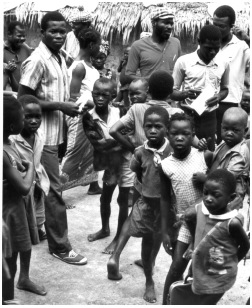 AIDS has created over 13 million orphans, most of them in sub-Saharan Africa. By 2010 there may be 42 million AIDS orphans. WHO photo by J. Mohr
Shock and disbelief swept the world as the tragedy of AIDS in Africa riveted international attention at the 13th International AIDS Conference in Durban, South Africa, in July, 2000. Addressing the Conference and the world, Nelson Mandela, humanitarian and former President of South Africa, described the meeting as "a gathering of human beings concerned about turning around one of the greatest threats humankind has faced, and certainly the greatest after the end of the great wars of the previous century."
Mandela's poignant and compelling words laid bare the unthinkable realities of the pandemic in Africa, now the tragic epicenter of the disease.
Mandela asserted . . .
"Let us not equivocate: A tragedy of unprecedented proportions is unfolding in Africa. AIDS today in Africa is claiming more lives than the sum total of all wars, famines and floods, and the ravages of such deadly diseases as malaria. It is devastating families and communities, overwhelming and depleting health care services, and robbing schools of both students and teachers.
Advertisement
"Business has suffered, or will suffer, losses of personnel, productivity and profits; economic growth is being undermined and scarce development resources have to be diverted to deal with the consequences of the pandemic.
"HIV/AIDS is having a devastating impact on families, communities, societies and economies. Decades have been chopped from life expectancy and young child mortality is expected to more than double in the most severely affected countries of Africa. AIDS is clearly a disaster, effectively wiping out the development gains of the past decades and sabotaging the future."
The AIDS epidemic in Africa is compared by some to the Bubonic Plague of 14th-century Europe, which killed one third of that continent. Unlike that plague, however, in which the very air and water were contaminated, AIDS is transmitted primarily through sex, and in Africa largely through heterosexual sex.
Toll of the Disease
The disease toll is unthinkable. As the 21st century begins, AIDS is the leading cause of death in Africa.
71% (24.5 million) of the world's HIV-positive people live in sub-Saharan Africa.
90% of AIDS cases in sub-Saharan Africa are attributed to heterosexual transmission. 90% of those infected do not know they are infected.
In sub-Saharan Africa, women represent 50% of AIDS cases, while in other regions of the world there are 4 men for every woman with AIDS.
Over 50% of 15-year olds in the worst affected African countries will die of AIDS in their lifetime.
Denial, misinformation and the stigma of AIDS are fueling the spread of HIV. Over 30% of young Southern African women believe a healthy-looking person cannot carry AIDS, for example.
Adult Rates of HIV Infection in the Most Affected Countries in Sub-Saharan Africa
Botswana
280,000
35.8%
Swaziland
120,000
25.25%
Zimbabwe
1,400,000
25.06%
Lesotho
240,000
23.57%
South Africa
4,100,000
19.94%
Namibia
150,000
19.54%
Malawi
760,000
15.96%
Kenya
2,000,000
13.95%
Central African Republic
230,000
13.84%
Source: UNAIDS
Two Generations Lost
AIDS is killing two generations of Africans -- those who are slated to build the future of the continent. They are the sexually active population, ages 15-49. Those who will be left are millions of orphans and the old, creating unusual population patterns with few in middle age to lead their societies.
By the year 2003, Botswana, South Africa and Zimbabwe will be experiencing negative population growth. This is the first time the Census Bureau is estimating negative growth due to AIDS. Many African countries will see life expectancies fall from 50-60 years to 30-40 years of age. In Botswana, life expectancy is now 39, down from age 71. In some sub-Saharan countries, infant mortality rates are now higher than they were in 1990.
Sub-Saharan Africa is the hardest hit, with the greatest concentration of HIV/AIDS cases occurring in the five countries of Southern Africa -- South Africa, Namibia, Botswana, Zimbabwe and Swaziland. South Africa has the world's highest rate of infection with HIV -- 1,700 are infected each day in that country on average. It is projected that within the next 5-10 years, 3.5 million South Africans will die of AIDS.
Devastation of Societies
AIDS is devastating the continent of Africa in astounding ways. In addition to the appalling toll in lives, years of progress in some countries are being wiped out rapidly. Advances achieved over the past decade, including some dramatic economic growth and reform, are being lost. Now AIDS threatens this momentous progress and has become a top security issue in many countries. The epidemic is destabilizing fragile political, economic, health and education systems.
Among the sick, the dying and the dead are those who would populate the military; operate the schools and hospitals; educate and care for the children; staff the factories, banks and governments; enforce laws; and mount HIV/AIDS prevention, treatment and care efforts. Tragically, many are struck down in their youth or early adulthood. Teenagers and young mothers and fathers are leaving orphans in shocking numbers.
Struggling to Meet Basic Needs
The primary health systems in most of Africa have collapsed under the burden of the disease. The underlying causes of the spread of HIV in third world countries are diverse. In many developing countries, particularly in sub-Saharan Africa, many of the most basic elements required for prevention are sorely lacking. Effective prevention will require the following:
Widespread knowledge about HIV/AIDS and HIV prevention measures, such as safe sex practices and the use of condoms
Adequate networks and personnel for HIV/AIDS testing, counseling, education and care
Adequate funding for HIV prevention/treatment
Massive campaigns to remove the stigma of HIV/AIDS
Stable networks for education and health care
Strong political and public health leadership to address HIV prevention efforts
Empowerment of women
Enforced prohibitions against rape
Strong infrastructure (roads, telecommunications)
Strong and stable economies and governments that are not engaged in war or civil unrest
Cultural Sensitivities Impede Progress
Unfortunately, cultural sensitivities about the sexual causes of HIV have caused many to be reluctant to speak freely about effective prevention strategies. Difficult subjects include male sexual dominance and the powerlessness of women, the prevalence of rape and violence toward women, the stigma of HIV/AIDS and the ostracism that results.
Despite these sensitivities, it is undeniable that the rates of unprotected casual sex, rape and prostitution are major factors in the spread of HIV, as is the devastation caused by the widespread myth that having sex with a young virgin can cure AIDS. In South Africa, for instance, where HIV rates are highest, rape and prostitution are rampant in some areas, especially where men live apart from their families because of migrating for work or military service. As a result of these factors, young girls in many countries have a particularly high rate of HIV infection.
Costs of Helping
Estimates of dealing effectively with the epidemic range from $3 billion-$10 billion a year. UNAIDS estimates the need to be $3 billion. Harvard economist Jeffrey Sachs estimates it would take $10 billion annually to deal effectively with AIDS in Africa. While that sounds impossible, Sachs estimates that this represents only $10 per person per year in wealthy donor countries -- equivalent to the price of one box of popcorn and a movie ticket from each person in rich nations.
Sachs believes that wealthy countries should each give several billion dollars a year to support the process. The U.S., through USAID, spends 300 million a year to combat HIV/AIDS in developing countries and most of this funding is dedicated to sub-Saharan Africa.
Efforts to Help -- The Global Response
Now that the alarms raised by world health leaders are finally being heeded, experts are struggling with the frustrating realities of the economic, social and infrastructure barriers to prevention and treatment. Even proposed efforts of heroic proportions are viewed by some as nearly hopeless in the face of the wildfire nature of the epidemic.
At last the private sector is beginning to come to the table with offers of free or reduced-cost drugs and testing equipment and supplies. Other private sources will provide money and humanitarian assistance to bolster international government contributions, which are being increased.
However, the financial realities are intimidating. In developed countries, costs of sophisticated combination AIDS therapy drugs range from $12,000 to $20,000 per patient per year. This lies in sharp contrast to the reality that the hardest-hit countries in Africa have national health budgets of perhaps $3 to $20 per citizen, and personal incomes of $300 per year are common.
The frustrations related to providing HIV/AIDS drugs to the countries severely affected include:
Cost factors
Poor or non-existent distribution channels
Poor or non-existent refrigeration
Lack of health care technicians who can manage drug administration, especially complicated combination therapies
Prevention Strategies
Experts agree that prevention strategies must be well coordinated and must include prevention, treatment and research.
At the AIDS Conference, Nelson Mandela asserted: "The challenge is to move from rhetoric to action, and action at an unprecedented intensity and scale. There is a need for us to focus on what we know works. We need to break the silence, banish stigma and discrimination, and ensure total inclusiveness within the struggle against AIDS; those who are infected with this terrible disease do not want stigma, they want love."
Mandela called for bold initiatives to prevent new infections among young people and large-scale campaigns to prevent mother-to-child transmission. He also urged nations to continue the international effort of producing appropriate HIV/AIDS vaccines.
Changing Sexual Behavior
Since an AIDS vaccine is not a realistic hope in the near future, changing sexual behavior is the only option. Studies have revealed that knowledge of the disease is not enough -- that those who know of the dangers do not necessarily change their behaviors.
Cultural factors, such as the stigma of AIDS and the belief that a man's sexual powers are demonstrated by promiscuity, cause many to ignore warnings and resist safe sex practices. Government interventions, such as prosecution of rapists and better social treatment of those already infected, could help to turn the tide.
Successes Bring Hope
Successes in some developing countries have proven that prevention can help stem the relentless tide of HIV, despite the obstacles of massive misinformation, stigma, sexual myths, sexual dominance, violence and rape. Strong political leadership seems to be the key to successful campaigns, together with massive cooperation from multiple sectors of society.
Senegal's massive HIV campaign resulted in men's consistent condom use with casual partners rising from virtually zero to 68% in 1997.
Zambia's comprehensive HIV-prevention efforts have seen HIV infections in pregnant young girls drop by nearly 50% in the last 6 years.
Uganda has reduced its prevalence rate from 14% in 1990 to 8% with a strong prevention campaign.
Strategies that Work
Prevention strategies such as the following will make strong inroads into changing attitudes and behaviors that are promoting the spread of HIV:
Promoting abstinence, safe sex and condom use
Ensuring early treatment of STDs
Ensuring access to voluntary and confidential HIV counseling and testing services
Working to reduce mother-to-child transmission
Launching campaigns to reduce the stigma and discrimination that surround AIDS
Working to change sexual and cultural norms and attitudes that promote the spread of HIV
Directing HIV/AIDS information and life skills training to young people
Encouraging acceptance, support and caring for people affected by HIV/AIDS
Inexorable Move of the Epicenter
Sandra Thurman, Director of the White House Office of National AIDS Policy and the U.S.'s first Presidential Envoy for AIDS, has observed that the situation in Africa is not the end or even the middle of the AIDS epidemic. It is just the beginning.
Researchers have predicted where the epidemic will explode next. "As goes Africa, so will go India, Southeast Asia, and the Newly Independent States of the former Soviet Union, and by 2005, more than 100 million people worldwide will have been infected with HIV. Leadership and resources are desperately needed to turn the tide," Thurman observed.
Calling the World to Action
In his stirring closing address at the AIDS Conference in South Africa, former President Mandela challenged the listeners to heed his call:
". . . in this interdependent and globalized world, we have indeed again become the keepers of our brother and sister. That cannot be more graphically the case than in the common fight against HIV/AIDS.

Therefore, there must be a partnership between business and the community; without that, this battle will not be won; and also to use the skills, the experience, the research that have been conducted all over the world in order to enlighten our people as how to approach this tragedy.

In the face of the grave threat posed by HIV/AIDS, we have to rise above our differences and combine our efforts to save our people. History will judge us harshly if we fail to do so now, and right now."
For more information on AIDS in Africa, visit the website of UNAIDS (www.unaids.org) and WHO (www.who.int)
Prevalence of HIV Among Adults in Africa December 1999