To successfully combat the spread of HIV/AIDS, it is necessary to stimulate involvement on all levels -- from individuals to groups, institutions and governments. World AIDS Day is designed to draw attention to the issue of HIV/AIDS and to give local leaders a rallying point around which to organize HIV/AIDS activities and programs. On the next few pages you will find examples of organizations and individuals working together to do their part in the fight against HIV/AIDS. The following are descriptions of just a few World AIDS Day events and activities that occurred in communities across the United States last year.
Students of Amherst College in Massachusetts strapped on their dancing shoes for a masquerade ball to benefit AIDS Care/Hampshire County, a non-profit organization that provides services for people living with HIV/AIDS. The college's ballroom dance club got things into motion by teaching dance lessons to interested masqueraders. Other activities included a forum, an educational table where students answered an HIV/AIDS quiz, and distribution of condoms.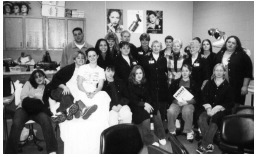 Northern Catskills Occupational Center
Northern Catskills Occupational Center in Grand Gorge, New York, conducted a fundraiser for the American Foundation for AIDS Research. The Cosmetology Department had a day spa, Culinary Arts prepared a lunch, the health class sold red ribbons, Career Pathways ran a bake sale, Alternative Education sold Christmas cards and Special Education sold ornaments. A generous percentage of the day's sales went toward AIDS research.
Advertisement
The
Celebration of Life Committee and Real Art Ways of Hartford, Connecticut
, sponsored the 8th annual Teddy Bear Drive to collect teddy bears for distribution to organizations that work with children and families affected by HIV/AIDS. The Celebration of Life observance and reception included a prayer, music and healing service for all affected by HIV/AIDS.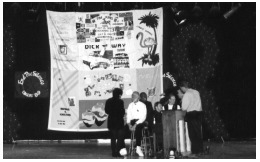 Owings Mills High School
In Owings Mills, Maryland, Owings Mills High School's SADD Chapter and health classes organized a week-long AIDS awareness program. The HIV-positive singing group "Positive Voices" kicked off the week's activities with a moving musical performance. Fourteen HIV-positive speakers visited science classes to answer questions. Other activities included displaying part of the AIDS quilt and dedicating a tree at the Rosewood State Hospital.
Teton County Public Health Nursing Services of Jackson Hole, Wyoming, lit 159 luminaria in the form of a red ribbon, representing those in Wyoming infected with HIV since 1984. The Dancers' Workshop performed, encouraging people to end the silence. Girl Scout troops assisted at the event.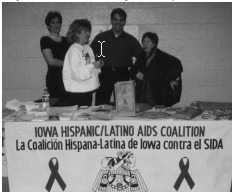 Minority Volunteer HIV/AIDS Education Coalition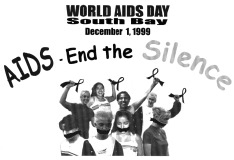 South Bay Free Clinic
In Des Moines, Iowa, the Minority Volunteer HIV/AIDS Education Coalition held their second annual World AIDS Day Celebration with an exhibit hall and educational programs. At exhibit tables, local organizations provided handouts on a variety of HIV/AIDS prevention topics. Educational sessions targeted youth, parents and other adults. Participation this year doubled from last year.
South Bay Free Clinic of Rodondo Beach, California, celebrated World AIDS Day with the live performance "Secrets," presented by the Kaiser Permanente Educational Theatre Program. The evening was concluded with a candlelight walk.
The Utah State Capitol Rotunda in Salt Lake City, Utah, resounded with music, speakers and testimonials on December 1. The People with AIDS Coalition of Utah, American Red Cross and the Utah Department of Health organized activities, including the release of balloons, a NAMES Project AIDS quilt display and a candlelight vigil. Free HIV testing was available throughout Salt Lake valley. Salt Lake City and Provo, a neighboring city, observed a Day Without Art by shrouding selected pieces of art to represent losses in the art world as a result of HIV/AIDS.
Citizens of Parker, Arizona, observed World AIDS Day with a march and candlelight vigil. Local churches tolled their steeple bells 19 times, signifying the 19 years of the AIDS epidemic. AIDS Outreach of Western Arizona and Parker Indian Hospital arranged the signing of proclamations by the Mayor of the town of Parker and the Chairman of the Colorado River Indian Tribes.
The AIDS Network of Western New York engaged in a number of AIDS awareness activities throughout November and December. In Buffalo, subway station advertising spaces highlighted HIV/AIDS messages. Eight counties participated in a poster, essay and poetry contest for K-12 grades. The winners and 100 honorable mentions were displayed at the Albright Knox Art Gallery during the regional World AIDS Day observance. Also, McDonald's owners and operators in Western New York and Northeastern Pennsylvania donated and distributed over 200,000 World AIDS Day theme tray liners.
Activities Outside the Continental U.S.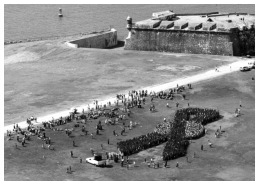 El Morro, Puerto Rico
Puerto Rico Legal Services reports that citizens of Puerto Rico came out en masse to celebrate World AIDS Day 1999. Held at the Spanish fortress El Morro, a human red ribbon was formed of 3,400 participants wearing red T-shirts. The human red ribbon has grown each year since 1994. Sports personalities, artists and high-level officials also participated in educational activities. Live music resonated over crowds of students from over 20 private and public schools, AIDS organizations, providers and patients.
Joey Franquez and Matt Blas, a father and son duo from Guam, united their musical talents in cooperation with Coral Life Foundation to produce a recording entitled "Listen, Learn, Live," the theme for World AIDS Day 1999. Their music was produced to be listened to and discussed in schools. Joey and Matt traveled to local schools to discuss HIV/AIDS and the message within their song.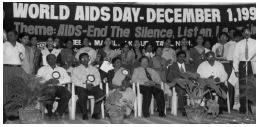 Southern Asian Seventh-day Adventists
The Southern Asia Division of Seventh-day Adventists organized an inter-school speech contest on HIV/AIDS in Hosur, India. Ten secondary schools each prepared two students for the contest. Each was given five minutes to speak about HIV/AIDS. Prizes were awarded. The Basic Facts About HIV/AIDS sheet from the World AIDS Day 1999 Resource Booklet was distributed to a crowd of over 1,200 young adults.