HIV/AIDS Affects All Youth
Young people, who represent one-sixth of the world's population, are rapidly becoming infected with HIV. The poverty, racism, sexism, and homophobia that many young people face cause a significant increase in their risk for HIV/AIDS.
60% of new HIV infections in developing countries occur in people ages 15-24.
Half of the world's new HIV infections occur in people under the age of 25.
Every minute, five young people in the world are infected with HIV.
Today, 10 million people ages 15-24 are living with HIV/AIDS worldwide.
Advertisement
The high rate of HIV infection among youth in the US requires significant attention. A recent White House report cited the following facts:
Young Americans between the ages of 13 and 25 are contracting HIV at the rate of two every hour.
Since the beginning of the pandemic, more than 123,000 young Americans have developed AIDS in their twenties, and most of those were infected with HIV as teenagers.
An estimated 250,000 young Americans are unaware that they are infected with HIV.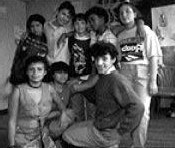 Youth gather to discuss the impact of HIV/AIDS. Columbia Photo: Armando Waak, PAHO
By 12th grade, 65% of American youth are sexually active, and one in five has had four or more sexual partners, according to a 2000 CDC survey. Although overall condom use among high school students has increased in the last few years, studies indicate that many youth do not use protection at all of their sexual encounters. The use of alcohol and other drugs may also contribute to risky behaviors that can lead to HIV infection among young people.
Any young person who engages in HIV risk behaviors could become infected, but the pandemic has taken an especially heavy toll on the following:
Young men who have sex with men (YMSM): Over 50% of infections reported in the US last year among young men aged 13-24 occurred among YMSM. A recent CDC study indicates that minority YMSM are disproportionately affected by HIV. The study of YMSM aged 23 to 29 years old showed that 32% of African American, 14% of Hispanic, and 7% of white YMSM were HIV-positive. The ages of the study participants suggest that infection may have occurred during adolescence.
Social and cultural biases that promote homophobia may hinder YMSM from seeking information about healthy sexual relationships. In addition, one in four YMSM is forced to leave his home because of his sexual orientation. Fifty percent of those YMSM who leave home turn to prostitution to support themselves, further increasing their risk for infection.
Young people of color: HIV and AIDS have disproportionately affected African American and Hispanic youths. While African American and Hispanic youth between ages 13-19 represent 65% of AIDS cases, they comprise approximately 30% of the US population.
Cultural and language differences may hinder prevention efforts in communities of color. Religious and cultural opposition to birth control, including condoms, and the high rate of injection drug use in areas where youths of color may live contribute to the rise in HIV infections.
Percentage of U.S. Population and Total Reported AIDS Cases
by Racial/Ethnic Groups Among 13-19 Year Olds

Young women: More females than males are diagnosed with HIV in the 13-19 year age group in the US. Young African American and Hispanic women have the highest infection rates in the US and account for 69% of AIDS cases in the 13-19 year age group.
An increasing number of young women, especially young women of color, also report that their first sexual experiences are with older men. Unequal power within relationships may prevent young women from asking about sexual history or requiring condom use and HIV testing.
Out-of-school youth: Compared with youth in school, out-of-school youth or those in detention know less about HIV but are more likely to engage in high risk behaviors, such as having sex without a condom, having more than four sex partners, and using drugs. Young people who live on the street often exchange sex for shelter, security, drugs, or food, increasing their risk for HIV infection.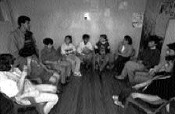 Columbian youth discuss HIV prevention. Photo: Armando Waak, PAHO
Prevention for youth: Providing young people with the necessary information and skills to protect themselves against HIV is important as adolescents become increasingly independent and mature. Educators, community leaders, and public health officials need to provide comprehensive prevention programs that will accomplish the following:
Encourage active youth participation in non-threatening environments. Youth involvement promotes the idea that young people are part of the solution rather than the focus of the problem. Young people may also be more receptive to receiving information from peers.
Provide accurate information in a variety of settings, such as schools, clinics, community centers, faith centers, homeless shelters, and detention centers.
Include skill-building exercises that develop communication, problem-solving, and decision-making abilities.
Provide access to youth-oriented education, counseling, and health services, including reproductive and sexual health services.
Address the diverse needs of both young men and young women. Youth can help to identify specific social, cultural, and gender equity issues relevant to teenagers.
Consider gender roles, sexuality and the positive aspects of sexual health. WHO and the Surgeon General suggest that abstinence-based efforts that include information about safer sex practices and condom use are more effective in delaying sexual initiation among youths, compared to abstinence-only education.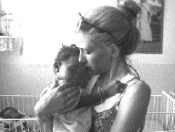 Volunteer with AIDS-infected baby, Haiti. Photo: Armando Waak, PAHO
Pregnant Women and Their Babies
Perinatal transmission, or vertical transmission, occurs when a pregnant woman transmits HIV to her child. This can occur when the baby is in the uterus, during labor, or after birth through breastfeeding. Research suggests that 30-50% of infants with HIV were infected while in the uterus, and 50-70% of infants with HIV acquired the virus during delivery or after birth.
North America: 91% of the children in the US who have AIDS were infected through mother-to-child transmission.
Africa: 90% of the children in Africa who have AIDS were infected through mother-to-child transmission. In parts of sub-Saharan Africa, 35-45% of pregnant women are HIV-positive. Each day, 1,000 infants are born HIV-positive in sub-Saharan Africa.
Caribbean: In most Caribbean countries, fewer than 10% of pregnant women are HIV-positive. In some areas of Haiti, however, 13% of pregnant women are HIV-positive.
Reducing the Risk
Early detection and treatment of HIV in pregnant women significantly reduce the risk of mother-to-child transmission. In the US, antiretroviral therapies such as zidovudine (ZDV, AZT) or nevirapine, taken during pregnancy, may decrease the risk of HIV transmission to the newborn from 25% to below 5%.
Although complete therapies may not be affordable for all, an oral dose of nevirapine may be given to the mother at the time of birth and to the infant within 24 hours after birth in order to prevent transmission. Combining antiretroviral treatment with Cesarean section rather than vaginal delivery is another successful strategy to prevent transmission.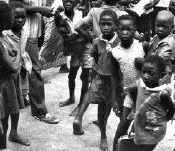 AIDS orphans, sub-Saharan Africa. Photo: J. Mohr, WHO
Children Orphaned by AIDS
The AIDS pandemic devastates family institutions as well as social structures worldwide. Children whose parents have been incapacitated or lost due to AIDS carry burdensome responsibilities. Orphans are often forced to leave school in order to find work to support their households. These children may lack the necessary skills and experience to maintain family farms. Because orphans carry the stigma associated with HIV/AIDS, they may also face greater challenges in finding jobs. Children without work may turn to prostitution, thereby increasing their risk for HIV infection.
Extended families who would customarily adopt orphans may also be struggling with AIDS. As a result, eldest children are often required to become the main caregivers for younger siblings. When children raise other children, traditional cultural, societal, and moral values that are usually passed from one generation to the next may be lost.
Health and social services providers in the US and in some African countries help HIV-positive guardians to develop plans for the future care of their children in the event of their own deaths. Parents may receive psychosocial services, education regarding their legal options, and financial assistance. In Zimbabwe, community volunteers are used to help children transition into new families or living situations.
Orphans and Children Orphaned by AIDS in the Year 2000
Regions
Estimated No. of Orphans All Causes
Percentage Orphaned by AIDS
Asia
928,543
17.3
Latin America and the Caribbean
1,009,644
49.2
Sub-Saharan Africa
13,665,000
47.2
Data based on a 34-country survey. Orphans are defined as HIV-negative children under age 15 who have lost either their mothers or both parents.

Despite such efforts, the emotional and physical needs of the world's growing number of orphans must become a greater political priority. According to USAID, the cumulative number of children who have lost either their mother or both parents to AIDS rose from approximately 3.5 million by 1995 to 7.1 million by 2000 and is projected to increase to 16.1 million by 2010.
Gender and HIV
The cultural roles of males and females profoundly influence attitudes toward sexuality and sexual risk-taking. Traditional expectations often cast men in the role of aggressive risk-takers who have frequent sexual encounters and multiple sexual partners. In turn, many cultures expect women to be subservient, faithful in relationships, and the sole caregiver of children.
Unequal economic and social power between genders may make women more vulnerable to unsafe sexual practices and sexual exploitation. Older men may coercively exploit young girls through the offering of gifts or financial security. Male sexual violence against women often prohibits women from controlling their exposure to the virus. Because men generally decide with whom to have sex and whether to use condoms, women are inhibited from protecting themselves from HIV.
Cultural norms that define masculinity often result in prejudice and discrimination against men who have sex with men. Homophobia and stigma have prevented many men from admitting that they are at risk of contracting HIV from sex with other men. Societies that repress and deny sex between men inhibit open discussion about sexuality, thereby thwarting HIV prevention efforts.
Heterosexuals
Heterosexual contact is responsible for a growing proportion of AIDS cases worldwide. Rate increases are greater among women because sexual transmission of HIV occurs more easily from men to women than from women to men. A woman faces a higher risk of acquiring HIV because of fragility of vaginal tissue and because her partner may engage in high-risk behaviors. As of 2000, 47% of adult AIDS cases worldwide were among women.
WHO estimates that over 80% of adult HIV infections worldwide are due to sexual contact between men and women.
North America: In the US, 11% of all people reported with AIDS contracted HIV through heterosexual contact.
Sub-Saharan Africa: 90% of AIDS cases in the region are due to heterosexual contact, and women represent 50% of cases. One study in Rwanda found that 45% of women contracted HIV from their husbands.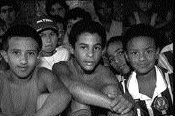 Young boys in Campinas, Brazil. Photo: Armando Waak, PAHO
Central and Latin America: 72.8% of all AIDS cases in Central America are due to heterosexual contact. Unprotected sex between men and women is responsible for 80% of HIV infections in Honduras.
Effective prevention programs address cultural differences and work to reduce risk through open discussions about negotiation, condom use skills, and health care access. The practice of including both men and women in education and prevention outreach helps to improve communication between partners and to promote gender equality. Group discussions and role-playing exercises are effective strategies to help build and practice new life skills.
Men Who Have Sex with Men (MSM)
Cultural stereotypes of masculinity and homophobia may lead to denial of male-male sex by societies and individuals. When men who have sex with men (MSM) do not identify themselves as gay or bisexual, they may engage in unprotected sexual activity with both men and women, thereby increasing the chance that HIV will pass between homosexual and heterosexual populations.
North America: Male-male sex remains the biggest single cause of new HIV infections in the US and for 46% of all AIDS cases in the US.
Central and Latin America: 35.1% of the total AIDS cases in Mexico, 42.3% in the Andean Region, and 28.7% in Brazil were transmitted through male-male relations.
Some successful outreach and HIV prevention strategies for adult and young MSM in Asia and the US are centered around creating "safe spaces" where men have an opportunity to socialize and to access services openly as MSM. Because of the high rate of social isolation, depression, and assault that MSM experience, safe spaces offer guidance in coping with homophobia, provide support in the areas of self-esteem and companionship, and offer access to HIV information.
Countries where women are seen as a commodity that can be bought pay a heavy price in the spread of HIV. Philippines. Photo: Zafar, PAHO/WHO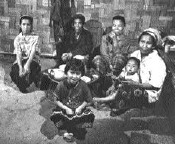 For some poor families of Northern Thailand, the only way to survive is to send daughters to work in the cities; for these young women, this often means sex work. A family in a village in Northern Thailand. Photo: G. Diez, WHO and PAHO
Commercial Sex Workers (CSW)
The growing commercial sex industry in many countries has contributed significantly to the spread of HIV. Several factors present difficult barriers to preventing and treating HIV among commercial sex workers, including a high rate of mobility among CSW and their clients; unstable financial situations that cause CSW to move in and out of the industry; the exclusion of those with illegal immigration status from many public services; fear of arrest and deportation; and clients who demand sex without condoms.
Outreach activities and condom promotion programs for commercial sex workers increase HIV awareness. For example, contacting male CSW, their clients, and their male and female casual sex partners in bars in Thailand has been highly effective.
Thailand's 100% condom campaign for commercial sex establishments also decreased the percentage of HIV-positive CSW by 12% from 1993 to 1995. In Vietnam, female CSW in a condom promotion program indicated their desire to continue using female condoms because they felt more proactive and safe.
In New York City, HIV infection rates among clients have decreased as a result of outreach efforts to provide CSW with food, condoms, HIV/STD testing, counseling, needle exchange, and drug treatment. A program in Seattle helps street youth acquire skills for living independently without turning to commercial sex work.
North America: One CDC study of female CSW in six US cities found that 12% were HIV-positive. A study of male CSW in Atlanta found that 29.4% were HIV-positive.
Africa: In one small South African community, almost 70% of CSW were HIV-positive, according to a UNAIDS study.
Asia: Of CSW in Cambodia, Thailand, and Vietnam, 40%, 19%, and 20%, respectively, were HIV infected. In Bombay, India, 71% of CSW were HIV-positive, according to the 1998 Harvard AIDS Review.
Caribbean: 10% of female CSW in Jamaica, Haiti, and Trinidad and Tobago were HIV-positive, as reported in a joint study reported by UNAIDS in 1998.
Injection Drug Users (IDU)
HIV can be spread rapidly through the sharing and use of contaminated needles. Injection drug users (IDU) are often involved in other high-risk activities, including unprotected sex and prostitution. In addition, IDU often place non-injecting sexual partners and their children at risk for HIV.
Recent economic instability has contributed to increased drug use in Latin America, Asia, and Europe.
North America: The CDC reports that 25% of the people reported with AIDS and newly infected with HIV in the US were exposed through injection drug use.
Latin America: Injection drug use is a major source of HIV infection in Argentina (40%) and Uruguay (26%).
Asia: High HIV infection rates occur in the "Golden Triangle" region in Southern Asia where 20% of the world's heroin supply is grown. 80.4% of all reported HIV infections in China are found within the Golden Triangle (an area bordering Laos, Myanmar, northern Thailand, northeast India, and portions of southern China). The explosion of HIV in the Golden Triangle has also increased the spread of HIV in Malaysia and Vietnam, where IDU account for 60-70% of HIV cases.
Eastern Europe: Up to 65% of needle and syringe exchange clients in Ukraine are HIV-positive.
Prevention programs that are effective for both youth and adult IDU include AIDS education, counseling, and access to condoms and clean injection equipment. The United Nations and the US Department of Health and Human Services report that access to clean needles and needle exchange programs effectively reduce the transmission of HIV without increasing overall injection drug use. Other effective prevention strategies include enhancing skills in decision making and problem solving.
Prison Population
Many people entering the correctional system are HIV-positive as a result of unsafe sexual activity or needle sharing. HIV may also be contracted within the prison environment. Sexual activity within prisons may occur through coercion or rape and often results in unprotected sex because of failure to use condoms. Prisoners may also continue to inject or otherwise use drugs while in jail.
North America: As of 1999, a reported 25,757 inmates in state and federal prisons in the US were known to be infected with HIV. The rate of confirmed AIDS cases in state and federal prisons was five times higher than in the total US population.
Latin America: AIDS is responsible for half of all deaths in prisons in Brazil.
Western Europe: In France, inmates are 10 times more likely to be HIV-positive than the general population.
Many prisoners are tested and treated for the first time in prison. However, monitoring and encouraging a prisoner to adhere to treatment regimens remain a challenge in many prisons. UNAIDS reports that some HIV prison prevention programs distribute condoms and sterilized needles for inmates who inject drugs. However, such programs are often controversial, and many may be opposed to them.