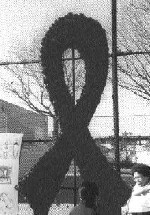 Música Against Drugs in Brooklyn, New York
Música Against Drugs in Brooklyn, New York, constructed a 17-foot red AIDS ribbon that they displayed in People's Park. 500 people attended the unveiling, drawing together many members of the community, including children.
Students at Pacific University in Forest Grove, Oregon, drew over 400 people of all ages to their first annual AIDS education event. They handed out candy, condoms, and ribbons throughout the day and placed information packets on cafeteria tables in the Student Union Center. High school students, college students, and older adults all benefitted from their outreach efforts.
South Kingstown High School in Wakefield, Rhode Island, encouraged creativity for last year's World AIDS Day. Health and art classes created artwork that was displayed at the Courthouse Center for the Arts. Approximately 75 students created pieces for the exhibit, all depicting their feelings towards the AIDS crisis.
Advertisement
Portsmouth Middle School of Portsmouth, New Hampshire
, decided to educate themselves in order to better educate others. 7th grade students participated in the Red Cross' HIV/AIDS Education Program. The students completed the program and viewed the film
In Our Own Words
. In addition, they collected personal care items for a local AIDS service agency, AIDS Response Seacoast. The students also made snowflakes with their "Winter Wishes for HIV and AIDS" written on them, as well as other artwork about HIV/AIDS.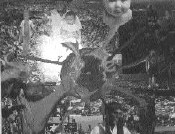 Above and below: South Kingstown High School in Wakefield, Rhode Island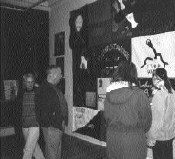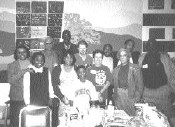 Owings Mill High School in Owings Mill, Maryland
The AIDS Emergency Fund of San Francisco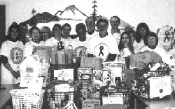 The Shasta County Department of Public Health in Redding, California
Tri-Rivers Planned Parenthood teamed up their resources with five other local organizations to plan a community-wide World AIDS Day event. Over 6,000 members of the community attended their program, including high school students, college students, and adults. They displayed a portion of the NAMES Project AIDS Memorial Quilt in Kirksville, Missouri. They also provided HIV education, as well as free oral HIV testing.
ESCAPE (Ebony Sisters Campaigning for AIDS Prevention Education) of Columbus, Ohio, organized a multi-generational and multi-cultural awareness program. They had people of all ages and from all part s of the community attend their program. The main goal of the forum was to address stigma and denial surrounding STDs. Speakers gave personal testimonies and corporations and organizations offered information about STDs. They also offered free hemoglobin testing.
Owings Mill High School in Owings Mill, Maryland, had a week-long AIDS awareness campaign. The activities included a performance from the HIV-positive singing group, Positive Voices; a presentation of part of the AIDS Memorial Quilt; a lecture on testing and vaccines; and HIV-positive speakers teaching students about HIV/AIDS in the science classes. The students also began their "Adopt a Family" program. They collected food, toys, and clothing for 20 affected families and were able to meet all the wishes on the list of each family.
The AIDS Emergency Fund of San Francisco teamed up with local schools to raise $100,000 with the "Every Penny Counts" campaign. The pennies were gathered at 70 Bay Area schools and then brought to Union Square where kids and volunteers prepared the money before it was shipped away for counting. They provided free root beer and cotton candy for everyone, and a radio station handed out stickers. The proceeds were donated and used for medicine and other expenditures of AIDS patients.
Jacksonville High School's Focus Group in Jacksonville, Alabama, organized a wide variety of events to expose their students to the issues of World AIDS Day. They decorated the school with red ribbons and also used posters of HIV-infected individuals to show students some faces of the disease. In a student assembly a young woman spoke about her daily life and her challenges with the disease. Two workers from area HIV/AIDS services also spoke about their experiences and how they care for their patients. The day was supported by the Mayor, who declared December 1 World AIDS Day for the city of Jacksonville.
In Wichita, Kansas, the Wichita-Sedgwick County Health Department organized a candlelight walk along the Arkansas River to the Mid-American All Indian Center, where they held their World AIDS Day program. At the event they displayed part of the NAMES quilt and also had a musical presentation. Free HIV tests were available all day as well.
The Shasta County Department of Public Health in Redding, California, started their World AIDS Day campaign early last year. Beginning on October 1st, they began collecting food, and by December 1st they had accumulated 900 lbs. of food. They also held a candlelight memorial service where World AIDS Day Art created by local students was on display.
The DeKalb HIV Forum in Decatur, Georgia, is a successful model for training young people how to facilitate HIV/AIDS education and awareness programs. For the past four years, they have drawn together over 400 middle school and high school students from area schools for a one-day forum which trains students how to plan and program World AIDS Day events in their schools. They listened to speakers and learned facts about HIV/AIDS and stereotypes. The students were very enthusiastic about the program, and the results were displayed in the effective programs they planned for their schools on World AIDS Day.