A new bride in Chennai (Madras), India, knows that her husband visits prostitutes on the long truck drives up and down the country's eastern coast. She's afraid he may be HIV-infected, but if she doesn't conceive a child within the first few months of marriage, she risks abandonment or worse.
Should this woman have to choose between having a child or becoming HIV-infected?
A high-school girl in Cleveland, Ohio, is dating a man in his mid-twenties who uses injection drugs. She's afraid he may be HIV-infected, but when she asks him to use a condom, he gets angry and forces her to have unprotected sex.
Did this woman choose to be raped?
Advertisement
In order to stay in school, a 15-year-old girl in Capetown, South Africa, reluctantly turns to a "sugar daddy," who provides money for books, uniforms, and fees in exchange for sex.
Should this girl have to choose between staying in school and possibly contracting HIV?
A 14-year-old girl in Harare, Zimbabwe, is orphaned when her parents die of AIDS and turns to prostitution as her only means of survival. Like many African men, her customers insist on "dry sex," making the use of a condom impossible.
Is this woman choosing to have unprotected sex?
Millions of women worldwide lack the power either to avoid sex with men who may be HIV-infected or to ensure the use of condoms. They deserve a better choice.
Fortunately, there is a prevention method (known as a microbicide) that women could use without the cooperation or even the knowledge of their sexual partners... almost like an invisible condom. The downside? It doesn't actually exist yet.
A microbicide is a synthetic or natural substance that could be applied prior to sex in order to kill HIV and prevent infection with other sexually transmitted diseases (STDs), which often facilitate HIV infection. It could be formulated as a gel, cream, suppository, or film, and would protect during either vaginal or anal sex.
Microbicides would offer women -- and gay men -- an essential new weapon in their HIV/AIDS prevention arsenal.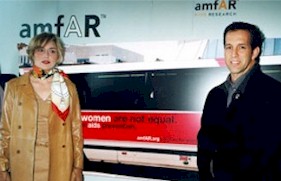 Sharon Stone and Kenneth Cole
Sharon Stone and Kenneth Cole launched amfAR's new public awareness campaign at the United Nations on World AIDS Day. This ad focuses on the need for a new prevention method and features the tagline, "Women are not equal... in AIDS prevention."
Women Are Disproportionately Impacted by HIV/AIDS
Women are four times more likely to contract HIV from men during sex than vice versa.
This biological vulnerability is heightened by a variety of factors that put women at special risk and undermine their ability to define sexual practices and boundaries, including poverty, lack of educational and economic opportunities, social and cultural inequality, and practices such as female genital mutilation.
Rape is shockingly prevalent in many parts of the world, especially during periods of war or other social upheaval.
The threat of poverty forces many women to become commercial sex workers.
Married women often risk violence and abandonment if they are not sexually compliant, but a significant percentage of women are infected with HIV by their husbands. A recent World Bank study found that half of all new HIV infections in Thailand are among women who contract the disease from their husbands.
Just as oral contraceptives enabled women to avoid unwanted pregnancy, a female-controlled prevention tool will empower women worldwide to avoid infection with HIV and other STDs.
The Statistics Help Tell the Story
The number of women with HIV/AIDS is rising sharply. As of June 2000, women represented 46% of all people living with HIV/AIDS, as compared to 25% in 1992.
In sub-Saharan Africa, 55% of adults living with HIV/AIDS are women.
In the U.S., women now account for 23% of all AIDS cases, as opposed to only 7% in 1985, and nearly one-third of new HIV infections in this country are among women.
Of course, many of these women also give birth to HIV-infected children; each day 1,800 infants are born with HIV in developing countries.
And many of them leave behind orphaned children when they die. As of June 2000, there were over 13 million AIDS orphans worldwide.
What It Will Take to Make Microbicides Reality
Most experts agree that designing an effective microbicide will be far easier than developing an AIDS vaccine, but basic scientific questions remain unresolved.
To help answer these questions, amfAR launched a targeted five-year microbicide research initiative earlier this year that is currently funding studies in a number of promising areas.
Additional resources will be required to design and conduct the clinical trials needed to test the safety and efficacy of potential microbicides and to successfully bring them to market.
But neither the federal government nor major pharmaceutical companies have invested aggressively in microbicide development.
The decision-makers in Washington, D.C., and at pharmaceutical firms need to hear from the women of this country and the women of the world.
They need to hear our political demand for accelerated research on microbicides and our consumer demand for safe, effective, and affordable microbicide products.