According to the Centers for Disease Control and Prevention (CDC), half of all new HIV infections in this country occur in young people under the age of 25. While the total number of American youth who have been infected with HIV is unknown, it is estimated that 20,000 young people are infected with HIV every year. That means two young Americans between the ages of 13 and 24 are contracting HIV every hour.
Among young people, HIV is most commonly spread through sexual transmission. By 12th grade, 65% of American youth are sexually active. And of the 12 million Americans with STDs, about two-thirds are people under the age of 25, suggesting that many adolescents and young adults in this country are not practicing safer sex.
The sexual behavior of young people is influenced by alcohol and drug use, which contribute to HIV risk by impacting sexual libido, decision-making, and behavior. And young people who inject drugs are at high risk of HIV infection through contaminated needles. In addition, HIV is often spread from injection drug users to non-injection drug users through sexual transmission.
Certain groups of young people are particularly vulnerable to HIV infection, including young women, men who have sex with men, and minority youth.
As is true in much of the world, young women are increasingly at risk of HIV infection in the United States. A 1998 study by the CDC found that HIV prevalence was 50% higher for young women than for young men. Many young women do not have the power either to avoid sex with partners who may be HIV-infected or to ensure the use of condoms, and it is believed that many HIV-positive young women are infected by men older than themselves.

Advertisement

Men who have sex with men remain at very high risk. At least half of the HIV infections reported in 1999 among young men aged 13 to 24 occurred among men who have sex with men. A seven-city study conducted between 1994 and 1998 found that just over 7% of young men who have sex with men are HIV-positive; the rates increased with age and were higher among African Americans, Hispanics, and men of mixed race than among Caucasian or Asian/Pacific Islanders.
Minority youth are disproportionately affected by HIV/AIDS. African Americans and Hispanics constitute about 15% of U.S. teenagers; yet, African Americans represent 49% of the 3,725 AIDS cases reported to date among those aged 13 to 19, and 67% of the 4,796 HIV infections reported to date in this age group. Hispanics account for 20% of AIDS cases among teens. Among people ages 20 to 24, young adults from racial or ethnic minority groups account for about 65% of AIDS cases reported so far. And young women of color account for 78% of AIDS cases among young women.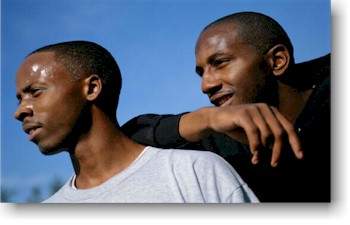 Unfortunately, HIV infection often goes unrecognized and untreated as most young people who are HIV-infected do not get tested. There are an estimated 250,000 Americans who are unaware that they are HIV-infected, many of whom are young people. Confronted by poverty, racism, sexism, homophobia, and a lack of targeted prevention education programs, young people are particularly vulnerable to HIV infection.
Information cited here is based on the Office of National AIDS Policy report "Youth and HIV/AIDS 2000: A New American Agenda" and CDC reports.