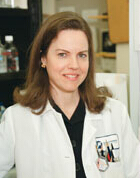 Dana Gabuzda, M.D.
In May 2001, Dr. Dana Gabuzda of the Dana-Farber Cancer Institute in Boston, MA, was awarded $240,000 for a two-year research project that will involve screening large "combinatorial" libraries of small chemical molecules in order to identify substances that bind to and inhibit the viral gene
vif
, which is critical to HIV's replication. Previous studies have shown that
vif
interferes with some component of normal cells that would otherwise prevent HIV from growing, and it is hoped that the screening process will help pave the way for the development of new anti-HIV therapies.
How long have you been doing HIV/AIDS research?
I've been doing AIDS research since almost the beginning of the epidemic, starting in around 1983 as a resident in medicine and neurology at Massachusetts General Hospital.
Is AIDS research very different from what you thought you'd be doing when you first pursued a career in science?
Advertisement
Oh, yes. I think I originally considered a number of fields in medicine, but when the AIDS epidemic began, I became immediately interested in what was clearly a new and very significant health problem. There was a lot of very active research going on where I worked, and that attracted me to the field of virology and HIV/AIDS.
I assume you weren't studying vif when you first began AIDS research.
That's right. But I became interested in HIV's vif protein over 10 years ago when I was a postdoctoral fellow. I decided to work on vif because I thought it was a very important protein for virus replication and yet very little was known about its function. I believed it would eventually become an important therapeutic target.
So, how much do we now know about vif?
At this point, we still don't know very much about its function. We know that it's critical for HIV replication and for viral infectivity, and in particular, for the ability of the virus to spread throughout the body. All of our findings to date suggest that it is potentially an excellent target for HIV therapeutics. But until now, research on vif as a target for anti-HIV drugs has been greatly limited by our relatively poor understanding of its structure and its function. However, given new technology and the current state of knowledge, I think it's time to begin directing a more significant effort towards developing vif as a potential therapeutic target.
In the research that amfAR is currently funding, you are hoping to identify anti-vif agents. How will you go about doing that?
We plan to manufacture vif proteins as probes to screen combinatorial chemical libraries and identify small molecules that can bind to domains or portions of vif that are critical for its function. If we find molecules that bind to vif, we will then test whether these small molecules inhibit the protein's function. For example, inhibiting vif function might render HIV incapable of replicating. From that point on, we would hope to gain more information about which specific region of vif the small molecule is acting on and how it might be inhibiting the function of the vif protein.
How exactly do you use a combinatorial library?
We're going to be depending on collaborators for that part of our research. But the idea is to use methods that allow relatively rapid testing of thousands of chemicals over a course of days or weeks, rather than months or years, and to be able to quickly identify small molecules that specifically bind to and inhibit the function of a specific protein, in our case, vif.
If a vif inhibitor could be developed for use in patients, what role would it play relative to existing anti-HIV drugs, the reverse transcriptase and protease inhibitors?
We envision that vif inhibitors would constitute a third or fourth class of drugs that would be used in combination with reverse transcriptase or protease inhibitors, or perhaps in patients who have developed resistance to current therapies or are no longer able to tolerate their adverse side effects. I would imagine that by the time vif inhibitors reach clinical application there will probably be other antiviral drugs available against other targets. So, I see vif inhibitors as part of a future combination antiretroviral therapy.
If your in vitro research proceeds as hoped, what do you think should be done next? And in which sector would it be done (e.g., university, government, industry)?
I think that the two-year grant from amfAR will allow me to get started on an important new area of research. Following this initial work, I would expect to apply for a larger grant from the National Institutes of Health (NIH), involving other collaborators with expertise in various aspects of chemistry and drug development. I think that in order to eventually get this kind of approach to a clinical application it will be critical to collaborate and have this drug further developed by those in the pharmaceutical industry.
You mentioned the NIH. Have you applied to them for funding for your current project?
No. I think in order to get an NIH grant it will be necessary to have some promising preliminary data, and my hope is that the grant from amfAR will allow me to get to that point over the next two years.
It sounds like the NIH does not fund projects that are a little more "preliminary?"
I think it would be nearly impossible to get this type of research funded by NIH without at least some solid preliminary data. That's why a grant program like amfAR's is so important, because it allows someone like myself who primarily does basic research to redirect a significant part of my effort towards a more applied and practical question. I can obtain the preliminary data needed to expand the work into something that could be funded by NIH in the future.
My final question is very broad. What are the challenges involved in this area of research?
There are many reasons why HIV research is difficult. I think in some cases we have a limited understanding of the structure and function of specific viral proteins. We also need a better understanding of how HIV's proteins interact with cellular proteins, because that's essential to understanding their role in viral replication. And finally, I think that HIV itself just has a very complex and difficult biology. Our efforts to understand the virus' life cycle and how it interacts with the host have produced a number of unexpected findings that have made a difficult problem even tougher than we anticipated.
Despite the challenges, though, I'm excited to be involved in one of the first serious attempts to study vif as a potential therapeutic target. Because I am an M.D., and was trained in clinical medicine, it was always one of my dreams to be able to work on a project that was directly related to drug development, and I'm particularly excited to be able to apply my expertise from having studied vif for many years to this sort of more practical application.