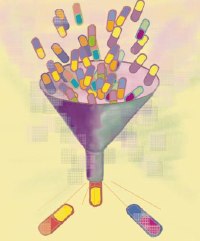 Illustration by Tracy Sigrist
Over the course of 20 years, the treatment of HIV infection has changed dramatically.
For the first six years of the epidemic, not a single treatment for the disease had been approved. Then, in 1987, the Food and Drug Administration (FDA) approved AZT (Retrovir) for the use and treatment of HIV infection. AZT was used alone as a monotherapy.
Today, monotherapy should not exist since it has been proven to be ineffective in treating the virus. The standard of care for those with HIV infection is a potent triple combination therapy.
Advertisement
Triple combination therapy, also known as
Highly Active Antiretroviral Therapy
(HAART), has been changed as well from the amount of pills, the size of the pills and the number of times these pills are taken daily. For example, a combination of AZT and
Epivir
was formerly eight pills total: six pills of AZT and two pills of Epivir. Today, that same combination has been combined into one pill taken twice daily.
Rescriptor, when originally approved, was taken three times daily with a total of 12 pills. Today it can be taken three times a day with a total of six capsules.
Many of the protease inhibitors are also used in combination with each other and subsequently, have been reduced in quantity as well. Viracept was taken three times day for a total of nine tablets per day. Currently, many healthcare providers prescribe it as a twice-daily regimen consisting of 10 pills.
The sizes of the pills used as therapy for HIV infection have also changed. Originally, Videx was formulated as two large tablets, which could be dissolved in water, on the tongue or chewed and taken twice daily. The latest formulation of Videx is a once a day, enteric-coated capsule. There are still food restrictions with either formulation. Videx should be taken one hour before or two hours after eating for best results.
The most recent drug to be used in the treatment of HIV disease is Viread (tenofovir), a nucleotide analog, which tries to inhibit reverse transcriptase (RT). Viread is taken as one pill, once a day and must be used in combination with other antiretroviral medications. It cannot be used alone.
Trizivir, also an RT inhibitor, can be taken alone. Trizivir is a combination of AZT, Epivir and Ziagen into one pill which is taken twice a day.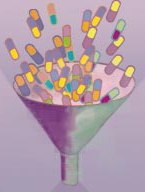 Illustration by Tracy Sigrist
New Formulations Ahead
New formulations of existing drugs are also on the horizon.
Sustiva, currently taken as three capsules once a day, is now available in tablet form. The new formulation of Sustiva is one tablet once a day, used in combination with other antiretrovirals. Zerit is also changing its formulation. Currently, it is taken as one pill twice a day. The new form is one tablet per day.
New formulations of existing medications is occurring because facilitating the treatment regimens of people living with HIV disease will allow for a higher adherence rate. The higher the adherence to a particular regimen a person has helps to decrease the opportunity of resistance. Resistance can occur for many reasons: non-adherence, lack of absorption, multi-drug resistant strains of HIV, etc.
There are pros and cons to simplifying complicated regimens, however. The most favorable reason to switch to a simplified regimen is to be able to take medications less often and with fewer pills. Many studies have indicated that reducing the daily frequency of the regimen from three times to twice daily increases adherence. Whether using a regimen once a day will increase adherence versus twice-daily regimens remains to be seen.
A disadvantage to having a regimen once a day is a higher opportunity to miss doses. Some regimens do a have a "forgiveness factor" whereby if a person misses a dose, he or she will usually (not always) have enough drug left in their system to fend off resistance. Once-a-day doses make it crucial for a person to nearly always take their medications.
As always, people living with HIV infection usually get the best results from medication when they actively participate in the decision-making process. Communicating with a health care provider is crucial, as well as accessing the services of an experience treatment advocate at a local AIDS-service organization.
For more on this topic, attend the April 9 "HIV Matters" presentation by David Parks, M.D. at the Village at Ed Gould Plaza, Hollywood. Call (213) 201-1529 to make a reservation.
| | |
| --- | --- |
| | Ernie Rodriguez manages AIDS Project Los Angeles' Treatment Education Program. He can be reached by calling (213) 201-1486 or by e-mail at erodriguez@apla.org. |