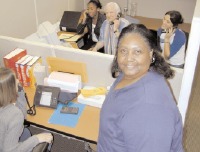 Client Relations Coordinator Pam Coleman, in foreground, wants to hear from APLA clients. Photo by Tracy Sigrist.
Addressing clients' concerns about AIDS Project Los Angeles' services is important. APLA Client Relations strives "to let the experiences of those who access our services be a positive one," says Client Relations Coordinator Pam Coleman.
She is responsible for listening to the concerns of clients, their significant others and family members about APLA's services.
The Client Relations program is essential for maintaining a favorable rapport between APLA and clients. "We're the only agency in the state that has a program such as this, that's there just to listen," Pam says. Customer service programs offered at other organizations frequently lack the interpersonal contact that Client Relations provides.
Advertisement
Finding Solutions
Pam listens to the concerns of those who access services, their significant others and family members. She also fosters relationships by developing tangible solutions to problems that could otherwise hinder the effectiveness of services. "Some of the clients are brilliant in coming up with suggestions of things that might be helpful in making things work better," Pam says. Those with concerns can schedule an appointment, or if Pam is available, visit the second-floor reception desk at the David Geffen Center to speak with her about their comment or concern.
The Client Relations program is essential for maintaining a favorable rapport between APLA and its clients.
With more than 12 years' experience as an APLA Assistant Program Manager for Case Management, Pam is well equipped to meet the challenges of the Client Relations position, which she acquired in September 2001. "I've seen the difficulties that the case managers were having trying to provide the services, and I've seen clients with the difficulties they were having communicating what they really wanted," she says.
Communication barriers for monolingual Spanish-speaking and hearing-impaired clients can affect their comfort level when discussing concerns and how their concerns will be interpreted in Client Relations. "Some people who are monolingual Spanish don't feel that they have a right to speak out and say anything that is not complimentary," Pam states. "They have just as much right here in the agency to feel comfortable and respected and receive the services they are entitled to... as anyone else." To break down communication barriers, Pam says that she's in the process of setting up a Spanish monolingual line. Those who are deaf or hard-of-hearing can also communicate their concerns by calling (213) 201-1582 TTY.
Though Client Relations does not receive a large volume of complaints, "those who are complaining often speak for those who feel that they don't have a voice." The feedback received allows Client Relations to review the effectiveness of the programs and how they may be improved.
For more information, contact Pam Coleman, APLA Client Relations Coordinator, 611 S. Kingsley Drive, Los Angeles or call (213) 201-1462.
Client Relations is open from 9 a.m. to 4 p.m., Monday through Friday. She may be reached by e-mail at pcoleman@apla.org.
| | |
| --- | --- |
| | Stacie Wade-Howard is an intern in AIDS Project Los Angeles' Publications Program. |