AIDS Project Los Angeles' Research and Evaluation Core thanks APLA clients, volunteers and staff for making the 2001 APLA Client Survey a success. More than 1,300 clients completed the survey. Dr. Matt Mutchler presents an overview of the preliminary results.
Findings from the APLA Client Survey are used to improve HIV/AIDS-related services, prevention and advocacy efforts.
New areas of investigation in the 2001 survey included questions about sexual risk knowledge, attitudes and behaviors; HIV status disclosure attitudes; HIV treatment resistance and structured treatment interruption, and additional treatment issues. For the first time, we also measured how many clients use sign language and how many have been incarcerated in their lives at some point.
Who are the respondents? The average age of client survey respondents continues to increase. In 2001, the mean age was 44 whereas the mean ages in 1999 and 1997 were 42 and 41, respectively. The majority of clients listed English as a language spoken (84.6 percent), but 28.6 percent listed Spanish. 1.8 percent of our clients marked sign language and 3.6 percent marked "other" (clients were asked to mark all languages that apply). The majority of clients stated that they were gay, while some were heterosexual and bisexual; 0.2 percent were lesbian.
Advertisement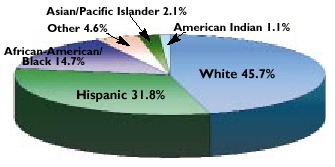 In line with APLA's client population overall, the majority of respondents to the survey were male (90.2 percent) and 8 percent were female; 1.8 percent were transgender (male to female). The breakdown of race/ethnicity follows: 45.7 percent white, 31.8 percent Hispanic, 14.7 percent Black/African American, 4.6 percent "other," 2.1 percent Asian/Pacific Islander, and 1.1 percent American Indian. One out of four of the respondents had been incarcerated at some point in their lives. 5.6 percent were homeless and another 12.9 percent stated that they were at risk of becoming homeless in the next three months.
Clients are now more likely to get their health insurance from Medi-Cal, Medicaid, or both, than clients were in 1999. Respondents in the 2001 survey were also more likely to state that their income is from some form of public assistance than in 1999, and were more likely to report that they were adherent to their HIV medication regimens than in 1999 (50 versus 45 percent).
Yet despite the fact that clients report feeling better than they did one year ago, 56.1 percent of those tested reported some level of resistance to HIV medications and three out of four reported being bothered by side effects from their HIV medications. Only 49 percent knew what structured treatment interruptions were, while 29.1 percent of those who knew had done one. Drug "holidays" (stopping medication without a doctor's supervision) had been taken by 28.6 percent of all clients.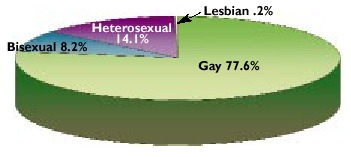 Survey respondents reported high levels of knowledge about STDs and HIV (90 percent reported excellent to good knowledge of both) and were aware of the syphilis outbreak in Los Angeles County (81.7 percent). Still, sexual risk behaviors were reported by all groups large enough to analyze (gay men, bisexual men, heterosexual men and heterosexual women). Rates of unprotected anal or vaginal intercourse were particularly high with sexual partners of unknown HIV status. Many respondents also did not always disclose HIV status to male or female partners. Five percent of clients reported injected drug use, but many more reported some substance use with marijuana, Viagra, medical marijuana, poppers and alcohol being used most prevalently.
Client satisfaction with APLA overall was between "good" and "very good," slightly lower than 1999. All services were rated between "good" and "very good" and APLA received high marks in terms of being friendly and knowledgeable. The services most used in 2001 were publications, Case Management, dental, Clientline and Residential Services.
Limitations of this survey include the fact that it was self-administered and responses may not reflect those of all APLA clients or those living with HIV/AIDS. Still, these preliminary highlights suggest that our client base continues to evolve. HIV treatment, substance use and sexual health/prevention issues are important to address despite -- or perhaps because of -- the fact that clients report feeling better.
Graphics by Tracy Sigrist.
| | |
| --- | --- |
| | Dr. Matt G. Mutchler is AIDS Project Los Angeles' manager of Research and Evaluation. He can be reached by calling (213) 201-1522 or by e-mail at mmutchler@apla.org. |