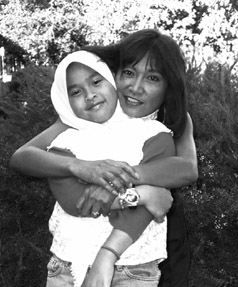 Nancy Shearer and her daughter
Filipina, mother, HIV advocate, woman in recovery, political activist, spokesperson for the Asian Pacific Islander AIDS Intervention Team (APAIT) . . . Nancy Shearer wears many hats.
And she wears them all well, despite her busy schedule addressing community groups, raising her daughter, and working with APAIT, the California State Planning Group and the L.A. County Commission on HIV Health Services. Nancy has become as tireless advocate for HIV-related issues, especially as they affect women and Asian Pacific Islanders.
Born in the Philippines, Nancy came to the U.S. in 1977, moving to Los Angeles from North Dakota in 1982. Because of her early exposure to U.S. television and fluency in English, she adjusted easily to American culture.
Still, her transition has not been without pitfalls. In 1997 she entered a drug and alcohol rehab program. Although the treatment was at first unsuccessful, she now says, "In sobriety I found myself."
Advertisement
I recently had an opportunity to sit down and speak with Nancy about the life transitions that have brought her to where she is at now.
---
Fiona Kyck: Nancy, did you ever think you were at risk for HIV?
Nancy Shearer: No. I got [HIV] through heterosexual sex. When I found out, I was afraid that when people looked at me or I touched someone, they would know. I found out while I was in rehab in Lancaster and I didn't know anything about HIV or AIDS. I read a lot and I went to a support group and started asking questions.
I even came here to AIDS Project Los Angeles from Lancaster and became a client. It was the only thing I knew that had to do with AIDS -- and I knew the address from partying in Hollywood.
Denial hit hard and I went back to using for six months because I didn't know how to deal with being HIV positive. A woman who cared enough got me off the street and into Tarzana Treatment Center. I was not ready to give up. I have a son and a daughter who need me. I got involved with the Asian-Pacific AIDS Intervention Team in 1998.
How did it feel for you to walk through the door of APLA in 1997?
I came in here and I felt comfortable because I felt that nobody would know me because they are all gay men, mostly white and black and there are no Asian-Pacific Islanders. I thought -- I can be here and nobody will know I am infected.
So in the beginning it was very important to you to feel like you could be somewhat anonymous with the disease?
Oh yeah. With API culture it is a shameful thing to have this disease. Our pride and need for privacy increases the stigma of HIV/AIDS not only for the person living with it but also the whole family. In my experience, API (women in particular) are family-oriented and there is no way that they are going to come out and be seen to be HIV positive.
How did you make the transition from wanting to keep it a secret to being so out about living with HIV and being in recovery and taking on the role of advocate and activist?
It's the rejection, being public. It's open and it's out there so I have no worries about the outcome. I don't deal well with one-on-one disclosure. I don't like being infected so how can I expect someone else to accept it?
For me, part of doing all this work and being busy is because there is part of me that doesn't want to deal with this disease. The denial, the hoping, wishing that I don't have it. Because it makes me feel dirty sometimes, like having HIV is like having a stamp on you saying "You are really dirty." Who's going to want you? That's how I feel.
Do you think then that it would be easier for you and/or other women living with HIV to have a relationship with someone who is positive?
I don't know. Probably, because it eases the pressure and the fact that most people -- women and heterosexual men -- don't like using protection, they use it but not on a regular basis.
I know it's possible for me to have a relationship with a positive or negative man. But never in a million years would I want anyone to get infected because I still feel angry about my own infection. How can I put that on somebody? I don't think I could live with the fact that I was the person who infects another.
I know through working the program that the majority of the responsibility is on me because I am the infected person. I have to be responsible and protect others. Sometimes I ask myself why I have to be more responsible all the time because I am the infected one.
One woman told me that because the chances of infection are lower in men who have sex with women who are positive that that makes it OK not to use protection. There are so many issues to consider and even though there are so many prevention and outreach efforts, it's hard to have someone follow through all of the time. I also hear that it's OK with a positive person because they are already infected, even when they know about reinfection.
When I was not infected, I was like other people who know about HIV infection but do nothing about it. I had no idea how people lived with this disease -- now I do and that's the difference. I can save someone from feeling the way I do at times by the actions that I take. Why wait until it's too late? That's why there are so many new infections today.
How did you become involved with APAIT?
I go once a week and I feel at home there with my own people, APIs. I know that I am not alone. I am their spokesperson and do outreach, public speaking and encourage APIs living with HIV/AIDS to come for services. I get support from APAIT but it is the only API community agency and as I live in the San Fernando Valley when I did not have a car it would take three hours on buses to get there. It was hard to stay involved. APAIT can count on me . . . all I have is my word -- I must follow through with action.
Do you enjoy the activism and public speaking?
I am new to all this. I am confident, but I don't have the knowledge to do what you are doing because I have not been there. I look at the crowd and figure out a presentation for them; I need to go to their level to better reach them. I need to let them know that I know what I am saying and to relate to them. In the future I would like to continue speaking to addicted and infected persons.
Because you are living with HIV/AIDS, do you think that there is an expectation that makes you an expert?
I am living with it and, yes, I do think there is an expectation that I am an expert -- that's why I ask a lot of questions. But I still need some kind of guidance. That's why I talk with different people and go to different places. I don't know which direction I am going, so if I just learn a little bit here and little bit there, maybe one day I will gather all of these things I've learned and then have a greater focus. For myself, I need a lot of guidance, but unfortunately, you get thrown in and they expect you to know what's going on and to do it for yourself.
Do you feel that there is a movement to get more women living with HIV involved but that there is limited support offered to them to keep them involved?
Yes. I think that women are very powerful. It's just that we use [power] in a different way, within our own families and not within society as a whole. My thinking is that if you bring women together and make time to educate them, empowering them and teaching them about activism, it will really help. [Women] don't have that kind of force because, when we get together, we see each other as competition -- so we don't have that sense of community and force. But if somebody helps focus that energy and get something done, look at what we can do. Together women are powerful. We just need guidance.
When I started going to the Los Angeles County Women's Caucus on HIV/AIDS meetings, they were planning for the L.I.N.K.A.G.E.S. Conference and I saw you make things happen. You can make a big difference. There are a lot of new women who come to the meetings who don't have a job and are infected and on social security, all of them need focus. Professional women have jobs and focus, we need these women to help give us focus and not just ask us to volunteer to do this and that but actually show us and tell us -- this is what I want you to do and this is how you do it.
When I got involved in the California Health Planning Group I wanted to travel and see how different cities work and their HIV communities. For me, that is very informative. I saw what other AIDS programs and services looked like.
Your involvement with these organization and community bodies opens up a lot of doors for you and inasmuch as you are giving you say you are getting something back?
Yes. It's very interesting. I learn different things every day. I know in this field there are so many things to learn, so much that for a few years I couldn't decide what kind of career I wanted.
Your sobriety means a lot to you.
Yes. In sobriety I found myself. I know I am a lovable person. I love myself and not because I am pretty or whatever. I have an image of a very strong woman and no one is going to break me down. I need this for myself, to let down my barriers and be Nancy who is human, has fears, has feelings. After 10 years of addiction I needed a 12-step program and it works for me, one day at a time.
You have recently been reunited with your 10-year-old daughter after two and a half years.
Yes. Now I get to be a mommy again. I want to see her graduate. I want to see what kind of a mommy influence I am on my daughter.
Being a mommy is the most important thing right now. I am concentrating on that. I plan to get involved at her school, volunteer and learn more -- for us.
Fiona Kyck coordinates AIDS Project Los Angeles' Women's Services Program. She can be reached by calling (323) 993-1566 or by e-mail at fionak@APLA.org.