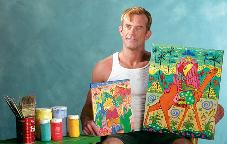 The artist who draws 'the AIDS stuff' adds more colors to his palette.
An alligator is a scary thing, a vicious, ugly stalker that can chew up a man like a piece of cheese. But not in the world of artist Joe Monroe. Monroe's alligators have wings. With paint, imagination and canvas, the artist turns alligators into whimsical, flying creatures.
Monroe's paintings have names like "Wonderville," "Enchanted Garden" and "Fun Burst." In this colorful world, snakes are as pretty as scarves, and they don't bite. Sharks sun themselves on the beach, and dinosaurs stop to chat.
It's a much nicer world than Joe's own.
Advertisement
"My friends, so many of them have died, I'm kind of a dinosaur," said Monroe recently, interviewed in his Hollywood apartment. "Just the other day I ran into a friend who said "Oh my God, I didn't know you were still around. I was afraid to call."
He's Done It All
Fifteen years ago, Monroe received an HIV diagnosis. Along the way, he has gone through lymphoma, cancer, meningitis and a T-cell count of 12. He's been bedridden, and he's spent some time in a wheelchair.
But now -- like an alligator -- he's ready to fly.
"I've been living 15 years now with this idea that I'm going to die," Monroe said. "Now I'm coming out the other end."
Monroe shares his crowded apartment with his artwork and happy little Italian greyhound, Jaxson, a friend he wouldn't have without help from PAWS/L.A.
AIDS Project Los Angeles helped. So did Aid for AIDS, AIDS Service Center, Out of the Closet, Beverly Hills Pharmacy and Pacific Oaks Medical Group.
Wants To Move On
Monroe gives as good as he gets; in fact, he was named APLA's Volunteer of the Year in 1999. But he'd be happier if AIDS-service organizations weren't so familiar with him.
"What I need to do," he said, "is move away from my dependence on the organizations and my dependence on the government, and the government paying for my medications.
"I've been out of the art world. I just started working with an art rep again. I'm trying to have it as a career again, go back to pounding the pavement, hitting the galleries, sending out resumes."
In years past, Monroe's works were shown in high-profile galleries and snapped up by celebrity collectors. Now, he has to start again.
"It's a very strange position for me to be in. I don't know if I can, but I feel like I should. I don't feel ready, but I know in some sense I have to be so it creates a lot of pressure."
The pressure will rise if Monroe gets an offer.
"I think I would have to tell them where I am, And then tell them I would work as hard as I could for them. I know there are days when I could not carry a 9-to-5 job. I've always said AIDS is a full-time job. The doctors, the agencies, the pharmacies. Getting the food. Keeping yourself healthy and going to the gym and taking the medications on time."
Looking Better
If AIDS is a full-time job, Monroe has done it well. His model looks are returning. He gets around just fine, and a commissioned work for an AIDS expo is coming up soon.
But Monroe wants more.
"I don't want to be known as 'Oh, he's the guy who does all the AIDS stuff,'" he confesses.
What he does want is another successful show. He wants to work with a major studio. And he wants a cure.
"I've always been an advocate for the cure," he said. "We living with AIDS are so scared of that word. I'd like to see the answer, so we don't have to be on these drugs. I think we will have one."