A Floor at Highways Performance Space Memorializing People With HIV/AIDS Who Have Died Is Restored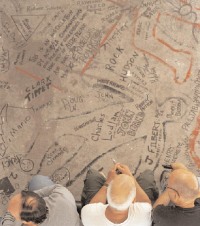 Photos by Mark Scoggins
If you are like most people, you probably are not used to looking down at memorials. And you know that stepping on someone's grave is considered to be disrespectful.
The Highways Memorial AIDS Floor will turn your memorial mindset upside-down.
On a recent visit to the Highways performance space in Santa Monica, I stepped timidly inside, where volunteers were preparing for the evening's events.
Advertisement
The memorial is right there in the middle of everything: an unimposing patch of concrete the size of a living room. Inked in black are names and shapes which don't jump at the eye from a gray background. It just lies there, waiting for me to come closer if I want to know what it says.
But . . . may I? Is it all right to step on these names, these people? The volunteers pay no mind. I guess it's all right.
So I step. I step on a few names so I can read others.
Bill Clark
Paul Madrigal
Tim Powers
There are also shapes: scissors, hearts, human shapes, messages.
Hey AIDS I want my friends back.
We will miss you.
AIDS still is killing us.
Don't stop the fight.
And, written large:
This is an installation by ACT UP Los Angeles commemorating our friends and colleagues who have died of AIDS. Please add yours to the list.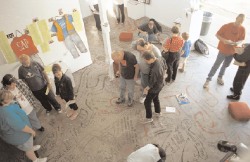 Restoration of the AIDS memorial floor at Highways began in September with weekly gatherings at the performance space.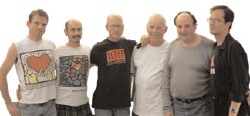 HIV/AIDS activists gathered at Highways to help restore its memorial. From left, Peter Dobson, Eric Scott, J. T. Anderson, Robert Navarret, Chuck Stallard and David Nichols.
Restoration
A few months ago, I wouldn't have been able to read all this. Names were first written on this floor with felt markers 12 years ago. Over the years, sunlight, dirt and foot traffic wore the writing down to a faded outline.
Then Danielle Brazell, Artistic Director of Highways, thought it was time the floor be rewritten.
"The floor is an amazing piece of work that will live forever," she says. "It's a powerful, powerful work. By bringing this back and embracing it, it allows us to honor our dead. If we take care of it, it will last forever."
The dead on the AIDS floor include the famous Rock Hudson, the anonymous Doug W., and James Carroll Pickett III, who lived from 1949 until 1994. We know that because the person who memorialized James left the dates. Most didn't. Some just wrote a first name. One wrote, "We will miss you," while another remembered a loved one this way: "Fred, at last over the rainbow."
During three Sundays in September, Fred's name and all the others were lovingly retraced.
"I was just there so anytime, anybody who was at Highways, there were markers there so you could add a name if you wanted to," says Chuck Stallard, a photographer and artist who started the floor in 1989.
In the late '80s and early '90s, Stallard was a member of the controversial ACT UP, a group of hardcore AIDS advocates known for sometimes shocking demonstrations. Stallard was invited to create something at Highways that would honor people with AIDS. His activism influenced his vision.
"We had a trademark thing where we would lie down during demonstrations, and others would trace the outline of our bodies on the pavement," he recalls. "I wanted to do outlines, like an ACT UP street thing, and then people were invited to write names."
Write they did. For years, visitors grabbed markers, got down on their hands and knees and scrawled handwritten memorials until the floor was covered.
As the years went by, some of Stallard's friends became names on the floor.
"There are people who were with me. There are people who were in ACT UP whose names are there now," says the soft-spoken artist.
Then came those three Sundays in September, and it all came back.
"It used to be very hard but I noticed when I was there this time, redoing it, it didn't hurt as much, although it still has an impact and it's still hard to think about everyone that's gone."
The restoration brought back others who helped create the floor, one name at a time.
"There was one guy there, Matthew," Stallard remembers. "His wife's name is on that floor. He was there."
Write Now
Matthew may be back soon. The restoration is complete, but the floor is not. There's still space, still room to remember.
On Saturday, Dec. 1, Danielle Brazell and others will read stories from the newly refurbished floor.
The floor's originator could not have foreseen the lasting impression it would leave.
"At the time I had no idea how long Highways was going to be there, or how long AIDS was going to be around," says Chuck Stallard. "I didn't know anything at that time. But they're still here."
| | |
| --- | --- |
| | Ron Mackovich is a volunteer in AIDS Project Los Angeles' Publications Program. |