Outrage Erupts in the HIV Community After the DEA Raids the L.A. Cannabis Resource Center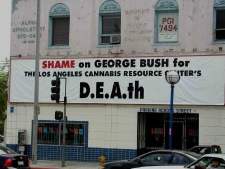 The L.A. Cannabis Resource Center was raided and closed in October. Photo from medmarla.org
For years, the L.A. Cannabis Resource Center in West Hollywood maintained a low profile. With no sign on their building, the center's staff quietly went about its business, handing out marijuana to terminally and chronically ill clients.
Now, the center is shut. And it's no longer quiet.
"Shame on George Bush for the Los Angeles Cannabis Resource Center's D.E.A.th," screams a bus-sized banner hanging on the building's Santa Monica Boulevard entrance.
On Oct. 25, the center was raided and shut down by agents of the Drug Enforcement Administration. Computers, marijuana plants, grow lights and records were all seized.
Advertisement
"Thirty agents came in here to steal everything and throw people out in the street," says the Center's President Scott Imler, who calls the DEA raid an "invasion" and claims that it was set up with help from local authorities.
Voter-Backed Medicinal Marijuana
A former special education teacher, Imler came to Los Angeles from Santa Cruz in 1995 to help campaign for the legalization of medical marijuana. The following year, California voters passed Prop. 215, the Compassionate Use Act, and became the first of nine states to permit patients to grow and use small amounts of marijuana for medical reasons. Imler opened shop.
"It's critical to me," says Patricia Alvarado, a faithful client of the center who has opted against prescription medication. "The only way to come back from wasting is to smoke pot. Once you're on meds, you can't control your life. The pills control your life. This way I can live a normal life and smoke when I need it."
Rallying for the Cause
On Nov. 6, Alvarado and hundreds of Cannabis Resource Center supporters gathered for a rally to call attention to their outrage. The tone was one of non-traditional patriotism -- American flags waved by ex-hippies, patriotic songs sung by Judy Garland playing over the sound system. Pro-cannabis demonstrators were unanimous in blaming President Bush.
"The Bush administration has taken a hard stance because the man has no heart," says AIDS patient Richard Eastman.
There is no question the political climate has chilled for the medical marijuana movement. In May, the U.S. Supreme Court decided federal law trumped voter-approved state measures like California's Prop. 215. For months, there was a quiet standoff between the Drug Enforcement Administration and California's cannabis clubs. A DEA spokesman even told the L.A. Times the clubs were not on the Administration's hit list.
By fall, that climate had changed. In addition to the raid of the Cannabis Resource Center, a similar club, the Comfort Care Group in Santa Monica, was raided. Its operator is being prosecuted. A third cannabis club in Inglewood closed voluntarily.
"I have about a half dozen roaches that I've been breaking down, says one client. Luckily I saved them. That's how I'm getting by. Am I going to have to go to San Francisco to get my marijuana?"
Cracking Down
That may not be an option for long. There are far more cannabis clubs in the Northern part of the state, but the DEA is starting to crack down there as well.
Marijuana is always available on the street, but that's not a good option for the Center's clients.
"Now I gotta go illegal," says one client. "I have to spend more, and I risk going to jail."
"I've gotten it off the street, and it had a fungus," says a woman at the rally. "That caused me to have tumors."
Marijuana clubs like the Center prided themselves on quality control, growing their own cannabis and distributing it to patients only after they were checked and re-checked for physician referrals. Imler worked closely with physicians who prescribe marijuana for their patients. About 30,000 people statewide smoke pot on doctor's orders.
The Battle Has Begun
Imler is urgently trying to re-open the club. He has support from State Assemblywoman Jackie Goldberg, Congressman Henry Waxman and West Hollywood City Councilmember John Duran. The legal battle promises to be long and complex.
"The hardest part is having to say no to our members who are calling," Imler says. "It's just really painful to have to say 'no' after five years of being here for people. These folks are our friends. We're like family."
For his clients, Imler offers a parting message. "Hang in there and stay in touch, and as soon as we're able, we'll be back."
| | |
| --- | --- |
| | Ron Mackovich is a volunteer in AIDS Project Los Angeles' Publications Program. |