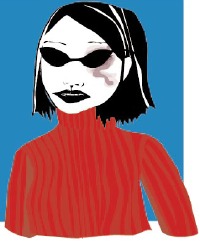 Illustration by Emily Hillburg
"When do I get my life back?"
When I worked on a rape and sexual assault hotline, callers asked that question more frequently than any other. Answering them was tough.
Too many women have been sexually assaulted in their lifetime, or will be. As a result of their assault, these women are living out a life sentence.
Advertisement
Individuals react differently to stress and trauma, so it is impossible to predict what a person will feel and for how long. That is what makes the question above so hard to answer and the act of sexual assault so vicious.
Many of us never think about how we would react if it were ourselves or a friend who had been assaulted. It is time we think about the survivor and their feelings. It is time to address the myths about sexual assault and identify what we can do to support ourselves. The violence needs to stop.
A Crime of Violence
Sexual assault is not about sex. It is about power and control.
Not only do sexual assault offenders take power and control away from their victims, they also take their dignity and their self-respect. Many people confuse violence and sex; they do not understand a survivor's deep emotional upset and sense of violation.
Sexual assault is defined as any forced sexual contact, which includes rape, sodomy, molestation, incest, forced oral copulation and acts committed with foreign objects. Force can be physical, emotional and based on authority.
Physical force includes being held down, choked, hit, pushed and grabbed.
Emotional force includes threats, intimidation, pressure and blackmail.
Force based on authority: using "status," someone who is older and/or in a position of "power" who uses that power to make you do something.
Sexual assault can happen to anyone, regardless of gender, age, race, religion, occupation, physical description, sexual orientation or HIV status. The majority of assaults are carried out by people known to the victim.
Sexual assault brings with it fears about possible sexually transmitted infections, including HIV infection. Contracting HIV and/or another STI through a sexual assault compounds the feelings and emotions experienced by the survivor.
Sexual assault can also bring fears of possible pregnancy. Choosing to take the morning-after pill or terminating a pregnancy may not be an option for some; in some hospitals a survivor will not even be offered the option.
Survivors are further impacted by our reactions to sexual assault. "She shouldn't have worn that dress," "she shouldn't have had that much to drink," "she should have insisted that he wear a condom": these are all comments that people make about survivors of sexual assault.
Rape and sexual assaults are violent crimes acted out sexually. They violate not only a woman's personal integrity but also her sense of safety and control over her life. Most assaults are planned. Rapists look for vulnerable targets typically in the same area or town.
"She should have fought harder" and "she should have screamed louder" are also typical blaming statements. Fear of death, threat of violence or brutality can immobilize anyone. The absence of bruising or other physical injuries does not lessen the violation or the force.
Another misconception is that some women secretly want to be raped and therefore "no" does not always mean "no." Fantasies do not reflect what is the reality of rape: violent, brutal, terrorizing, humiliating assaults against a non-consenting person.
Women cannot be held responsible for a man's sexual urges. The attitude that men cannot help themselves suggests that it's OK for a man to force a woman to have sex with him if she makes him excited.
Clarifying what a sexually assaulted person can feel after an attack is helpful to the survivor and their loved ones. Doing so promotes more understanding at a time when things seem very unclear. These feelings are unpredictable and their frequency and severity are unforeseeable. The roller-coaster effect can be all too familiar.

"I can't believe this happened to me."
Feeling dazed, numb and withdrawn are very common initial reactions. This can be hard on the survivor and the survivor's loved ones, who may or may not know why and cannot understand the change in behavior.

"I have never felt like this."
In the aftermath of a sexual assault, many intense feelings and emotions are experienced. A roller-coaster effect adds to the unpredictability of these feelings, going from anger to depression to anxiety. Survivors often have difficulty adjusting to this because it feels like a further loss of control, the control over themselves.

"I can't sleep. I don't want to be touched."
Difficulty concentrating, sleeplessness and loss of interest in sex can impact the survivor after the assault. This again can be hard for loved ones to understand and very hard for survivors to explain.

"I can't go out once it gets dark."
The loss of power experienced in the assault can affect the survivor. Long after the assault, they may continue to feel vulnerable and frightened.

"I should never have gone out that night."
Not only do survivors go through a violent assault, they can also blame themselves for the situation as a result of the many misconceptions about rape and sexual assault. Not only can they judge themselves, but they are judged in turn by others, who blame the survivor and/or criticize their behavior. "Shame," "devalued," "dirty," are some of the words survivors use to describe how they feel. Having had an orgasm during their assault can add to their self blame. Bodies react to stimulation, but for some this is a betrayal of themselves, and something they are loathe to reveal to anyone for fear of having someone respond as though they enjoyed, provoked or wanted it.

"Today I feel OK. But yesterday was a bad day. I still carry it with me."
Time and support can help. Each survivor is different. Certain situations may exacerbate the symptoms such as a court case, first sexual encounter after the assault or returning to the place where it happened.
So with the damage the assault can do, the possible absence of justice and the judgment by society, is it any wonder that this is as close to a life sentence for survivors as it gets? Not to mention that the assault was probably carried out by someone known to the survivor and quite often a partner or spouse. It is important for survivors to have opportunities to take back control by seeking help and in time they will get their lives back. Knowing the facts allows us to understand more and judge less.
Sexual assault and rape can happen within all relationships, but are common in abusive relationships whether or not the individuals are married, living together, were living together, dating, were dating or acquaintances. Women can be assaulted by men or women. If your partner is abusive to you, you do not have to accept it, you can get out and get help. Violence prevention services are sensitive to the issues of rape and sexual assault within relationships and it is important for survivors to know that this is taken seriously.
Feeling comfortable with your partner and feeling free to negotiate consensual sexual activity is important. If a person insists on condoms for sex and is forced to have sex without a condom, that is rape. If your mutual agreement is no penetration and you are penetrated against your will, that is rape. It is not "getting carried away in the heat of the moment."
In some cases, people with HIV/AIDS deal with the loss of control over their own bodies by exercising their power and control over others. This can take on the form of physical, emotional or sexual abuse. HIV/AIDS can also increase a person's sense of vulnerability in a relationship, which makes the person with HIV/AIDS feel less able to negotiate with their partner or object to their partner's actions.
If this is something which you can relate to, talk to a counselor, case manager, social worker, doctor or someone else you can trust. Do something to end the violence.
| | |
| --- | --- |
| | Fiona Kyck is a former coordinator of AIDS Project Los Angeles' Women's Services Program. |