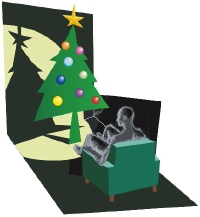 Graphic by Michael Storc
On an overcast Christmas morning, I made a frantic call from the Cedars-Sinai emergency room to my friend Jerry.
I asked him to be with me as I thought we might be losing Bruce. Jerry arrived shortly and within minutes a doctor was coming toward us. I looked at his face and it was at that moment my instincts told me what I dared not to believe. In that moment I knew my life would be changed forever.
Our journey began on Dec. 21, during a short stay in Las Vegas. In the afternoon Bruce complained of slight indigestion and had to rest. Later that evening he went to the room where I found him in obvious distress. I phoned 911, the paramedics arrived, administrated oxygen and told us his heart was all right. He was better and certain the hospital wasn't necessary. The next evening was a repeat of the night before. Saturday early morning we were on a flight back to Los Angeles. Slightly improved Saturday and Sunday, he rested and agreed to going to the emergency room on Christmas morning.
Advertisement
After arriving at the E.R., I nervously filled out forms with Bruce beside me. Together we walked to the nurses' station, where he was seated. The nurse began to monitor his vitals, asking him to hold his arm still as she was having trouble getting a reading. "I'm feeling dizzy," he said, and then lurched forward.
Within seconds, the small room was alive with activity around Bruce, his face turned in my direction. As he was rushed into the E.R., I returned to a room, sat down and prayed for someone to tell me that he's OK. A nurse appeared and said they were trying to resuscitate him. I felt panic set in, her words resonating, momentarily trying to make some sense of what had just happened.
I lost all perception of time when suddenly a doctor was approaching, his arm extended, his voice hushed but clear. "We tried hard but we lost Bruce," he said. Slowly I was led to Bruce's room, where he looked as if he was sleeping. I leaned forward, kissed his forehead, and clutched his hand, not wanting to ever let go. I would leave the room and find myself returning many times over only to face the inevitable. Finally in a state of confusion, I walked away.
Bruce died of cardiovascular disease. He was 54 years old.
Bruce was special. His legacies were his wonderful qualities and beautiful soul, his subtle sense of humor, his shyness and loving ways in which he gave of himself to others in friendship and loyalty. His innate ability to please others was a part of his genuine goodness and his wonderful infectious laugh would light up the darkest of rooms. Bruce's natural charm made all times joyous. He also had an endearing quality that could make you feel protective of him.
For me, thinking of Bruce is an ongoing daily process. For many of us, we awake and our initial thought is the awareness of our love being gone. His presence brought a peace of mind to me.
As I drove away from the hospital, I glanced at the passenger side where, just an hour earlier, Bruce had been sitting. I arrived home and shortly our close friends came to give comfort and support. There wasn't anything any of us could say or do; we were all in shock. Later, I sat alone staring at the Christmas tree with the lights still glowing, gifts beneath unopened. I told myself that I would never think of the Christmas holiday morning the same ever again. I thought of all longtime close friends who were deceased. Now my partner, my only family, was also gone.
The following weeks blended into each other. Mornings I would awake knowing that day would be much like all others, feelings of emptiness and sadness would be my daily companions. My having to take care of all necessary business took up the void; having done that, I had no idea of where to go or what to do.
A friend invited me out for dinner on New Year's Eve. I appreciated the gesture, not wanting to go, but I accepted. I felt isolated and alone with singles and couples celebrating. It had only been a week. How could anyone know what I felt inside? I wondered what was I doing there. After dinner I drove home and walked into an empty house.
I didn't like where depression was taking me. I felt I was courting disaster and made a hasty decision to contact my doctor and asked for help. That evening I was admitted to the hospital for a period of time for medical supervision.
After my release, I joined my first bereavement group. I attended a second group that was a social gathering. Those attending the first encounter for the most part had been there for at least a year or more. This wasn't working for me. I felt frustration. I thought it would be far better for me to search out a licensed therapist for one-on-one interaction, to help my dealing with trauma. Through a referral, I've been fortunate in contacting a wonderful therapist whom I can trust and who has helped me find my way through understanding and healing. He's been my emotional anchor.
I have always believed there are no coincidences in our lives but a bigger plan at work with everything proceeding, as it should, in its prescribed time and purpose.
The learning process enables us to develop and call upon the tools to cope with those unexpected feelings of aloneness, the pain of losing and memories which invoke sadness. It can also be a time of spiritual awakening. Trauma is a painful emotional experience, a shock producing a lasting psychic effect. There are those times when the image of the experiences will be overwhelming as the mind finds it difficult to grasp the loss, bringing the ache of intense missing. The ultimate goal is in reaching some semblance of peace of mind. It has been my experience to call upon your inner strength and personal belief system. Ask your loved one for guidance and subtle signs that validate your being heard and their being with you.
Talk about your feelings to those you may feel comfortable with and who will listen. Speak to and include your deceased loved ones as a continued part of your life. Embrace their memory. Remember tears are the soul's way of healing and cleansing so you can continue your mission. Don't try to hide your grief, push it aside or wish it away. It will take its own course. The resilient human spirit is remarkable.
Learning to develop an open mind and being aware are essential in strengthening your own spiritual anchor. The bonds that we create are not severed because our loved ones have left us. Allowing yourself to believe can get you through a very dark night. It's reassuring to know that no matter how devastated you may be, that within your own time frame, with professional help and support from friends, you will be all right. Having gone through that dark tunnel there will be that ray of light you will have changed and be better for the journey. You never get over the loss, but you do get through the process.
Closure is a word that never applies. Your memories will honor and keep alive the one you loved and will always be a part of your reality and in healing. My friend Alicia wrote to me that love is consciousness; the more you love Bruce, he is aware of your love and loves you in return.
Bruce is with me stronger in presence than ever before. For the first time in a very long while, I am confronting each new day with a glimmer of optimism and facing it with more gentleness, finding it a little easier to smile and laugh. It is rewarding. Give yourself permission to feel the unexpected sadness but not let these emotions prevail as they can take on a life of their own, a means whereby your feeling connected -- not wishing to let go, becoming a comfort zone. Try and be patient with yourself and others, love that inner child within all of us. Learning to fit all of the pieces of the puzzle is hard work but in time the future will be better for the effort.
I recall a discussion in a support group that I found cogent. The consensus among members of the group was that most found the nights were the most troublesome. Days are generally comprised with activity. Nights, by comparison, were somewhat easier as they brought the anticipated refuge of sleep.
Keeping a daily journal can be great help. A chronicle your feelings and thoughts can be cathartic in gaining a perspective in assessing your progress and giving yourself the confidence to know it's OK when you stumble. You are able to regain your footing once again and move forward.
I've come to understand that expecting the unexpected is the norm. You begin with a new day that you hope may hold promise and suddenly without warning, a wave of emotion sweeps over, emotions that lie just below the surface waiting to take hold. This too will ease with time and help.
When Bruce died, I received a loving note from my friend Ann. "Hold onto your fond memories of Bruce and believe we are forever sharing the same space," she wrote. "Where love is shared, love will always prevail, alive or dead. I think he is very much with you, making his usual contributions so much so that you don't even notice.
"Talk to him.
"Consider what Bruce is doing for you.
"He knows you want to know he's all right and perhaps to know what messages he is sending you. Consider him talking to you through the path of understanding.
"I strongly suspect that he is very proud of you.
"Do everything in a positive way and feel the presence of his company."
Like the flag symbolizing the loss in our country, I have found sending a balloon into the skies with a note attached can help to commemorate important days, and even just for an non-event day. Writing to the one you love with a special word or prayer can both soothe and inspire you. The fates are carrying your message in the wind, and you know, for they are always around you, they will be sure to get it!
I watch rays of sunlight come through the window, rainbow colors disbursing in the room reminding me of lights on that Christmas tree, seemingly a lifetime ago and yet as if it were yesterday. A part of me died with Bruce that morning, a contentment that I'll never get back. One special person comes in your lifetime that validates who you are. I will always love, remember and miss him and know that my life is enriched for his being with me for those many years.
We are all family and are equally diminished by the loss of one person each time they leave our planet. Our lives are like butterflies going back to their cocoons, only to join us again some day, a chrysalis, more beautiful than ever.
It has been 17 months since Bruce died. When asked, "How are you?" I can reply with honesty, "I'm all right" and smile. It's an ongoing emotional and spiritual awakening. After all, it's about recovery.
For Bruce, for gay and lesbians and all who suffered a loss on September 11, 2001. My love and thanks to Alicia.
Recommended reading: How to Go on Living When Someone You Love Dies, Theresa A. Rondo, Ph.D.