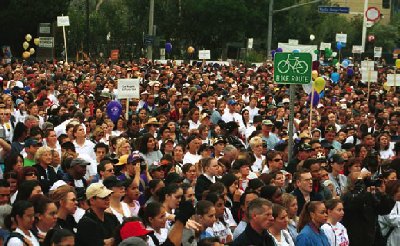 Walkers assemble in West Hollywood for AIDS Walk Los Angeles on Oct. 20. Photo by Faye Sadou.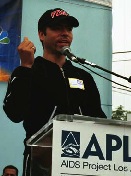 Rudy Galindo rallied participants in the ceremonies prior to the Walk. Other personalities taking part in the event included Eric McCormack, Rita Moreno, John Spencer, Ming-Na, Rudy Galindo, Melissa Joan Hart, Eva Tamargo Lemus, and other cast members from "Passions" and "Port Charles," and Danny Bonaduce and Dorian Gregory, hosts of "The Other Half." Photo by Faye Sadou.
An enthusiastic crowd of more than 25,000 walkers raised nearly $2.6 million at AIDS Walk Los Angeles, on Sunday, Oct. 20.
Speakers at the ceremonies preceding the Walk included HIV-positive world-class athlete and Olympic medallist Rudy Galindo, who said he once believed that his HIV diagnosis was "a death sentence."
Advertisement
"I am happy be able to stand in front of this beautiful crowd today -- filled with life -- and to tell you I have since changed my tune." Galindo said. "It has not been a death sentence for me. Now, I am receiving treatment that's allowing me to live a better life and I'm looking forward to the future. This change is because of the love and support I have received from the community -- from thousands of compassionate people like you."
AIDS Walk Los Angeles benefits AIDS Project Los Angeles and 25 other AIDS service organizations across Los Angeles County.