Government health insurance (Medi-Cal or Medicare) doesn't come easy. To get it before retirement, you must be disabled (or poor), and the last thing you want to do is lose it by returning to work.
For just that reason, two new laws provide the working disabled, with either Medi-Cal, Medicare or both, with a kind of health insurance comfort zone they never had before.
Both laws, the federal Ticket to Work and Work Incentives Improvement Act (TWWIIA) and California's AB155, are covered in-depth during the Work Services Program's monthly "Work It!" Seminars.
Educate Yourself
The next "Work It!" series takes place from 10 a.m. to 1 p.m. on Tuesday, June 20, and Thursday, June 22, and is repeated every month.
Advertisement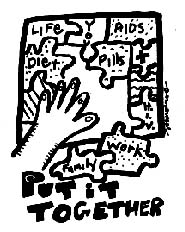 The first workshop covers opportunities for financing education, technical training, or upgrading job skills. The focus is on government financial assistance programs, Vocational Rehabilitation, federally funded training through Los Angeles' One-Stop Job Network, Social Security's Plan to Achieve Self Support (PASS) and other strategies.
The second workshop covers benefits and health insurance, and how both are affected by working, as well as your legal protections as a person with HIV, either on-the-job or if you are looking for work.
For reservations, call Work Services at (323) 993-1659 or (323) 993-1616. If you depend on your government health insurances, and plan to work, you will need this information.
Laws Helping the Disabled
The federal legislation, TWWIIA, became law in December 1999. Much of its substance relates to health insurance for the working disabled.
Under TWWIIA, people on Social Security Disability Insurance (SSDI) who return to work are guaranteed extension of their Medicare for eight and a half years, even if they return to work full time and eventually lose their monthly dollar benefits. The eight-and-a-half-year extension applies to all SSDI recipients whether they have Medicare now or are due to get it in the future (Medicare is automatic after 24 months of payment from SSDI).
Previously, under Social Security's Trial Work provisions, SSDI recipients who returned to work could keep their Medicare for just about four years.
The extension is intended to expand the comfort zone for the disabled, and to encourage more people on SSDI to go back to work.
All recipients are required to do is make arrangements with Social Security to pay the monthly Part B Medicare premiums ($45.80 in 2000). Premiums are normally deducted from SSDI monthly checks. If you have Medicare and Medi-Cal, and Medi-Cal pays your premiums, Medi-Cal may continue payment even if you work, depending on your income from wages.
All About AB155
Another piece of legislation, California's AB155, now makes Medi-Cal available, with premiums, to those same folks on SSDI who return to work.
Previously, SSDI recipients who returned to work found their Medi-Cal monthly "share of cost" increasing right along with their wages. AB155 allows SSDI recipients who need Medi-Cal to purchase it on a sliding scale of monthly premiums. The premiums are geared to income from wages (excluding disability income and some other assets) and range from $20 to $250 per month. Under AB155, you could be earning as much as $45,000 a year and still purchase Medi-Cal.
This legislation, effective as of April, makes Medi-Cal affordable for the return-to-work crowd, and eliminates those escalating shares-of-cost that formerly kept people from even thinking about work.
The bill also levels the Medi-Cal playing field somewhat for people on SSDI, and gives them a bargain much closer to the one available for people on Supplemental Security Income (SSI).
People collecting SSI have always had access to Medi-Cal, even when they return to work. Their SSI-based Medi-Cal comes automatically through their benefits with no monthly share of cost or premium.
SSI beneficiaries who return to work lose SSI dollars as their earned income goes up. As long as they continue to get even one dollar a month from SSI, they keep their SSI-based Medi-Cal.
However, some SSI recipients eventually lose all of their dollar benefits because of increasing wages. When that happens, Social Security is supposed to "automatically" switch their SSI-based no-share-of-cost Medi-Cal, to federal "1619-B" Medi-Cal. This is, again, no-share-of-cost Medi-Cal and can remain in place until income from wages alone hits $23,700 per year.
Expanding Benefits
The federal legislation and another new California proposal allow for even further expansion of Medi-Cal to the "pre-disabled." This could include people with HIV who are working, and who have never and may never meet Social Security's definition of disability. However, these proposals are still in development.
For the time being, TWWIIA and California's AB155 significantly extend health insurance coverage to people disabled with HIV who return to work. To learn more about how these new laws affect you, and for more information on benefits, work and funding an education or training, call the Work Services Program and make reservations for the next "Work It!" seminars.
Phil Curtis coordinates AIDS Project Los Angeles' Work Services program. He can be reached by calling (323) 993-1659 or by e-mail at pcurtis@APLA.org.