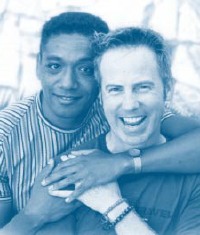 Ric Parish (left) with volunteer John Sovec
When I tested HIV-positive, my doctor told me that I had less than two years to live.
In 1986, that prognosis was more common than unusual. People all around us were dying. Funerals and memorials were being held every other day. In 1986, it seemed that we were looking at the total destruction of gay male society and the eventual destruction of everyone.
But something happened that year that would eventually transform the lives of thousands of people. It was called the PLUS Seminar, or Positive Living for Us.
Advertisement
In 1986 "living" wasn't something we thought of when we talked about HIV/AIDS. Created by Mark Katz, M.D., Fred Wilkey, Ph.D., Jerry Wolfe and Kim Heartstein, the PLUS Seminar was designed to create a safe, non-judgmental environment where HIV-positive people and their loved ones could come together, discuss their options and learn to beat the odds.
Since 1986, more than 6,000 people have gone through the PLUS family of programs, which include a Spanish counterpart, Vidas Positivas. These thousands of PLUS participants have created a new reality of quality long-term living in the face of the epidemic.
A "long term survivor" used to be someone who had been living with HIV/AIDS for more than five years. Today, many of us are looking at year 20 of living with HIV/AIDS, and are still going strong.
But what does that mean for us? How do we live our lives in the face of such great losses we have endured? What are our options when the meds stop working? What new meds are on the horizon? How do we deal with disclosure and intimacy now that we are dating again? How do we enhance our interpersonal relationships by building trust and communication? Why are HIV-negative men taking Norvir with Ecstasy? And what about all those debts and credit cards we thought we'd never have to pay?
These questions and many more will be explored in the upcoming PLUS Life weekend seminar. Based upon the PLUS model, the Life weekend is a life-affirming weekend designed to help us cope with living in the third decade of HIV. And by learning that HIV is not a death sentence, newly infected people can also benefit from the Life weekend.
With faith and lots of support, we can aquire the tools for living to build a quality life that is well lived.
The PLUS Life weekend will take place in the Hollywood area from Friday, June 14 through Sunday, June 16. To register, or for more information, call (323) 962-8197, Ext. 319.
Ric Parish is the PLUS Programs Manager at L.A. Shanti.